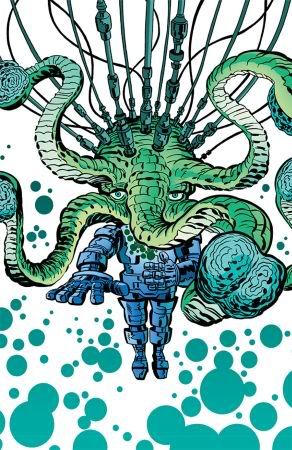 Writer: Joe Casey, Artist: Tom Scioli
Published by Image, 2010
I can't believe its only been three years since the last
Celestial Edition
. It feels like so much longer. For those few who don't know the series,
Godland
is Casey and Scioli's cosmic space adventure and the story of Adam Archer. Archer was the only survivor of our disastrous first manned mission to Mars. He survived only because of an encounter that transformed him into a cosmic superhero. Returned to Earth, the Pentagon has put him, and his sisters, up in the Infinity Tower. While publicly hailing him as a hero, the military, and much of the public, fear and distrust Archer and he knows it. The cast is rounded out with Archer's sisters, a very entertaining Rogue's gallery, and the expected alien visitors.
Volume two focuses on the dynamics within the Archer family. Adam's sister Neela was an astronaut herself, picked for the next Mars mission, only to see it and her career sidelined after the failure of Adam's mission. She spent the first
Edition
resenting having to live in her brother's shadow and took a radical step towards regaining control of her own life. The consequence of that decision plays out here, aliens try to destroy the Earth, and his Rogues… well, they seem lost in a sub-plot and don't really bring as much to this volume as they did to the first. There is certainly no 'Violence is the new black.' I missed that, but you shouldn't take it as a criticism of the book. Casey does a great job of keeping us entertained, engrossed, and turning pages. My only real problem with it was the cover art. I mean, why Lucky? He's a C list character at best. Artistically we do see Scioli making some big changes. Kirby's influence character design is toned down and a much more delicate line is adopted. The characters stop being blocky and become… willowy is the word that comes to mind. It took me a couple of issues to get used to it, but the people certainly look a lot better.
In a market flooded with oversized, hardcover editions, this book is a high water mark. Beyond the twelve issues, for much less than the Big Two charge for these collections, we get a lot of extras; including an extended essay on the series, individual interviews with the creators, an issue by issue commentary by Casey and Scioli, and more! The commentary is especially interesting. They steer away from just trying to sell you a book you've already bought and discuss real problems and changes in the series.
I have always enjoyed cosmic adventures myself. When I was a kid, way back in the 70s, Starlin's runs on
Captain Marvel
and
Warlock
were two of my three favourites. In fact, The night I first started reading it I had a dream that was obviously inspired by this comic. That's not something that happens to me--I can't think of another comics inspired dream--but that's
Godland
. It gets in your head. Its just the sort of ambitious, joyous, mad adventure you want to read when you open a comic.
Originally Pubished at: David Bird