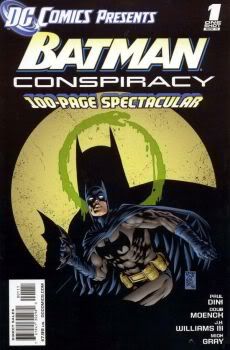 DC Comics Presents: Batman : Conspiracy #1
: The is the second
DC Comics Presents
special I've picked up featuring the art of J. H. Williams III. Gotta wonder if they're trying to raise interest in his upcoming
Batwoman
comic. This one features two stories. The first is a three issue tale from the now defunct
Legends of the Dark Knight
, written by Doug Moench. Bats is on the trail of cultic serial killers with mob connections. The case takes him to L.A., which is unusual. All-in-all a good story, but Batman is a little out of character at times. He trusts someone too much, and he almost seems to doubt himself at times. I can believe him utterly failing before I can believe him doubting himself. The art here is inked by Mick Gray and consequently doesn't look like the Williams we've come to know. Its still strong. I don't mean to imply Gray ruins it in any way. Its just different. The second tale, taken from
Detective Comics
, is one I've read before. Written by Dini, its just okay. Very pretty, but just okay. A strength of both stories is that Batman, the world's greatest detective, does lots of detecting.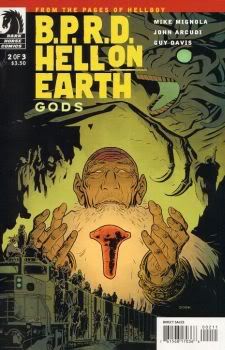 B.P.R.D. Hell On Earth Gods #2
: A very good issue. It ends at the same point as the last issue, telling the same story from the Bureau's perspective, and then takes us just one more panel further. Can't wait to see what happens next!
Bonus points for giving Prof. O'Donnell time to actually say something.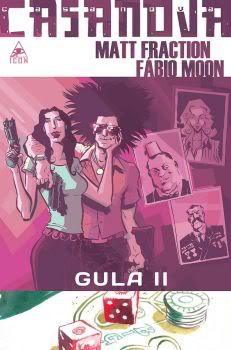 Casanova Gula #2
: Lots of sex and violence and sex. The sceptic in me wonders if this was to distract from Fraction's move away from the original Fell format (a highly condensed story, told in fewer pages, and sold for less money). By the end of this arc his pacing will be pretty normal.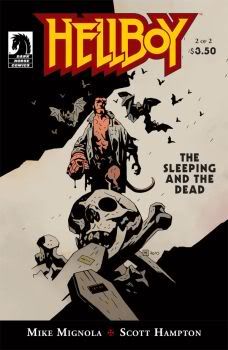 Hellboy: Sleeping & Dead #2
: Our hero doesn't do much besides hit things and nothing happens that you don't see coming a mile off, but still an enjoyable conclusion to the last issue's story. I particularly liked the running gag about getting out of the car.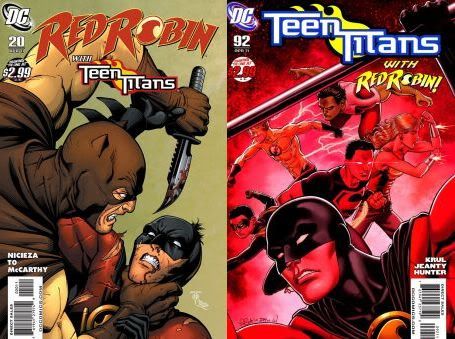 Red Robin #20 & Teen Titans #92
: Meh. I think they've taken the post-
Identity Crisis
Calculator a bit too far. First the techno-zombies in Batgirl, now robot duplicates all over the world. His IQ seems to rise as the story demands and its getting a little thin. He's not Lex Luthor people! Also, Krul doesn't make the best use of Damien. When written correctly, he's great at taking the air out of Gotham's too tightly wound Dark Knight(s). When he isn't, he just comes across as a whiny brat.
Question
: When you remove a band-aid, do you do it slowly, hoping to minimize the pain, or do you just yank it off? This week I did a lot of yanking. I dropped four titles. Not a lot for many of you, but a third of my entire pull list. Gone are
Batman Inc
,
Batman: The Dark Knight
,
Streets of Gotham
, and
Red Robin
. I know there's only been one issue of
Dark Knight
. I had intended to get the first arc, but there was nothing in issue one that said 'You need this book!' There's only one issue of
Streets
to go, but I'd really lost interest a long time ago and I don't think I need to waste another $2.99 just to have a complete run.
Inc
and
Red Robin
were both fine, but neither were gripping me. I may check out the trades later. We'll see.
That only leaves eight titles on my pull list and two of them,
Batwoman
and
Dark Horse Presents
, aren't even out yet: The others are
B.P.R.D.
,
Casanova
,
Hellboy
,
Infinite Vacation
,
Mouse Guard
and
Rasl
. Only two of those are published by the Big Two,
Batwoman
and
Casanova
, which is put out by a Marvel imprint. That my lowest level since 2004, when I started reading
Identity Crisis
and then expanded my reading into the greater DCU. I've been on capes binges before, often Gotham-centric, but never for this long. I don't mind getting off that train. What I do mind is not getting out to my local. Its ingrained: Wednesday is comic book day. But for the last two months I've only had stuff to pick up every other week. One look at my pull list will tell you it's not going to get better.
B.P.R.D.
is the only title that has anything like a monthly schedule. I keep telling myself that I want to switch to trades, and the number of series I follow in trade format is twice as long, but I just can't seem to break the weekly habit. In fact, I no sooner cancelled the four above than I asked my local to get me issue one of
Who Is Jake Ellis?
Baby steps, people. Baby steps.
Originally Pubished at: David Bird