The power of ideas is a cliché we have all grown accustom to, but rarely has the reality been more evident than in the last two months. Throughout the Arab world, from country to country to country, people have rallied and governments have fallen. Over the last decade there has been a lot of focus on the Arab-Islamic world. Much of it, spinning out of 9-11, has been negative, but whatever the talking heads might have said about them, these protests have made clear what the Arab peoples really want: freedom and democracy.
Protests like this have happened before. In 1848 an eerily similar wave of popular uprisings swept Europe. Through France, Germany, Poland, Italy, Denmark, and central Europe, people rose up against their monarchies and demanded their liberty. There were no parties or individuals behind it, but in each country the solution to the day's problems seemed to have one answer: freedom. In France protests and political gatherings were forbidden, but when soldiers fired on a group that refused to disperse, the rioting which followed brought down a king and ushered in a new republic. In Italy the Sicilians freed themselves of the King of Naples and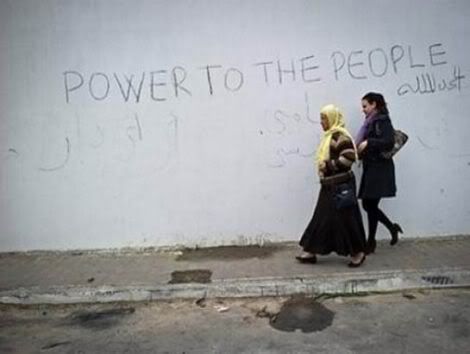 instituted representative democracy, in central Italy a new Pope, Pius IX, began to free political prisoners and reform the local government, and in the north the Italians rose up against their Austrian master's repressive rule. The Hungarians demanded autonomy from Vienna. The Germans demanded an end to their petty kingdoms and a unified government. The Poles, the Romanians, everyone wanted reform, and while the various movements were not connected to one another, the idea that they deserved better than the authoritarian traditions that went back centuries caught fire and spread across the continent.
This time it began in Tunisia, when a street vendor was denied the right to sell his vegetables. Without any hope for feeding himself or his family, he set himself on fire. Anger at the pettiness of officials exploded everywhere and the unimaginable happened: the government fell. If it could happen in a backwater like Tunisia, why not here? Demonstrations swept across North Africa and the Arab world. In Egypt a strong man of thirty years was forced out and, as I write this, Libya's protests have ratcheted up to a civil war. There are no opposition leaders. No heir apparent. The people want change and they are fighting, and dying, to get it.
Will they get it? Within three years of the Europe's "Springtime of the Peoples" the counter revolutionaries had overturned all of the gains made in 1848. The French had a new monarchy. The King of Naples retook Sicily. Sometimes the old warhorse of international relations, Stability, was brought back from the outside. The French, even while celebrating their own spring, aided the Austrians in putting down the revolutions in northern Italy. The Russians ended Hungary's revolution. The Ottomans Romania's. Many activists and intellectuals fled Europe, but there was something the reactionaries could not restore. Tradition and Divine Right were no longer strong enough platforms on which to support the state, and as the years passed more and more rights were ceded to the people. Not everywhere and not evenly, but freedom and democracy were now the norm and anything else the exception that had to be rationalized and explained.
It was less than twelve weeks ago that many intellectuals and foreign policy makers took for granted that Clash of Civilizations view of Western-Islamic relations. Two worlds, one of which valued individualism and personal freedoms, another that was tribal, religious and violent. The strong men who dominated the last fifty years were often horrible and violent despots, but that was what cost of Stability. We want the oil kept flowing. We want peace and security. It was either the Ben Alis, Mubaraks, and Gaddafis, or the Khomeinis and Muslim Brotherhoods. A choice of despots, but despots nevertheless. Those rationalizations have been swept away these past three months. Even if the Arab world's springtime is pushed back as quickly as Europe's, we have been shown that the values we have always told ourselves were universal are indeed universal. People want to determine the course of their own lives, whatever their culture or religion, and we can either support that or be as culpable as their past leaders for the harm that follows.
Originally Pubished at: David Bird
Enjoy this article? Consider supporting The Outhouse, a fan-run site, on Patreon. Click here for more info.
Comment without an Outhouse Account using Facebook
We get it. You don't feel like signing up for an Outhouse account, even though it's FREE and EASY! That's okay. You can comment with your Facebook account below and we'll take care of adding it to the stream above. But you really should consider getting a full Outhouse account, which will allow you to quote posts, choose an avatar and sig, and comment on our forums too. If that sounds good to you, sign up for an Outhouse account by
clicking here.
Note: while you are welcome to speak your mind freely on any topic, we do ask that you keep discussion civil between each other. Nasty personal attacks against other commenters is strongly discouraged. Thanks!