Good news! I've come up with a great get-rich-quick scheme: pay me
not
to read your favourite comic! That's right. Give me money or you'll never see it again! Pretty much every comic I on my pull list gets delayed and delayed and delayed. This month I was supposed to get
Infinite Vacation #2
. Ha!
B.P.R.D.
is the only one that comes out on anything like a monthly schedule. Sure I want to move away from monthlies and towards trades, but if I hadn't added a couple things this month I would have bought a grand total of two comics this past month. Two. I am not ready for that yet.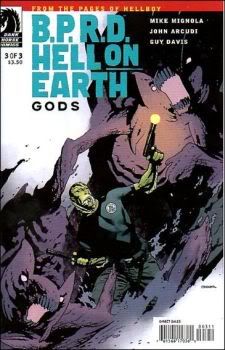 B.P.R.D. Hell On Earth: Gods #3
: Wow! This arc may have only been three issues long, but its been a great arc. A lot of people complained that the last one,
King of Fear
, which was meant to complete a much longer arc, was a bit of a let down. It certainly made for a dull finish. This one should have been the official end. Great cliff hanger and a huge question mark over the actions of Fenix and Devon. Were they right? What do they know?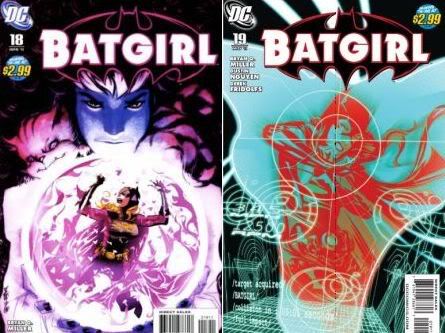 Batgirl 18 & 19
: I had dropped
Batgirl
and all my other Bat-titles over the last two months, but since I was looking for something to beef up my comics reading I put Steph back on the list.
Batgirl
may not pull a lot of weight in the DCU. Its actions won't see any consequences outside its own covers, but if you're looking for a monthly comics fix this is a reliable, upbeat place to go.
They were both solid issues, but I enjoyed issue 18 more. Klarion and Batgirl made for a delightfully funny duo. I particularly like Steph's little confrontation in Limbo Town. Actually, I liked a lot of things in this issue and laughed out loud more than once. Steph's quips are starting to remind me of a well written Peter Parker. (Come to think of it, if you throw in her time management problems…) Issue 19 strikes a more serious tone and seems to be bringing elements from earlier issues to a head. it's the first of a two part-er. For those who've read it, please tell that's meant to be a Bat-Mini Coop and not a Bat-SUV!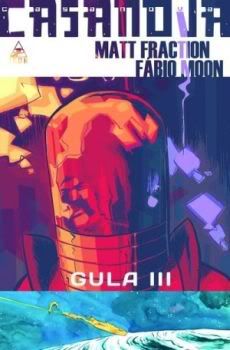 Casanova Gula #3
: Two very strong issues--and that's in spite of the first half being too quick a read. In a nutshell, we get an attack on E.M.P.I.R.E.'s lunar base in the first half and the aftermath in the second. We also lay the seeds for some serious debate/dissension about what it means to be human. Something I hope to see explored in future arcs.
Each of these reprints has included an interview and this issue's is with Brendan McCarthy, who has returned to comics after twenty years in film and television. Very interesting.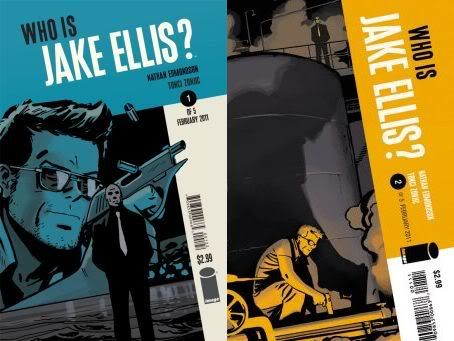 Who Is Jake Ellis? #1 & 2
: I also picked up the first two issues of
Who Is Jake Ellis?
, a new title about a former CIA analyst, Jon Moore, who was detained by persons unknown and escaped due to the mysterious Mr Ellis. That makes it sound a lot more conventional than it is. Ellis is a shadow-like figure than only Moore can see or hear. Moore has been successfully hiding for a few years now, but as our adventure begins his covers blown and everyone is after him.
So that's March. A good month, all-in-all, even if I did have to bulk up my pull list.
Originally Pubished at: David Bird