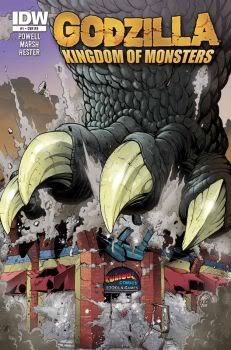 Oops! When I did my March round up, I missed one. I was looking at my pull list and forgot all about a special new issue, Godzilla: King of Monsters. My local,
Curious Books and Comics
, was one of many shops who chose to get stepped on by Godzilla in an effort to boost sales. It certainly boosted the store's profile. More than one person, with zero interest in comics, but aware that I am a customer, had heard about the issue and asked me if I knew about it. And when I brought my copy back to work--I picked it up on my coffee break--a lot of people were checking it out and saying that it was a great idea.
Now, personally I am no fan of the giant rubber dinosaur, so I won't be buying more issues, but the first one was good. He shows up and immediately sets to tearing Tokyo apart. The only head scratcher for me was seeing the Japanese use nukes, but I guess that's only slightly less likely than a giant fire-breathing dino. If you do like Godzilla, he is off to a solid start.
Originally Pubished at: David Bird
Enjoy this article? Consider supporting The Outhouse, a fan-run site, on Patreon. Click here for more info.
Comment without an Outhouse Account using Facebook
We get it. You don't feel like signing up for an Outhouse account, even though it's FREE and EASY! That's okay. You can comment with your Facebook account below and we'll take care of adding it to the stream above. But you really should consider getting a full Outhouse account, which will allow you to quote posts, choose an avatar and sig, and comment on our forums too. If that sounds good to you, sign up for an Outhouse account by
clicking here.
Note: while you are welcome to speak your mind freely on any topic, we do ask that you keep discussion civil between each other. Nasty personal attacks against other commenters is strongly discouraged. Thanks!