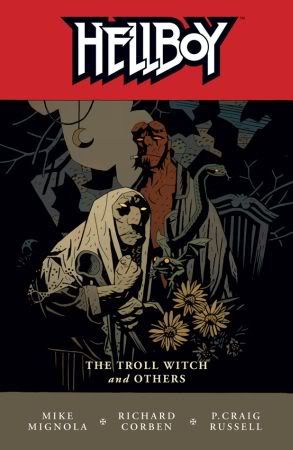 Volume seven is a real boon to Hellboy fans, because it collects together a half dozen stories published outside the comic's normal run. Four were published in a Dark Horse anthology series put out between 2003 and 2006. These were, in chronological order,
The Dark Horse Book of Hauntings
,
of Witchcraft
,
of the Dead
, and
of Monsters
. I'd read a couple of these in borrowed copies, but as big a fan as I am, I didn't feel compelled to buy whole volumes for one story each. The three other stories include one published in Wizard, an original tale done specifically for this collection, and one two parter that actually was published in comic's regular run.
Of the four gathered from the Dark Horse anthologies, "The Ghoul" and "Dr. Carp's Experiment" are solid, if unremarkable, stories of Hellboy on assignment for the Bureau. All seven stories take place in the past, before our hero struck out on his own. 'The Troll Witch" is easily the strongest and most effecting in the collection. Based on a Norwegian folktale, it tells the story of two sisters, one beautiful and one ugly. Or trollish. Hellboy is as much an audience member as the reader, but the story loses nothing for that. My favourite, however, is "The Hydra and the Lion," which tells us the true story of one of the great figures of mythology. This story was done by both Mike Mignola and his daughter Katie. As far as I know, this story is their second collaboration. The other was "The Magician and the Snake" which won them an Eisner, making Katie, at age seven, the youngest person to win the award, and is collected in
The Amazing Screw-On Head and Other Curious Objects
. I enjoyed both stories enough to believe she could have a future following in her dad's footsteps.
Two of the remaining stories are unconventional vampire tales. The first, "The Penanggalan," is drawn from Malaysian folklore and tells the story of an old woman who accidentally kicked her own head off and now it leaves her body, with internal organs still attached, and goes out to suck the blood of the living. Another solid story, first published in
Wizard
, I think its principal strength is that is shows up a pre-modern revenant. The second is "The Vampire of Prague," illustrated by P. Craig Russell and written for this collection. (The P stands for Philip, by the way.) It tells of a man who is cursed to feast on the living until he can be beaten at cards. Russell was a good choice for a story that takes place in Prague. Its architecture and his art both invoke a fairy tale atmosphere. The story is a humorous one. Its moral: don't give weapons of mass destruction to Hellboy.
The last story is "Makoma." Other than a few introductory and concluding pages, which were done by Mignola, it is illustrated by Richard Corben. Mignola says that he found this story in an Andrew Lang
Fairy Tale
book, but couldn't remember which one. Luckily, I own all the Lang books and can tell you that it's the first story in
The Orange Fairy Tale Book
, 1906, "The Story of the Hero Makoma." He's a Zimbabwean fold hero. The comic book version was published in two issues in 2006. The first half follows the original tale fairly closely, though in it the hero gained the powers of each giant he defeated, but the second half is all Mignola. This marks the first Hellboy story from Corben, he's done a few since, and a move by Mignola away from illustrating. His return has been announce, but in the five years since this story, he has not been the principle artist of his creation.
Originally Pubished at: David Bird
Enjoy this article? Consider supporting The Outhouse, a fan-run site, on Patreon. Click here for more info.
Comment without an Outhouse Account using Facebook
We get it. You don't feel like signing up for an Outhouse account, even though it's FREE and EASY! That's okay. You can comment with your Facebook account below and we'll take care of adding it to the stream above. But you really should consider getting a full Outhouse account, which will allow you to quote posts, choose an avatar and sig, and comment on our forums too. If that sounds good to you, sign up for an Outhouse account by
clicking here.
Note: while you are welcome to speak your mind freely on any topic, we do ask that you keep discussion civil between each other. Nasty personal attacks against other commenters is strongly discouraged. Thanks!