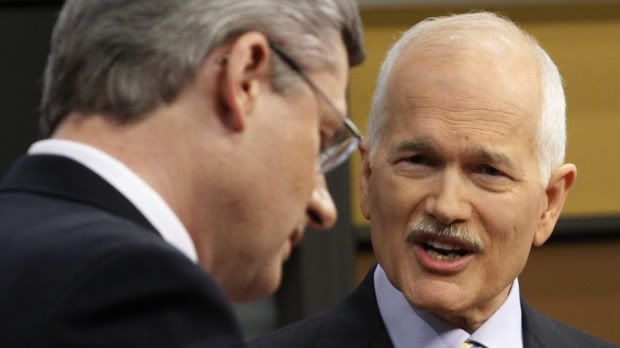 It looks like today's election will be a game changer. Maybe. Stephen Harper finally got his majority government. He's been Prime Minister for five years now, having won two minority governments. Harper is sort of a reverse Trudeau. When he was first elected in 1968 Trudeau was the beneficiary of a deep seated need within Canadians for something a little more glamorous than what they were used to. A little bit of the Kennedy magic up north. Harper, an economist with the personality to match, has suffered from the left's need for a George W to demonize. But Harper and his majority isn't the big news. Its not the game changer. No, that's the NDP's new status as the official opposition and the end of Mackenzie King's nearly ninety year legacy.
William Lyon Mackenzie King was prime minister of Canada from 1921 to 1930 and 1935 to 1948. He was our war time leader and our longest serving prime minister. As the leader of the Liberal Party he succeeded where the Liberal leaders in the UK failed. There Labour outflanked the Liberals to the left, replacing them to create a simple left-right choice for the voters. King, on the other hand, stripped the Liberal Party of Canada of its ideological underpinnings and created what was essentially a party of middle class professionals. It was a winning strategy and one of King's greatest legacies. They leaned left under King and continued to until the eighties, when, beginning with Trudeau's last government, they began to lean right. These shifts weren't driven by ideas, but by reading public and international opinion. Trudeau's shift wasn't quick enough to save them from defeat, but once they returned to power party leader Jean Chrétien gave the nation its most conservative government to date. (It's interesting to point that out to people condemning Harper. They never dispute it, but they still dismiss it. Facts often get in the way of haranguing Harper.) Under Chrétien Liberal pundits used to argue, why would you vote for the Conservatives when you're already getting solid conservative policies from us? Perhaps that, as much as the uninspiring leadership from Dion and Ignatieff, is what helped the NDP supplant them. Why vote for a conservative party when you can have actual The Conservative Party?
So now Jack Layton is the Opposition Leader and the New Democratic Party the Official Opposition. Will he be able to keep it this way? The NDP managed to create a left-right dichotomy here in BC decades ago, but they pushed passed the Liberals to form the government of Ontario in the 90s only to see the Liberals retake the province. Which way will it go for Layton? Personally, I've never seen him as a future prime minister--but then I've never seen him as the Opposition Leader either. Too often he's come across as a university leftist. Someone who's spoken his piece without any real consideration of getting elected. That's not a bad thing, of course, but I doubt that'll continue now. He's also got a lot of new, completely inexperienced parliamentarians. A great many from Quebec. In recent years the French left has been hampered by the leadership of the Bloc Quebecois, which has focussed on advancing the province and not on national issues and needs. And most of these are not just new to parliament, but to the party itself. Interestingly, one caucus member he'll be able to turn to for support is his wife Olivia Chow, herself a NDP Member of Parliament for the last five years.
So now we have our first majority government since the 2004 election. We'll see a lot less dealing making, because the government doesn't need to make any deals, but we'll see also get to see what could be a historic starting point for Canadian politics. Will we become a two party state? The answer to that question really lies with Mr. Layton. His leadership will see either a new legacy, replacing King's, or a lost opportunity. Either way, the next four or five years promise to be interesting.
Originally Pubished at: David Bird