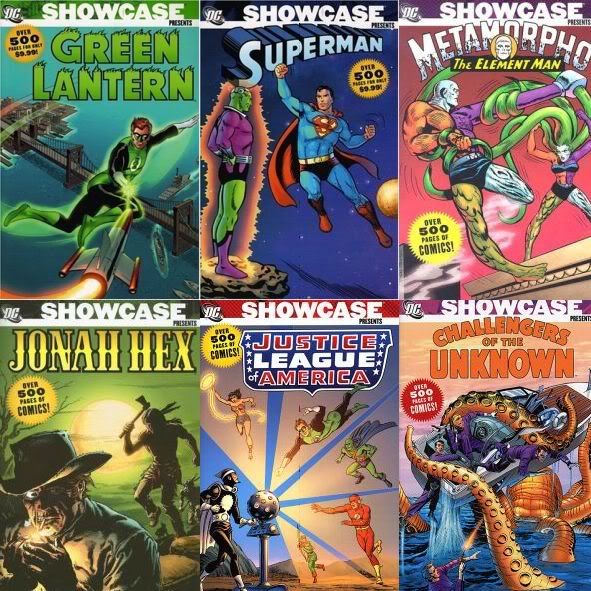 I've spent most of the last six weeks' comics reading time going through six volumes of DC's
Showcase Presents
trades. I was very excited about the series when it was announced and picked up the first five releases--
Green Lantern
,
Superman
,
Metamorpho
,
Jonah Hex
, and
The Justice League of America
--even though I really didn't have the time to get into them. Once I did I was disappointed to realize that Silver Age storytelling was not for me. To each his own. I stopped buying them. Some months later I did pick up
The Challengers of the Unknown
, but quickly put it down. Now five years later I picked them all up again and read through the lot. The immersion experience did help somewhat. Here are my thoughts on what I've read.
Green Lantern
: Easily the best of the lot. We get to see the development of the Lantern Corp mythos--did you know the Oath was originally something Hal Jordan just made up because he thought it sounded cool?-- and we are always rewarded with Gil Kane's fantastic art.
Superman
: These stories are often terrible, but mostly just okay. Our hero comes across as a sad little space orphan who is always lying to his friends. The most interesting thing in it is the develop of Supergirl. There were various versions of the female Superman scattered through the adventures, always as a gimmick, before those various elements were put together to create the actual character.
Metamorpho
: The sad thing about this book is how truly great it could have been. A hybrid of the superhero comic and Mad Magazine, it could have been one for the ages if only DC had let it embrace its 'Mad'-ness completely. In fact, the worst stories were the ones to include other DC heroes. The best thing about it? Ramona Fradon's fantastic art. Two fun facts: 1) The elements Metamorpho could morph into were limited to those occurring in the human body. 2) His favourite element? Manganese. Seriously. He turns into it in practically every story.
Jonah Hex
: This was the most modern of the lot--no surprise there, given when it was made--but it was entirely too formulaic. Even when they lengthened the stories and added an arch-enemy, the stories were too much alike. I think it my appreciation have improved if I were reading it on a monthly basis, instead of all at once.
Justice League of America
: Very much a 'gee whiz,' boy's own adventure feel to this one. This one did benefit from reading it all together, because it helped me to get into the spirit of the title. A curious thing I noticed right away was how often Batman, the one with no powers, and Superman, the one with too much power, were marginalized or cut out entirely. (Of course, they later made Green Arrow a regular member and he was little more than a B-man clone at this point.)
Challengers of the Unknown
: Last… and least. I've always had a soft spot for the Challengers. I first read them in the 90s mini
Challengers of the Unknown Must Die!
by Loeb and Sale (their first collaboration), then Chaykin's and Cooke's. When this volume was released I decided to reverse my earlier decision and try it out. It's bad. Really bad. It reads like it was not only written for children, but plotted by a young child as well. The drawing card for this book is the art by Kirby. Unfortunately, before he was the Kirby who recreated the genre with Lee, he really wasn't the Kirby who recreated the genre with Lee. There are moments, panels, that look great, but not enough of them. Not by a long shot.
I don't know if I'll make any future exceptions, but from now on its one volume at a time.
Originally Pubished at: David Bird