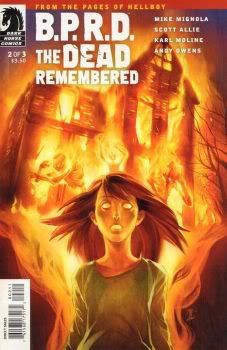 B.P.R.D.: The Dead Remembered #2:
I am still not a hundred percent convinced of the need to go over this ground again, but this issue does do a great job of retelling the story of the death of Liz's family. The second plot line, the witch and the haunted wood, hasn't grabbed me yet, but there is one more issue to go.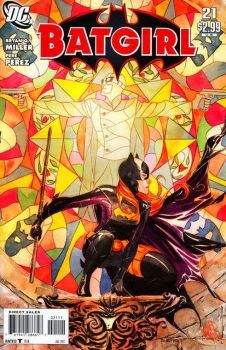 Batgirl #21:
A villain is vanquished and two new ones are introduced. A friend departs and another turns against her. It's an important issue, but it felt busy, rather than momentous.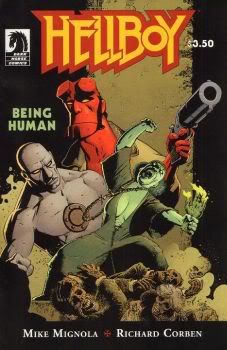 Hellboy: Being Human:
This is such a great idea; I can't believe they haven't done it before. Everyone loves Roger, but he's dead. Ben Parker dead. He's not coming back. So why not tell a new story that took place before he died? The story is one of witchcraft, haunting, and revenge. Roger and Hellboy are only there to watch it unfold and put a heavy handed end to it, but it's a great story nevertheless. Another fantastic Mignola-Corben collaboration.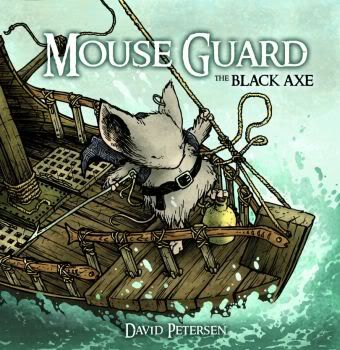 Mouse Guard:
The Black Axe #2: The story of three mice at sea is okay. The art is fantastic. My only complaint is that the lettering Petersen uses in the captions is often hard to read.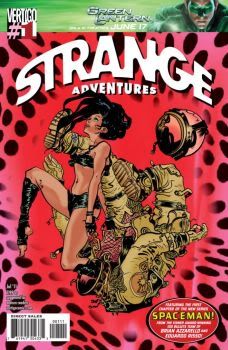 Strange Adventures #1:
Another anthology. Last month it was
Dark Horse Presents
. This month it's Vertigo's
Strange Adventures
. While listed as issue #1, it seems to be a one shot. At least there is no word of a second issue so far, and that's too bad. It's a strong collection. The two horror stories, "Refuse" and "Post-Modern Prometheus," could have been tweaked a bit, but the story quality is generally strong. The big draw is a preview of Azzarello and Risso's upcoming series
Spaceman
. From what I see here it could go either way. It looks interesting, but the dialogue and tough streets looks a bit too much like there work in
100 Bullets
. Not that that's a bad thing. It's just too soon to tell.
Originally Pubished at: David Bird
Enjoy this article? Consider supporting The Outhouse, a fan-run site, on Patreon. Click here for more info.
Comment without an Outhouse Account using Facebook
We get it. You don't feel like signing up for an Outhouse account, even though it's FREE and EASY! That's okay. You can comment with your Facebook account below and we'll take care of adding it to the stream above. But you really should consider getting a full Outhouse account, which will allow you to quote posts, choose an avatar and sig, and comment on our forums too. If that sounds good to you, sign up for an Outhouse account by
clicking here.
Note: while you are welcome to speak your mind freely on any topic, we do ask that you keep discussion civil between each other. Nasty personal attacks against other commenters is strongly discouraged. Thanks!