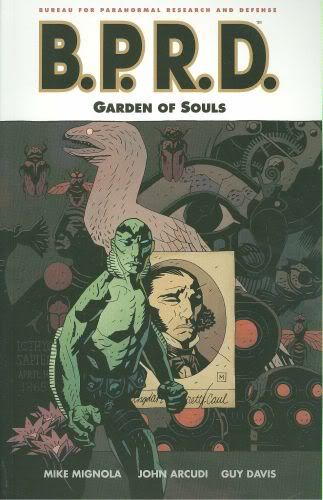 I did one entry into this project last month and, obviously, I'll only be making one this month too. Of course the April entry was at the beginning of the month and this one is at the end of the month, so its really been about two months between entries. I do intend to finish this project. My summer posting may not be better--though I hope it is--but after the summer I hope to put up about one a week. Fingers crossed. As it is I am about half way through the trades. This is the fourteenth of the twenty seven released, and 10,772 words, but there will be more out soon. A new
B.P.R.D.
trade in August. A new
Hellboy
in October. Still, I will catch up. Promise.Garden of Souls
brings Abe's history back to our attention. We start back at the mountain fortress. Roger's last wish is being fulfilled and he's being given a proper funeral. To keep the curious away he's being buried as Archie Stanton. Presumably no one watches Westerns anymore.
The burial seems to put an end to everyone's mourning as life draws everyone back to their own priorities. Ben is continuing his traditional medical treatments and has an horrific vision, recalling the attack in the jungle. Johann's continued study of the sub-basement's records also reveals a new factor in Ben's story: his grandmother was the Axis agent Crimson Lotus. He shows this to the others, but no one seems to think its important. Readers will immediately recognize the link between her, the doll faced monkey, and Ben, but maybe the others are right. To date this revelation has had no bearing on Ben's character development or anything else.
Liz meanwhile is visited by another vision of her Mandarin spirit guide. She isn't happy to see him. As far as she's concerned they're through, it's over. But she's wrong. Its not over. To make this point he gives her a vision of what it will look like when things are over. The frogs have won. Giant monsters, like the one destroyed in the
Black Flame
, do the landscape. He calls them 'sentinels.' I wonder what they are supposed to be watching? This vision is actually the second time we meet her guide in this book, but we're not supposed to know that yet.
Abe's story starts with the arrival of a package: a pocket cigar case belonging to his former self, Langdon Everett Caul. In it are three cigars and a map of Indonesia with the city of Balikpapan circled. Not sure what to make of it, he takes Ben with him to South East Asia where they end up sitting on the docks with no idea what their next step should be. Eventually he is contacted by a mentally challenged child who is acting under the control of another. Following her, Abe leaves Ben in the middle of the night, writing an address on the wall in red. Ben hurries to the police and threatens them with the US embassy if they don't drop everything and jump to his assistance. There are two things wrong with this. First, what is the message written in? Blood? Lipstick? The latter is more conventional in scenes like this, but I don't see Abe carrying a stick. Second, Ben is supposed to be a man of the world, but his behaviour with the police is that of a bumpkin. Your friends been gone for one hour? Maybe you should go back to the embassy and get out of our hair? Still this is a comic, so they jump.
Abe meanwhile takes a boat out to a remote island and discovers a secret colony of chimeras created care for by three robots and a blond giant. The robots aren't robots. They're the surviving members of the Oannes Society, an occult group whose members once included Caul. The bodies of the 'robots' are preservation chambers, which are made mobile with mechanical arms and legs. Inside are the men, now decrepit well past 150. The blond is a member whose soul/mind was transferred from his chamber into a new body especially created for the completion of the Society's great mission. Their mission? To save the world by destroying it. Of course. Actually, they are only going to destroy the Asian-Pacific coast and they expect the souls of the dead to be drawn to them and into their new bodies. Why are they doing this? Why do they expect their plan to work? I don't know. The whole story line is effectively derailed by another story, that of Panya.
Panya was an Egyptian woman mummified thousands of years ago and unwrapped in London in 1859. Astonishingly the moment her face was uncovered she opened her eyes. Caul was in the audience. She was taken in by the Heliopic Brotherhood of Ra, who guarded her and indulged her, but in time she felt like their prisoner. She was rescued by a splinter group, the Oannes Society, and taken to her current location in Indonesia, but soon realized that she'd traded one prison for another. She was the one controlling the girl. Caul was a member of the Society, but it isn't clear whether she was 'rescued' before or after his transformation. They call her Naunet, the Egyptian goddess of the sea, but she resents it. Panya, meaning mouse, was an actual Egyptian girl's name.
The day is saved but we're really no closer to knowing anything important about what happened to Caul. How did he become Abe? Why? The story ends with Abe telling Ben, "I've met some men here, Captain, and they all knew Langdon Caul. Knew his very well, as it turns out. But they didn't know me." Well… maybe not, but maybe the problem is that Abe doesn't want to know. There's been an attempt to write a parallel story, between Abe and Hellboy. Both are on journeys of discovery, and both seem intent on rejecting the destinies laid out for them. The difference is that Hellboy knows what he is rejecting. He is turning his back on a terrible, Hell born future. Abe on the other hand seems afraid to face up to what really happened to make him what he is today. He's running from himself. In the end its not surprising that he threw away this chance to learn about himself. It was the last place he wanted to be.
Originally Pubished at: David Bird