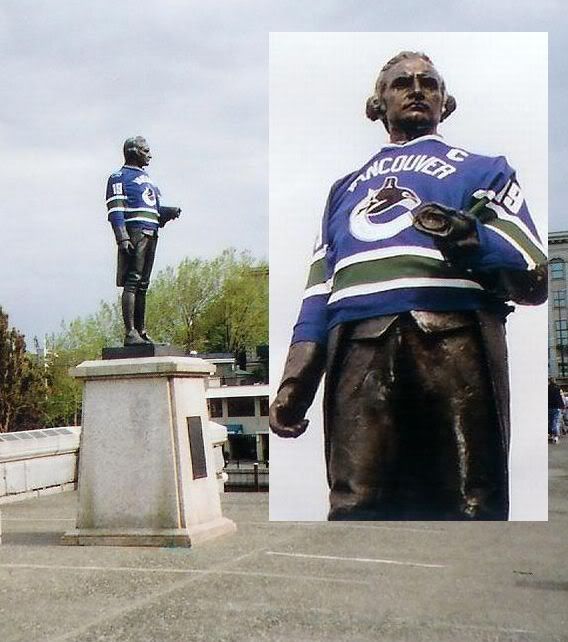 Support for the Vancouver Canucks is everywhere in the city. If you go down to the Victoria Harbour promenade, you'll find that even Captain Cook has joined in and is now sporting a team jersey. Local Boston Pizza franshises have been re-named Vancouver Pizza for the duration of the playoffs.
Right now Vancouver is leading 3-2 and needs only one more win to take the series. Game six is tonight and I hope they finish it, because my schedule won't let me watch game seven and there'll be no point in trying to watch it later. If they win, you'll hear the celebrations all through the city. So, here's hoping they win tonight.
Originally Pubished at: David Bird
Enjoy this article? Consider supporting The Outhouse, a fan-run site, on Patreon. Click here for more info.
Comment without an Outhouse Account using Facebook
We get it. You don't feel like signing up for an Outhouse account, even though it's FREE and EASY! That's okay. You can comment with your Facebook account below and we'll take care of adding it to the stream above. But you really should consider getting a full Outhouse account, which will allow you to quote posts, choose an avatar and sig, and comment on our forums too. If that sounds good to you, sign up for an Outhouse account by
clicking here.
Note: while you are welcome to speak your mind freely on any topic, we do ask that you keep discussion civil between each other. Nasty personal attacks against other commenters is strongly discouraged. Thanks!