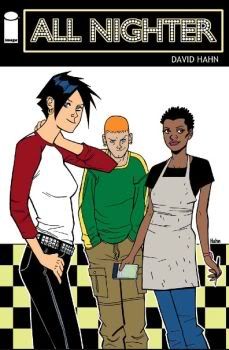 Writer: David Hanh, Artist: David Hahn
Published by Image Comics 2011
Image Comics has become home to another orphaned title. Last year it rescued Brandon Graham's
King City
from Tokyopop's discontinued OEL line—only half of which saw print before cancellation—this year it's rescued David Hahn's All Nighter.
All Nighter
was originally done for DC's MINX imprint. MINX was a young adult line aimed at teenaged girls and headed by the much vaunted Karen Berger. The whole line was cancelled in just under a year and a half, leaving Hanh with a nearly completed OGN and no publisher. At the time he was quoted as promising to see it in print. It's taken him a couple of years, but here it is.
All Nighter
is the story of Kit Bradley, an art student needing to make some changes in her life. At the top of her list is dumping Dwayne, her long time boyfriend and partner in crime. I don't mean that figuratively. The two make ends meet with the occasional B & E. The book gets its title from the local hang out, a 24 hour diner catering to twenty-somethings. We meet her family, her two roommates, one of whom works at the diner, and we meet two more characters, Martha, who, if solicits are to be believed, will prove
very
important, and Jim, who stirs up some tensions among the roommates. On paper Kit is not a very sympathetic person. She steals and lies and, she claims, has killed her mother, but she doesn't come across that way at all. She comes across as a real person, frustrated at not being able to put her adolescence behind her—a sign that Hahn's skills as a writer are a match for his skills as an artist and that his new mini is off to a strong start. But you don't have to believe me.
Hahn has put the entire first issue online
. He sent me the link last month and I owe him an apology for not getting this up sooner. My offline life has been crowding out my online life a little too much lately. But check out the link. Read it, enjoy it, and pick up all five issues!
Originally Pubished at: David Bird