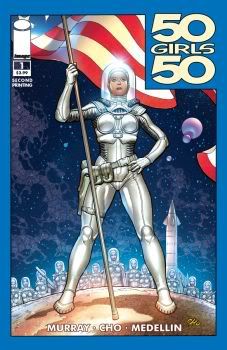 50 Girls 50 #1
: I picked this up because I am a sucker for retro SF comics, but I don't expect it to end up on my pull list any time soon. It's written by Doug Murray and Frank Cho, but drawn by newcomer Axel Medellin. The premise is that Y chromosomes are somehow "incompatible with wormhole travel" and so we get a fleet of ten ships staffed by all woman crews, seeking resources Earth desperately needs. This story focuses on two members of the ESS Savannah, who crash land on a planet whose atmosphere contains chemicals that rapidly corrode plastics. And wouldn't you know it! Their clothes are pretty much all plastic. Nobody's aiming very high here.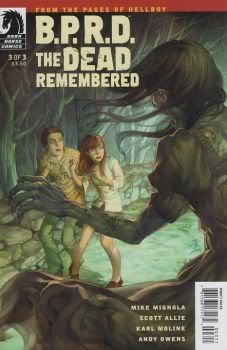 B.P.R.D.: The Dead Remembered #3
: I've been skeptical about this one since it was announced, and I will admit that it's proven better than I expected it to be, but it's still just okay. I can't really say that it has added much to the series as a whole.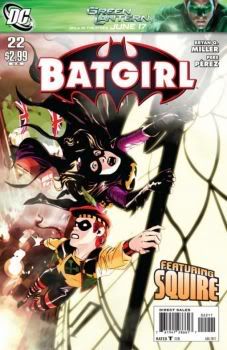 Batgirl #22
: The good news: another fun issue, with Steph traveling to London and teaming up with Squire. The bad news: this is a two parter and the second part will be in
Batman Incorporated #9
. That's not even released until August 10, the same week as the last issue of Steph's run.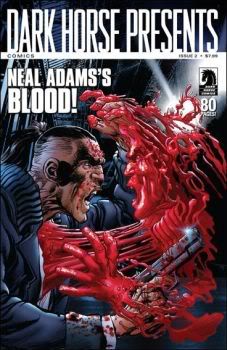 Dark Horse Presents #2
: On the whole this issue keeps pace with issue one. There are no interviews or prose stories, however, and only three of the ten stories weren't continued from issue one—and two of those three launch stories that will be continued in issue three. I like the episodic stories, but I think the series would be stronger if there were consistent number of stand alone stories too. Mix up the formats as well as the genres!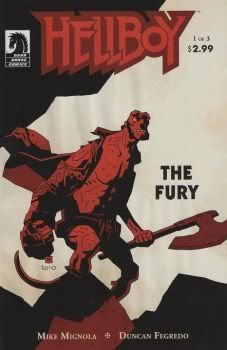 Hellboy: The Fury #1
: As soon as I put this down I realized I'd made a mistake reading it first. Nothing else this month was going to measure up (and nothing did). Hellboy takes on Nimue and the all the good men of England stand behind their rightful King. The Big Two have spent the last five or six years selling epic events, but there's more awesome in this one issue than in any ten of the recent events.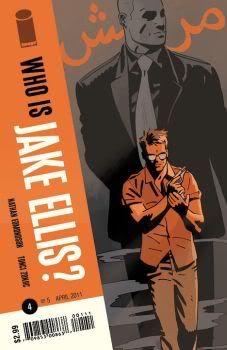 Who Is Jake Ellis #4
: The penultimate issue sees Jake lead Jon through a building that could hold all the answers, or send him back to square one. It's a tense, straight ahead thriller that sets up the answer to the titular question. Very good.
Originally Pubished at: David Bird