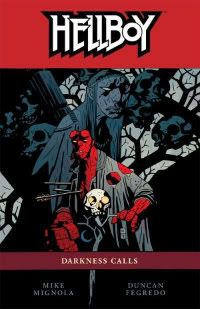 This project was originally conceived as a Hellboy/BPRD discussion thread, where each volume was discussed in publication order. Then it was pretty much just me, continuing in the same order. Now I am going to cut a few corners and hopefully finish it all up. I am going to do all the Hellboy titles together, then do the special stand alones (Abe, Lobster, and Witchfinder), the 40s Bureau stories, then the current Bureau stories.
There are three Hellboy volumes. Volumes eight and nine,
Darkness Calls
and
The Wild Hunt
, launch the story that only just ended with
The Fury
, and volume ten is a collection of short stories. It may be more correct to say that
Darkness
and
the Hunt
represent the culmination of everything that's happened to the Big Red One. They also represent the triumph of the mythic and folkloric elements of his story over its pulp fiction origins. There has been a bifurcation, with the former setting the tone for stories set in the present and the latter setting the tone for the nostalgic short stories--represented in
Crooked Man
and other short story compilations.
Darkness
and
the Hunt
are dominated by women: Hecate, Baba Yaga, Nimue, Alice Monaghan, Vasilisa, Morgan Le Fay, and witches. Lots and lots of witches. Events are set in motion when Igor Bromhead, a weaselly little confidence man we've met before, manages to trap Hecate, the Queen of the Witches, and attempts to usurp her throne. That doesn't work out too well for him, but the witches are still left without a leader. They choose Hellboy. He says no. Enter another weaselly little character we've seen before, Gruagach. We first met Gruagach as the little goblin changling that was put in place of the baby Alice Monaghan. He fought Hellboy and ended up trapped in the body of a pig. Since then his hatred for Hellboy has turned into a bloody-minded call for revenge and destruction. So much so that he works to see an old pretender to the throne made Queen of the Witches, Nimue. Nimue is best known for sealing up Merlin alive a stone tomb, but in the Mignola-verse she is a character so dark that all of the other witches came to fear her. They killed her, chopped her up, put her in a box, and put the box in a deep well under the guard of a giant. With Hecate gone and Hellboy refusing the throne, the witches accede to Gruagach and free her.
Back before facing Gruagach's revenge Hellboy must face the anger of one of the most famous witches, Baba Yaga. Still upset over the loss of her eye she manages to call him into a mystical version of Mother Russia and sets her forces against him. Much to her consternation, she is not the only "god" in the "thrice-tenth kingdom" and other mythological figures are pleased to see her aims frustrated. His chief aid comes in the form of a little, Vasilisa, a Cinderella-like character who actually does appear in the stories of Baba Yaga. Vasilisa is instrumental in saving Hellboy and returning him to the real world. The Russian witch learns that she cannot take revenge on Hellboy. If she will get what she wants--in eye for an eye--she must wait until he is ready to give it to her.
Events in
The Wild Hunt
begin with an olde English giant hunting club--seriously--and go on to reveal a lot about Hellboy's past and future. Not long after the hunt, Hellboy travels to Ireland to see Alice Monaghan. Alice was swapped for Gruagach in 1959. That would put the girl well into middle age by now, but she's still a beautiful, freckled redhead. Events quickly take them to Queen Mab and then to Morgan Le Fay. We learn a lot of stories in these two volumes, including Gruagach's, and Hecate's, but the most impressive is the story of Hellboy's maternal ancestry. Le Fay was the mother of Mordred, who had a daughter, and that daughter had a daughter, and that daughter had a daughter... All the way down to Hellboy's mother, Sarah Hughes. By the demon Azzael, Sarah had a son: Hellboy. The true heir to Arthur. I don't know how that's supposed to work. British monarchies, at least until Victoria, were not matrilineal, but let's just go with it for now. Armed with his ancestor's sword, Excalibur, Hellboy boy can save the world from Nimue's blood lust. But there's a catch. There is always a catch. If he does take up the sword he sets himself off down the path to fulfilling his destiny as Anung Un Rama.
Considering how much more I've written about Hellboy volumes that aren't nearly as important as these two, it feels a little odd to stop here, but, really, I could go on and go. Someday I might. In a comics market saturated with Big Events things happening here are truly seminal. Before I stop, however, I have to point out the work of artist Duncan Fegredo. A British artist, best known over here for doing a
Jay and Silent Bob
mini, he has done a fantastic job in both volumes. He'll be stepping aside now, because Mignola is coming back to draw
Hellboy
again, but I am not alone in thinking Fegredo could be Hellboy what Guy Davis was to B.P.R.D. He's that good.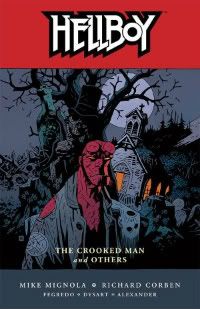 Volume 10,
The Crooked Man and Others
, is a collection of four short stories. The title story is a three issue mini drawn by Richard Corben. It was inspired by Appalachian folk tales and the the pulp stories of Manly Wade Wellman. I have to admit I had never heard of Wellman before opening this comic, his character Silver John, or John the Balladeer was a major influence on Mignola at the time he created Hellboy. I don't recall any mention of him in the
Hellboy Companion
, however. "The Crooked Man" takes place in 1958. Hellboy has been on assignment in the South and decided he would "wander" his way back home, hiking through the Appalachian Mountains. There he comes upon a tale of witchcraft and deals made with the Crooked Man--a local incarnation of the devil. Or perhaps just a devil. For the purposes of this story it really doesn't matter. Hellboy is no sooner on the scene than Tom Ferrell, a prodigal son and Mignola's take on Wellman's John, also arrives home after many years travelling. Together they face down the evil and set things right. Its a strong story, and all the stronger for Corben's art. In his introduction Mignola says that he couldn't have pulled it off without Corben, but in reading it my mind went a step further and wondered if it were written for Corben. It really seems to play to all his strengths.
The other three stories are much shorter. "They That Go Down to the Sea in Ships" was put together as a free comic insert for a
Hellboy
video game. "In the Chapel of Moloch" was published as a one shot. And "The Mole" was a Free Comic Book Day giveaway. They're all solid stories, but none of them are exceptional.
That's wraps up Hellboy to date. There are more volumes coming very soon, but I am far enough behind in this and don't want to wait. Next up are three volumes each starring a different character: Lobster Johnston, Abe Sapien, and Edward Grey.
Originally Pubished at: David Bird