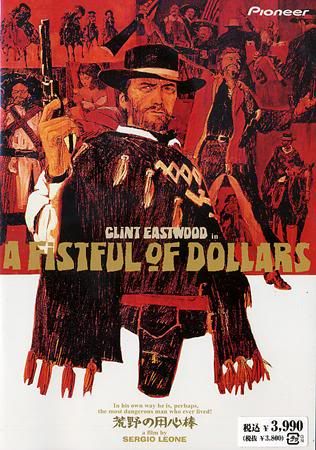 A Fistful of Dollars (1964)
Directed by Sergio Leone, Starring Clint Eastwood
My four year old wanted to watch something she'd never seen before, so I put on
A Fistful of Dollars
. Not what she was looking for, I suppose, but in my defence I've sat through a lot of kids movies and kids aren't the most critical of audiences. Actually I expect to be watching a lot more movies on Mondays from now on. She starts kindergarten this week and will be in class next Monday. My wife also works Mondays, so I can get a couple of hours to sit and enjoy what I want and I'm looking forward to it.
In 1964 Clint Eastwood was an American TV star who went to Spain to make a cheap Italian western. Apparently he was far from the first choice (that was Henry Fonda) but the end product would make him and Leone international stars and launch a whole new sub-genre of Westerns. The movie itself is a remake of Kurosawa's
Yojimbo
, a fact that didn't escape the Japanese director's lawyers and would cost Leone fifteen percent of his profits and some Asian disribution rights. Leorne repsonded by pointing out that Yojimbo was based on
Red Harvest
, which was based on the 18th century Italian play
Servant of Two Masters
(and people say Wikipedia is no good for anything!).
In the movie an American gunman is on the Mexican side of the border and comes across a town in which two gangs are competing for dominance. He decides the best way to make a little money isn't to join either group, but to play the two off one another. The leader of one gang has taken a woman from her family, claiming her husband owes him a gambling debt. The American plays his game skillfully, but the woman's plight eventually forces him to put his better nature ahead of his better judgement.
Fistful
was so influential that its hard to watch it and realize how original it was. Eastwood's film personae was largely created here. But almost 50 years later it remains a suspenseful and rivetting action film. Throughout the movie Eastwood's character—called 'Joe' by the undertaker, but known to movie fans as The Man With No Name—uses his wits first and his gun second. That he's a phenomenal shot is established early, when he insists a group of other gunmen apologize for frightening his mule, but his game depends on being able to out think the gang leaders; especially Ramon, who is as clever and as skillful a shot as he is, but also willing to kill anyone he needs to to make a dollar. If you're a Western fan, you're probably already familiar with this movie. If you consider yourself a film buff, but avoid Westerner—shame on your pretentious self!—you need to check this one out. Really, anyone who's looking for a good way to spend a hundred minutes will be well rewarded for their time.
Originally Pubished at: David Bird