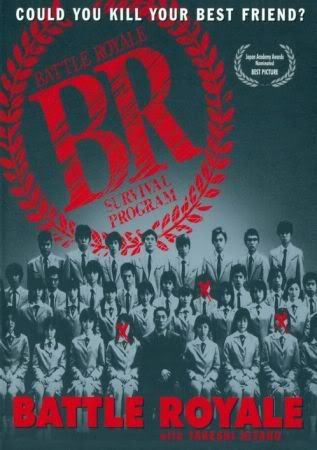 Battle Royale (2000)
Directed by Kinji Fukasaku, Starring Aki Maeda, Takeshi Kitano, Tatsuya Fujiwara, and Taro Yamamoto
This eleven year old import has been getting a lot of press these past couple of years due to the similarities with the popular Young Adult series
The Hunger Games
. In Fukasaku's movie the turn of the twenty first century has seen the collapse of Japan's economy and social norms. The government's response includes a program to keep teens in line, and provide entertainment for others at the same time: Battle Royale. Each year a class of high class students are abducted, brought to a isolated locale, and made to fight to the death. Each student is forced to wear a collar that will explode after three days—unless all the other students are dead. Its kill or be killed and the ultimate test of who you can trust, who your friends are, and how far you will really go to defend yourself.
This year's class is gassed while on a field trip and wakes up on an island that has been evacuated for the game. The entire class finds themselves in one room with Kitano, a teacher one class member knifed the year before, two "exchange students" they've never seen before, and enough soldiers to make sure everything is set off in a orderly fashion. After their orientation each student is given a bag that includes, among other things, their weapon. These vary widely. Some kids get machine guns, others pot lids. They leave the building one at a time and run out into the night.
Fukasaku came into this picture with a directorial career that was decades long, and included groundbreaking films and many awards. It's as well made and acted a movie as one could hope for, zipping along from fatal encounter to fatal encounter as each student has to make a choice—or have someone else's choice forced upon them. Like Hun
ger Games
, however, it has an obvious weakness: the kill or be killed concept is too strong. Audiences don't want to identify with characters that can kill people, innocents like themselves, even if their circumstances require it. Killings happen fearfully, clumsily, accidentally, stupidly. Only one student, a girl named Mitsuko, really embraces the bloodlust. Another, Ogawa, another girl, refuses to play altogether, rejecting her bag and jumping from a cliff. Groups of friends band together for mutual protection, though, for some reason, that usually fails miserably. The movie relies on the two exchange students to keeps things moving. One, Kiriyama, is a psychotic, who has joined in for the thrill of killing. The other, Kawada, is a survivor of a previous Battle Royale, and brings his experience and judgement to bare—something the others, being children, don't have. He teams up with a young couple and together they attempt to beat the system and survive.
It all makes for a much more accessible movie, providing the audience with heroes and villains and more traditional story lines. I suspect that if it had relied on the series of vignettes of the kids responding to their situation, we would have had a very different movie. Perhaps a better one; perhaps one in which most of them were paralysed with fear and doubt and simply waited until the time limit ran out, hoping for some kind of rescue.
Originally Pubished at: David Bird