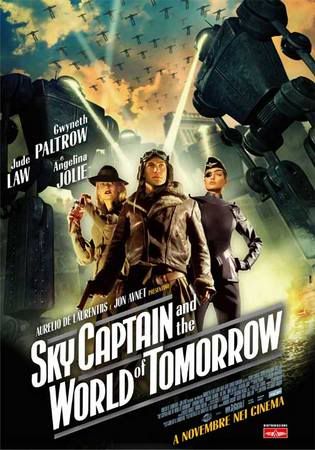 Sky Captain and the World of Tomorrow (2004)
Directed by Kerry Conran, Starring Jude Law, Gwyneth Paltrow, and Angelina Jolie
Well, my plan to use Monday mornings to watch movies, now that my kid is in school on my day off is not going well. It's a Pro-D day. A Pro-Day? They've only been in school two weeks! I had planned on watching my VHS copy of
Una Pura Formalità
or renting
13 Assassins
, but it turns out my video is in Calgary—long story—and
13 Assassins
is exactly the sort of movie I had to wait until for kid was in school to watch in the first place.
So this week:
Sky Captain and the World of Tomorrow
. Friends have been telling my I'd love this since it first came out seven years ago, but for some reason I never got around to watching it. It is 1939 and the evil Dr. Totenkopf's robot army is attacking the great cities of the world. Who is he and why is he doing this? With the nation's military resources stretched thin, Joe Sullivan, the Sky Captain and leader of the Flying Legion, is sent out to find the answers. He is joined by the-intrepid-and-spunky-girl-reporter Polly Perkins and aided by Commander Francesca "Franky" Cook and Dexter "Dex" Dearborn.
World of Tomorrow
got a lot of press when it was released, because its sets, locales, and many of the extras are entirely computer generated. It uses a sepia-like colouring to mask the dull flatness many human-CGI films seem to have, but there are times when that flatness is there anyway. It even seems to affect the actors in many scenes, who come across too quiet and subdued in a movie that turns the action up to 11 almost from the beginning.
The movie draws heavily from 40s Science Fiction and movie serials; so much so that I've made a mental note to count the number of big action sequences the next time I see it. Classic serials had twelve to fifteen parts, with a big scene in each one. The action takes us from New York, to the Legion's base, to Nepal (a nod to Indiana Jones?), to Totenkopf's island fortress. Along the way he meets up with a character obviously styled after Marvel's Nick Fury of S.H.I.E.L.D., Jolie's "Franky" Cook. In spite of being played as an English woman, she is the eye-patch wearing commander of an aerial flying platform. She even uses a jet pack.
It's a fun movie, but never really an engaging one. Conran, who also wrote the script and spent years trying to get it from his computer to the big screen, seems more interested in the process than the characterization. Finishing it I want to dig out my old Fleischer Superman cartoons, but if you're not into the geeky nostalgia that it invokes, I doubt this movie will interest you much.
Originally Pubished at: David Bird