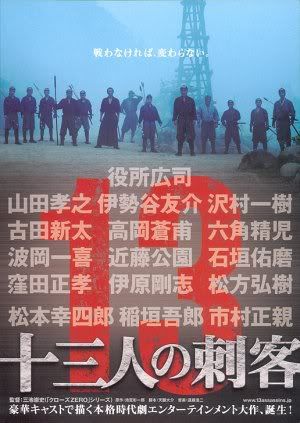 13 Assassins (2010)
Directed by Takashi Miike, Starring Kōji Yakusho
Back to Japan! This time for a samurai revenge story set in the 19th century. The Shogun favours his young half-brother, in spite of a history of sadistic cruelty. When he decides to place him on the ruling counsel, Sir Doi, a senior member of the government realizes that the consequences for the nation would be catastrophic. He enlists Shinzaemon, a trusted samurai, to save Japan and kill the evil lord. Hanbie, an old associate of Shinzaemon is entrusted with saving the lord from his would be assassins.
The movie is a remake of a 1963 film of the same name and apparently draws on two historical incidents. One is the famous story of the 47 ronin. The other is the assassination of Ii Naosuke, who was killed in a plot by 17 ronin assassins. His crime? He was the minister responsible for signing the Harris Treaty and opening Japan to the US.
The first half of the movie unfolds with simplicity as the plotters and officials set their schemes like an elegantly played game of chess. Here we meet the victims of Lord Naritsugu's cruelty. He has no respect for class or age or gender. The second half of the movie is one protracted battle scene, as the thirteen assassins lure Naritsugu, Hanbie, and two hundred soldiers into a massive trap: an entire town remade into a maze of kill zones.
Miike shifts pace with ease and really seems intent on pouring whatever ingredient he feels he needs into a blender and mixing it into something whole and complete. At one point an assassin dies and everything is still except his blood pouring through a rivulet of water; another blows himself up with a stick of explosives and a wave of blood pours over onto the street that runs parallel. CGI is used to with varying degrees of effectiveness. The best use is when we're shown what Naritsugu's cruelty has meant for one woman. The least convincing is when a small group of water buffalo, with burning logs tied to their backs, are set loose during the battle. The incident itself doesn't add much to the story and CGI itself is unconvincing.
All in all, it's a very good movie. It never rises above its genre to become the sort of movie that might appeal to a broader audience, but like
Battle Royale
in represents something we don't see much of in Hollywood movies. If this movie had come out of LA, it would have been delegated to a known action director and be riddled with action movie clichés and tropes. Not there that aren't things in this movie that you won't see in other samurai movies, but Miike, like Fukasaku, brings to this film a broader and deeper background than his North American counterparts could be expected to have and the film is richer for it.
Originally Pubished at: David Bird