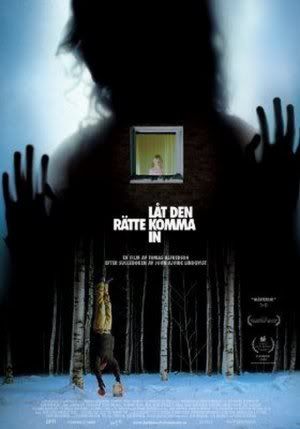 Let The Right One In (2008)
Directed by Tomas Alfredson, Starring Kåre Hedebrant and Lina Leandersson
It's a long Scandinavian winter in Blackeberg. Oskar lives with his mother and spends his days running a gauntlet of bullies. He spends a lot of time alone until new neighbors move in next door. A man with a girl his age. She doesn't go to school. There's something wrong with her. Or something different. She's a vampire.
Based on a novel by the same name, and made into an American film called
Let Me In
,
Let The Right One In
is a Swedish vampire movie with a dedicated following. Vampires are my favourite movie monster, but I haven't really enjoyed a vampire movie in a long time. From Anne Rice's Lestat to Joss Whedon's Angel to Stephanie Meyer's Edward, the last few decades have not been kind. The vampire has gone from being a menacing seducer, a devil in evening wear, to a whiny, moping annoyance.
This movie touches on two themes that have been a part of the problem, the vampire as victim and focusing on the vampire's relationship with a human, but it succeeds in skirting these tropes without losing itself in them. It succeeds with the first because the vampire, Eli, is a child and children are almost by definition dependents; even when they have been children for a very long time. What's more Eli never expresses regret for being a vampire. It skirts the second issue by never turning the relationship into a romance. These are two lonely kids, who each need a friend. A connection. The movie is set in the 80s. Were it set today Oskar might have an active online social life, but it isn't and he doesn't. He suffers alone until Eli shows up.
Moreover, Eli isn't a girl. She looks like one and comes across as one, and is played by one, but when the subject comes up she tells Oskar she isn't one. Audiences might interpret this to mean that 'she' isn't human, except for a blink-and-you'll-miss-it shot of Eli's naked groin. Where you'd expect to see genitals there is only a nasty scar. The implication being that when Eli was human, 'she' was a 'he.'
I enjoyed
Let The Right One In
. So far I've been very lucky in my Monday movie choices. No turkeys yet. This one shares a lot of the same ingredients of previous winners: it's well directed, well acted, well written. It seems so simple to turn out a good movie, you have to wonder why they aren't all winners. I've heard good things about the US version too. Maybe I'll check that one out too.
Originally Pubished at: David Bird