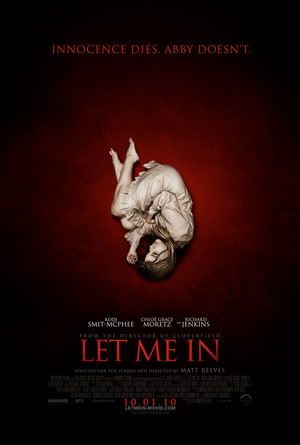 Let Me In (2010)
Directed by Matt Reeves, Starring Chloe Grace Moretz and Kodi Smit-McPhee
Having watched
Let The Right One In
last week, and having heard a lot of positive things about the American remake, I figured I'd rent it for this week's movie.
Drawing from the same source material, the two movies do, of course, tell the same story: a lonely, bullied boy befriends a new neighbor--a girl his age who is also a vampire. The American one starts much differently. Police and ambulance are racing through a snowy night, sirens blaring. The cynic is going to think, of course, that that's Hollywood for you, but the movie does steer clear of action sequences far more than you'd think a Hollywood production would. The movie starts with the capture of Hakan and then moves back two weeks in time in order to bring things back to this point.
He's not called Hakan in this movie--he's simply referred to as "the father," and that's only one of many changes. The boy is renamed Owen and the girl Abbey. I don't know why. Oskar and Eli (or Oscar and Ellie) aren't that unusual. Owen is introduced wearing a Halloween mask and spying on his neighbors. Creepier than Oskar. He is also much more socially isolated. The movie seems to go out of its way to make him appear as weak and as vulnerable as possible. Though Abbey does state that she isn't a girl, there is no indication that 'she' was ever a 'he.' Watching this movie, you're watching the story of a little girl and a little boy, vampirism notwithstanding. It's also clear that Owen is forming a romantic attachment towards her, even taking a growing interest in his class' assigned reading of
Romeo and Juliet
as their relationship grows. Abbey, on the other hand, is a little more complex. It may look like she's reciprocating his feelings, and maybe she is, but her relationship with Hakan raises other possibilities.
Now I am calling him Hakan, again. He is referred to as her "father," though it's made clear he isn't. In the novel Hakan is a pedophile that Eli brings into her service. She is a child, or at least in the form of a child, and she needs an adult figure to enable her to move more freely in the world. A child alone raises too many questions. In the Swedish film version he is just seen as her servant and little more. Its not much of a character at all. In the US one not only does Richard Jenkins do a fantastic job of bringing the character alive, making us feel for the guy even as he's hunting victims, but the adaptation itself recasts the nature of their relationship altogether and raises questions about Abbey's intentions. At one point we see a photo in her apartment of her and a little boy that looks somewhat like Owen, and somewhat like a younger version of Jenkins' character. The implications are that he has been with her since he was Owen's age, and that Owen himself is being groomed as a replacement. Another hint in this direction is that Owen has a sweet-tooth and is constantly humming bits of a candy jingle to himself, 'eat one now, save one for later.' Indeed.
Another change from the original film is the introduction of the cop played by Elias Koteas. The character isn't given a name, but he makes himself felt throughout the film while trying to figure out the nature of the killings. I haven't read the novel, but this is something I didn't like about the Swedish film. Surely the killings and attacks would have provoked some response from the police. If Koteas' character is unsure of what's going on, and really given little to work with, the actor still manages to make it work. He comes across as a character out of
Homicide
. One of the film's most effecting scenes involves him, Owen, and Owen finally choosing a side. It's one of the strongest scenes in either film. Whichever of the two films you enjoy most, there no question but that the actors in this version are all very talented and are all bringing their A games, including Kodi Smit-McPhee and Chloe Grace Moretz as the leads.
As for problems I had with the film, there's the wide use of CDI, including in unnecessary places like her attacks and two sequences where she climbs. Watching her jerkily climb a tree, I couldn't help but think that a normal person climbing without effects could have made it look easier and more convincing. And the neighbors all but disappear. In part this is to boost Koteas' role, but I think it would have helped to see the impact of these events on others in the story. I thought it was interesting to place the story during a winter in Los Alamos, New Mexico. I associate the area with desert and was surprised to see it snowing, but there are problems when it comes to reproducing an important scene. In the the other version Hakan pushes the body of someone Eli has killed under a frozen river, where it is later found by children. In the US version Jenkin's character does the same thing, but the river really isn't frozen. In fact, its running pretty freely. Coming from Canada north I couldn't help but think, 'You don't let kids on the ice when it's that warm. It's not safe.' Reproducing scenes is another problem with the movie. So many were shot the same way they were in the Swedish version. Yes, they're drawing from a common source, but Reeves seems content, when he isn't making specific changes to the story, to just re-do Alfredson's work.
All in all, though, it is a good film. I don't really see a need to pick one version over the other, though on the whole I'd probably go with the Swedish one--ideally with Jenkins and Koteas spliced in!
Originally Pubished at: David Bird