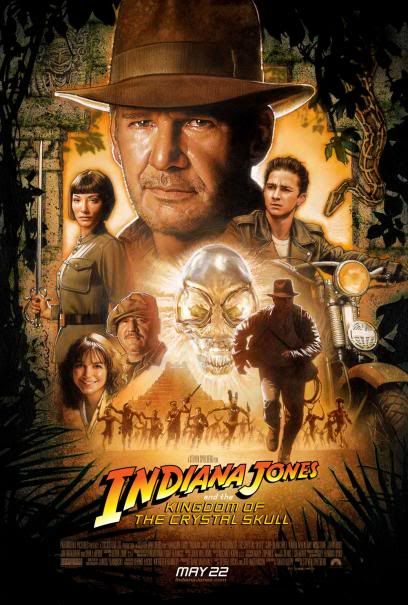 Indiana Jones and the Kingdom of the Crystal Skull (2008)
Directed by Steven Speilberg, Starring Harrison Ford
This past week has been Indiana Jones week at the Bird household. We've watched all of them in order and enjoyed... most of it. This was the first time I'd seen the fourth one. I had heard a lot of bad things, but I had also heard that lowered expectations help.
This movie was set 19 years after the last one--and released was 19 years after the last one--and opens with the Russians taking control of a secret US facility, opening their car trunk, and revealing their prisoners: Indiana Jones and some guy named Mac, I've never heard of. The Russians are after something and believe Doctor Jones can help them find it. They're right, it turns out, and in no time at all Jones loses his job, meets his son, and ends up in South America looking for the lost city of gold, which turns out to be an alien spaceship. Writing that down I see Jack Kirby making something out of that, but he wasn't around to help and nobody thought to look to him for inspiration.
This is not the worst movie ever made. Its not even a particularly horrible one, but the more I think of it, the more problems I'm drawn to. That's never good. For all the particular problems I could point to, the biggest one is that the middle third of the movie is pretty much all exposition. Characters explaining things. Explanations are good, even helpful, but an action-adventure film needs action, and adventure, and Indiana Jones spends much too much time as a prisoner of the Russians, tied to a chair, talking.
And what about the particulars? Starting at the top, the thing that annoyed me most was the soft lighting. Pretty much the whole movie was soft lit. Harrison Ford's not that old. Neither is Karen Allen. There was no reason for it. Next were the duck falls. There were four of them. The duck in question is the amphibious car used by our heroes to escape the Russians. First, its driven over a very high cliff and into a river. There's really no reason they shouldn't have all been killed. But they go on down the river and over three water falls, each bigger than the last, and they all escape unharmed. There's a difference between an incredible stunt and an unbelievable one. This was my introduction to Shia LaBeouf. Some people really don't like him, but I didn't have any problems with his character or performance. I did have a problem with the protracted Tarzan homage. What was that about? Don't get me started on the nuclear explosion and the gophers and the too widespread use of CGI (except for a brief trip to Hawaii, this film was pretty much all filmed on a sound stage and it suffers for it).
In a word, or four: I didn't like it. Its not
Catwoman
bad. Since I now own it, it may well be popped into the DVD player again, but certainly not any time soon.
Originally Pubished at: David Bird