One of the most awesome columns at the Outhouse is Super Reads.  The guy reads all the giant crossovers, every book and breaks it down for you each week so that you don't have to.  Now that Fear Itself has wrapped up, if you want to fill in the blanks or catch up on the whole story before the trade lands start right here:
Follow the column week by week as he reads all the crossovers:
It was a huge undertaking as you can see, ending at Super Reads 163.
It's a lot cheaper than reading every single Fear Itself book marvel put out and probably less time consuming and from what I can tell you, more enjoyable.  I'm pretty sure by the end of most of these the writer is borderline insane so hopefully he catches his breath again before Marvel gets going with this "Point" thing they talked about at NYCC.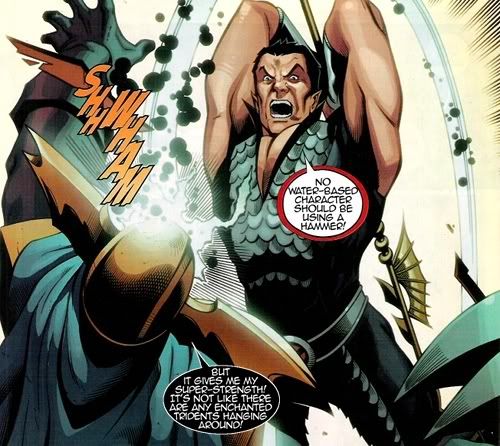 He also puts these little scenes in them to break up the long reads, I'm pretty sure he's changed the speech bubbles in them.  No way are they really this entertaining.
Authors: xaraan
Read more http://theouthouseblog.tumblr.com/post/11844667924
Enjoy this article? Consider supporting The Outhouse, a fan-run site, on Patreon. Click here for more info.
Comment without an Outhouse Account using Facebook
We get it. You don't feel like signing up for an Outhouse account, even though it's FREE and EASY! That's okay. You can comment with your Facebook account below and we'll take care of adding it to the stream above. But you really should consider getting a full Outhouse account, which will allow you to quote posts, choose an avatar and sig, and comment on our forums too. If that sounds good to you, sign up for an Outhouse account by
clicking here.
Note: while you are welcome to speak your mind freely on any topic, we do ask that you keep discussion civil between each other. Nasty personal attacks against other commenters is strongly discouraged. Thanks!
About the Author - Jeremy Shane
---
Jeremy was born in a small mountain village of a strange foreign land called Weystvurginea.  Banishment for liberal views saw him spend years wondering the east coast until he decided to bike to California.  When he saw how long a trip it was, he drove instead.  Now he's living it up in a low humidity climate, sometimes working on his photography and when not, he writes for us covering books (by way of his blog: Reading Realms), gaming, tv, movies, comics, conventions in the SoCal area, and creates a weekly webcomic: A Journey Through Skyrim.  If you look for him offline, start in the L.A. area; online start at: www.jeremyshane.info for his profile and all the social networks he's on... or just follow him on twitter, he seems to be on there a lot: @jeremyshane.
More articles from Jeremy Shane