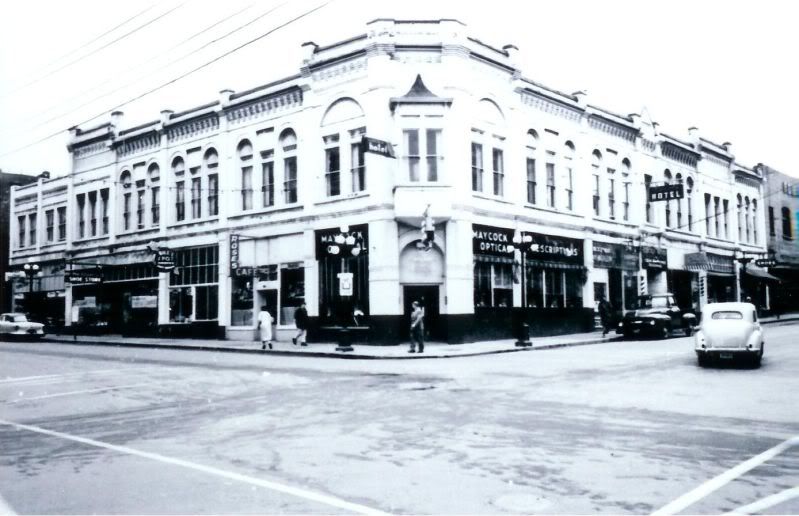 Dreams are funny things. I rarely remember mine. They seem to dissipate as soon as I get up and its rare that I remember them at all. I had one about three weeks ago. In it I was eating with a friend. I can't remember which friend. There was somewhere we had to be, but we figured we had plenty of time. In the end we were rushing towards my place. I live in James Bay, a downtown neighborhood in Victoria. On the way I found myself in an area I had never been before. It was strange. I've lived in the city for 27 years, but I had no idea where I was. I looked at a building across the street. It looked very familiar. Then I woke up.
I quickly forgot most of the dream, but the image of the building stayed with me. I knew that building. I puzzled over it all morning before I realized that the image was a memory and not simply something my subconscious made up. And I realized that because it was a childhood memory my perspective was a bit skewed. Buildings, distances, had seemed bigger than they do now and that added to the strangeness of the dream. I also figured it was in the Old Town or Inner Harbour area of the city--pretty much the same thing--but that was about it.
Because dreams so seldom stay with me, I decided to track down the building. To find out what I was remembering. I didn't grow up in Victoria, but my father did and when we were very young he would take the family on trips to see his mother. She was already quite old and so he stopped including the children after a while--she was in a home and a bunch of bored kids was seen as something of a disturbance. So I had a time frame. The image/memory had to be from the 1960s.
When I had a free morning I made my way to the City of Victoria Archives to look for a picture of the building. On my first visit I familiarized myself with how things worked. On my second I came equipped with a list of street names and had every intention to check each one. I didn't get very far, though, before I found the above picture in their Johnson Street file. Its the corner of Johnson and Broad Streets.
Now, I know there are other buildings like it, and I realize that there is a small possibility that the memory could be of some place on the Lower Mainland (that's the Vancouver area for non-locals), but looking at the picture I felt very sure that this was it. I looked at some other files, but began to feel I was wasting my time and I stopped looking and bought a copy. With it I went to the corner and there it was! The exterior is red brick now, but the design so much the same that I suspect there was always red brick under the paint or plaster. Even more interesting, see the door in the center of the picture? That's the entrance to Curious Books and Comics, I place I shop at at least once a week.
Now why I would remember my local comics shop as it was forty years ago, I have no idea!
Originally Pubished at: David Bird