I've been posting weekly film reviews for the last couple of months, but I am going back to comics this week to share two very good books.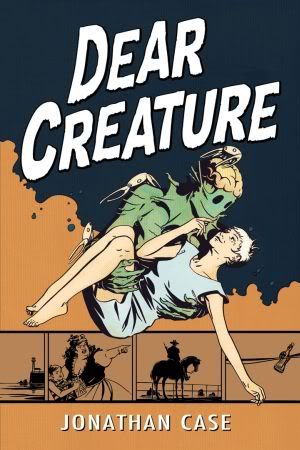 Dear Creature
Written by Jonathan Case, Art by Jonathan Case
Published by Tor Books, 2011
It's a tale as old as time. A hormonally-charged-teenager eating mutant sea monster falls in love with a crazy shut in and the whole world, well, okay, maybe it's not that conventional a story. Grue (short for gruesome?) is a mutated sea monster, who lives in a sunken sub with a chorus a wise-cracking crabs. The crabs are pretty happy, Grue provides them with a steady diet of delicious teen flesh to feast on, but Grue himself is unsatisfied. Something is missing from his life and he finds it in the pages of Shakespeare's plays, which have been torn out, put into cola bottles, and thrown into the deep. Tracing the origin of these bottles leads him to the sorry story of two Italian sisters, the sheriff who loves one of them, and the boy blamed for the death's caused by Grue's appetite. Can Grue overcome his own nature and make everything right? Well, the course of true love never did run smooth.
This is Jonathan Case's debut (almost) and it's a very strong one. His story is fun, engaging, quirky, and emotionally true. His art is equally good, with a tone that recalls the macabre tales that used to be common place before superheroes ate American comics. You have to wonder what they're putting in the water in Portland to produce newcomers this accomplished. I enjoyed it so much, I bumped his other new book to the top of my 'to read' pile.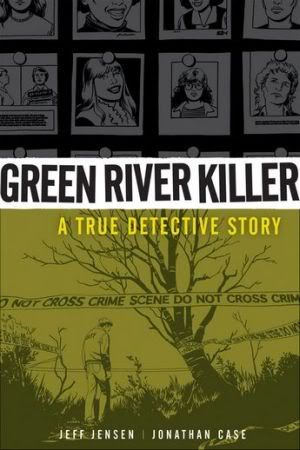 Green River Killer: A True Detective Story
Written by Jeff Jenson, Art by Jonathan Case
Published by Dark Horse, 2011
Coming out just a month before
Dear Creature
,
Green River Killer: A True Detective Story
is a very different book. Growing up in British Columbia all our American TV channels came out of Seattle, so I've long been familiar with one of the Northwest's most notorious serial killers, but I have to admit I knew nothing of the circumstances of his capture. The book is a collaboration with writer Jeff Jenson, who has a unique connection to the case: his father was the lead detective. In fact, there were times when he was the only detective on the case. Tom Jenson spent most of his career trying to find the killer of over forty women, and finally managed to catch him utilizing the latest developments in genetic research. It was a long, wearying journey that culminated in six month period in which the killer worked with police to locate victims and explain his motivations, in a deal to escape the death penalty.
I don't know anything of the nature of their collaboration, but Jenson and Case have put out a serious and compelling work. It focuses on Tom Jenson and how the case impacted his life. As a character in his own life's story, he comes across as strong, dedicated, and very real. As his son points out, the victims were prostitutes, but they were also daughters, sisters, and mothers and they deserved someone like Tom Jenson, who wouldn't quit until they had justice. The tone of Case's art is very different from
Creature
's. The book doesn't concentrate on the violence, but its effects and the day to day frustrations of decades of hard work. Not an easy thing to capture in a visually compelling manner, but Case pulls it off again.
Two very rewarding reads.
Originally Pubished at: David Bird