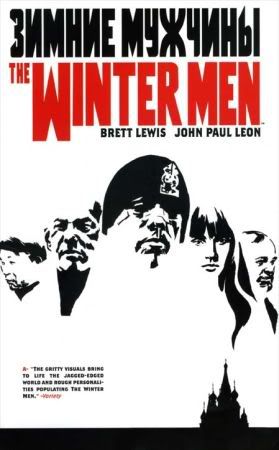 Writer: Brett Lewis, Artist John Paul Leon
Published by DC/Wildstorm 2009
There are a lot of ways to start a review, but a rant isn't one of them. Usually. But bear with me.
We live in an era of fanboy saturation. When a title can foster more discussion than sales. So why is it that far too few people have heard of, let alone read, one of the best titles of the "aughts"?
The importance of a consistent publishing schedule is a lesson the comics industry never seems to learn.
The Winter Men
was originally solicited as a Vertigo title in 2003, but didn't see print for another two years and then at Vertigo's sister imprint, Wildstorm. The first two issues came out a month apart. The third issue two months later. Then there was a five month wait for issue four, another six months for issue five, and a far too long
twenty-six month
wait for the sixth and final issue. And originally it was said to have an eight issue story arc, but that was shortened to six (though the last issue was double-lengthed, so maybe they split the difference). By the time that last issue did come out, the title had fallen off my radar and a revised pull list. As big a fan as I am, why would I keep track of a comic that wasn't being produced? I only got a copy of the last issue because I happened to be in a comic shop (and not my usual one) when the clerks were debating what to do with the single issue of a title they had been shipped. Perhaps this customer of theirs would like it? I took one look at what they were talking about and said, I would like it! I bought it then and there. When Leon was asked about all the delays,
he replied
, "I wouldn't want to badmouth my writer, so I'll just leave it as two words - not me." I don't know whether Lewis ever responded to that, but six issues in forty months? Of course, it bled readers.
Thank you. End of rant. On to the review.
The Winter Men
is the story of Kris Kalenov, a Russian policeman struggling to maintain some semblance of integrity in the chaos that followed to fall of the Soviet Union. When circumstances put him on the trail of a kidnapped child, readers are drawn into a world of gangsters, politicos, and the anything-for-a-buck ethos of Moscow in the 90s. We also learn of Kalenov's own astonishing past. He once led a squad of rocket soldiers, part of a tech superhero program developed by the Soviets themselves as a counter to their own meta hero, The Hammer of the Revolution. In a world where personal loyalties and connections trump all else, Kalenov finds himself ever relying his old squad.
The first three issues concentrate on the story of the kidnapping and serve to introduce us to a varied and vivid picture of Russian life in the Yeltsin era, from Moscow to New York to the Caucasus. The next three issues work like an inverted matryoshka doll, expanding and enriching the story. Making it larger and more personal. Each of the last three issues, interestingly, given the publication delays, could also serve as an ending for the series. The fourth, my favorite issue, would leave us with a day in the life a two Muscovites, a cop and a gangster, struggling to keep afloat in their new reality. It would have made for a quiet, sad resolution. The fifth issue is anything but quiet, as the former rocket soldiers strike back at the people who have been manipulating events and bring the bad guys to justice. Sort of. It was certainly a more typical comic book ending, but it lacked the gravity the story seems to call for. And that brings us to the final chapter, which brings it all together for a grand finish by going back to the squad's original purpose.
Lewis and Leon do an incredible job creating characters and an environment that seem so real you feel it must have actually been like this before Putin began his clamp down. In the end my only disappointment was that Wildstorm hadn't put the thing out in a hard cover format. It deserves it.