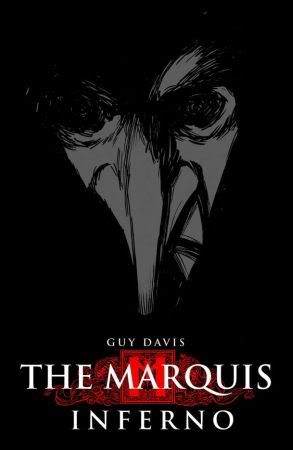 Writer: Guy Davis, Artist: Guy Davis
Published by Dark Horse, 2009
As an artist, Guy Davis can do anything and do it well. In the design of each page and panel, the depiction of epic battles and subtle emotions, of historical minutiae and undreamt of technology, the range and depth of his skill stands up to anyone's. I've known that for some time.
The Marquis: Inferno
was my introduction to Davis the writer.
It collects three stories written between 1997 and 2003 and introduces Vol de Galle, an inquisitor who lives in a world loosely modeled on 18th century France, and has spent his life serving a Church very different from any that we would recognize. Principle among its teachings is the idea that evil behavior is not caused by our own agency but by the influence of devils. Armed with a mask that allows him to see the demons, de Galle becomes the feared Marquis, and launches a one man war against the monsters who inhabit the city of Venisalle.
The strongest story is
Danse Macabre
. It introduces the zealous de Galle, a man plagued by doubts, about himself and his faith. I found I could take the story at face value, but that it was also open to an alternative interpretation: that his actions are those of a madman. That de Galle's battle with his faith and its hypocrisy have broken his mind. Even his revelation in chapter five can be read an attempt to rework his initial rationale in order to continue his crusade. That the next two stories make it clear that the book really is about the Marquis sending demons back to Hell was almost a disappointment.
In his introduction Mignola writes of Davis' obvious love for monsters, but I can't think of another artist who comes close to portraying the horrors of damnation. Most comic book monsters lean on Kirby or Lovecraft (or both), but Davis' Hell would thrill Hieronymus Bosch.
As a reviewer I almost always write very positive reviews, and, though they tend to lack the pithy quotes ad copy writers look for, I sometimes worry that I don't come across as balanced as I should (as I am!). The fact is I don't have to write reviews and I don't enjoy tearing things down. I do read comics I think are absolute rubbish, but I am rarely motivated to waste any more time on them by reviewing them. I want to give a more balanced representation of what I read, but I have more interesting things to do with my time rant on about what annoys me (usually, and last week's review notwithstanding). My review of
The Marquis
is not going to change anything. Having already praised Davis' artistic talents, I have to say his writing matches it incredibly well and that this book establishes him as one of the best cartoonists in the medium. I look forward to three new volumes beginning this year.
Originally Published on
David Bird's Blog
. See the original post
here
.