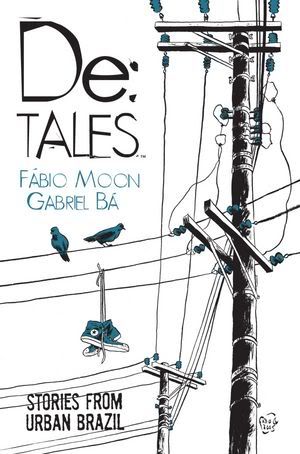 Writer: Fabio Moon and Gabriel Ba, Artist: Fabio Moon and Gabriel Ba
De: Tales published by Dark Horse, 2006
Daytripper published by DC/Vertigo, 2009-ongoing
These two titles are by a pair of twins from Sao Paulo who have been making a name for themselves illustrating titles like
Casanova
,
The Umbrella Academy
, and
B.P.R.D.
Left to their own devices they leave behind super-spies, superheroes, and the supernatural behind to spin tales about twenty-somethings in modern Brazil.
De: Tales
was published four years ago. It includes biographical and fantasy stories, but principally focuses on capturing moments in the lives of young people. Meetings, by chance or appointment, are a common theme. Like most anthologies, it's a mixed bag, but none of them are terrible. The best, which was also the first of their stories I read,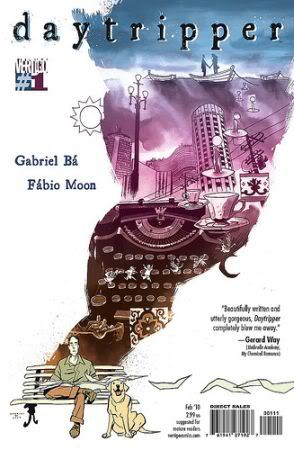 when it was collected in
Autobiographix
tells about an actual encounter the two had while in Paris. At their weakest the stories just seem a little pointless. They capture their characters' youth, their hipness, in a way that seems more real than Pope, but there often seems to be little reason for the story.
Daytripper
, which has a third issue coming out this week, also focuses on the on the lives of young Brazilians and may be heading towards the same problems. The first story centered on an obituary writer whose dreams of becoming a novelist suffer in the shadow of his father, one of the nation's most revered authors. The second story centers on a young man on vacation. He meets a dream girl. There are various profundities spoken. While the first story is full of potential, the second goes no where, though both end at the same place. I am not going to say where - I don't want to spoil things - but I hope it doesn't become a gimmick. With only two issues out, and those so uneven, its probably too early to form a judgment of the series as a whole, but it seems to share the same strengths and weaknesses as the stories in the earlier book.
As with most stories in the earlier collection, the credits don't break down who did what. Its Moon and Ba all the way.