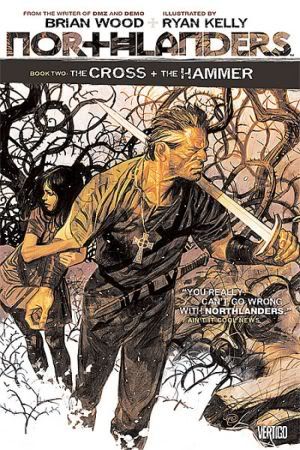 Writer: Brian Wood, Artist: Ryan Kelly
Published by DC/Vertigo 2009
I enjoyed the first volume of Northlanders well enough, even if it could be a bit anachronistic at times. I kept thinking that Sven was a very modern hero. This time round Wood doesn't even try. Just the opposite. This time we get a police procedural. Seriously. Five pages in and we're talking about 'splatter patterns.' Its CSI Erie.
The story is set in 1014, relatively late in the Viking period, and the Scandinavians are about to be thrown out of Ireland. Still, their king dispatches one of his best men, Ragnar Ragnarsson, to stop a violent insurgency. The king's officials and loyal servants are being ruthlessly killed. Once he is on the scene, however, the forensics make it very clear that it is all the work of one man. That man is Magnus Mag Rodain. After a life of violence, Magnus hopes to find some sort of redemption by funneling his energies into the service of his people, so, accompanied by his daughter Brigit, he has been terrorizing the Viking communities.
The book is one long chase as Ragnar attempts to run Magnus to ground. This is not a book for people who really know much or care about the period. While Vikings pillaged Ireland as much as anywhere, anyone who'd read anything of the period would know that their actual presence there was always tenuous. That aspect of the story would have been better suited to Britain. And so many of the details - Ragnar has detailed maps of the Irish countryside, Magnus is identified by his tattoo, the Irish are called Celts - are just wrong. It's a crime story with swords and horses replacing cars and guns. And even there it hasn't much to offer. Chase, violence, chase, violence. There is little reason to care. Only towards the end are we given any insights into Magnus, and never any into Ragnar, and those are offered in a gimmicky way, which might have worked better as characterization if it had been made clear from the beginning.
A definite miss.
This blog has been syndicated from
David Bird's Eponymous Blog.