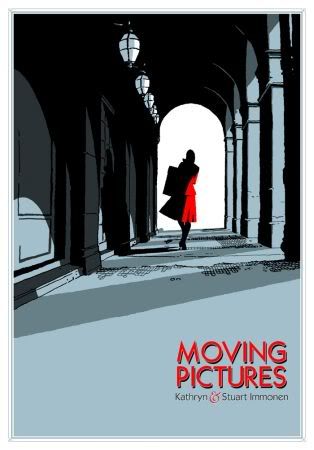 Writer: Kathryn Immonen, Art: Stuart Immonen
Published by Top Shelf, 2010
Moving Pictures
has moved from the Immonen's website to a beautiful new paperback edition from Top Shelf. The story centers on an interrogation of Ila Gardner, a Canadian in Paris during the Second World War, by a German agent, Rolf Hauptmann. Throughout it readers are given a series of vignettes, illuminating Gardner's life and her relationship to Hauptmann. Throughout the war Germany looted the rest of Europe, stealing its art treasures. She works for a French museum, cataloging and preserving works of art. He works for the German government, essentially cataloging and appropriating the same art.
Some people have raised the question, what would a Canadian be doing, living free in France during the war? Canada joined the war against the Axis as soon as it started, and Allied countries interned their German citizens. Shouldn't she be interned? Maybe the Germans would have interned her if she were in Germany, I don't know, but as a citizen of an Allied country, living in another Allied country, what would be the point? Far more important is the fact that she has no papers. She gave them to another Canadian woman, who had lost her passport. Now Gardner is a non-person. Trapped. Uprooted. A reality mirrored in her fears and apprehensions:
If the world can turn into this. If we can turn around and find entire schools full of children gone. Towns emptied overnight and no one saw a thing… Then tomorrow we may wake up and find the rain has ceased to fall and the wine has all gone sour and we do not recognize our own faces. If today is possible then anything is possible and nothing matters.
Throughout the book Kathryn Immonen strives to capture that ambiguity, the efforts of a person trying to do what's right when all of their touchstones have deserted them. Stuart Immonen's art, on the other hand, is all sharp lines and contrasts, solid blacks and negative space. Yet he too brings out the story's rich subtleties.
I told someone, having read it online, that this book should make everyone's 'best of' lists for 2010, and reading it again only confirms it. An early pacesetter for best of 2010.
This blog has been syndicated from
David Bird's Eponymous Blog.