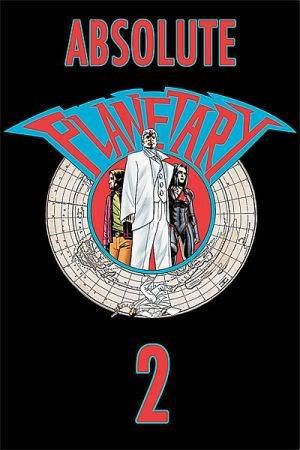 Writer: Warren Ellis, Art: John Cassaday
Published by DC/Wildstorm, 2011
I don't know how many times I've read through
Planetary
. As the later issues were delayed, every time a new one was imminent, it was time to read them all through again. This week I read it through again. The occasion? The release of the new Absolute editions. The first volume was originally released five and a half years ago and was going for three hundred dollars or more. It was reprinted this month, thankfully, for the release of the second volume.
Self-described archeologists, the Planetary group, led by Elijah Snow and his field team, Jakita Wagner, the Drummer, and Ambrose Chase, scours the world, searching for and saving its lost history. They're not looking for Roman coliseums. They're looking for secret cities in Africa, monster islands, Chinese ghosts, 19th century moon launches. A secret history of the world. Their enemy is the Four, a group led by Randall Dowling. The Four of made a Faustian bargain for control of this world and are closely following Snow, trying to steal away not only his finds, but all of humanity's potential.
Planetary
is two things. First, it is a survey of the twentieth century's popular culture. Comic books, pulps, B movies, radio dramas, and genre novels are all seamlessly integrated into one complete story. In that sense, Ellis and Cassaday are engaged in their own archeological adventure, digging through our heroes and archetypes. Second, it is a Wold Newton-like attempt to tie all these various stories into one broader story. The Wold Newton family was a creation of SF writer Philip Jose Farmer, tying together various popular and pulp characters together into a shared universe. Farmer did this by writing fictional biographies. Ellis does this by creating stand ins. He can't use trademarked characters so instead of Doc Savage, the Man of Bronze, for example, we get Alex Brass, who looks exactly like his pulp antecedent. I know these two things sound pretty much like the same thing, and they are closely related, but one speaks to intent and the other method.
As a series
Planetary
has been almost universally praised. There are some who think that the second half isn't as good as the first, but I don't think that's true. There is a shift in tone, certainly. The first half sets everything up in a series of stand alone stories. In the second, the stand alone stories are pushed back as the main story arc drives the series. It does have a different feel to it, but it's not a drop in quality. Others have complained that the series epilogue was something of a let down. A techno-talkfest in which very little happens. Well… it was. But it was also written to clear up a plot point for the fans. Fans who would have complained if it hadn't been written. The only problem that stood out to me was a trivia detail--Drummer refers to something that happened in the Adirondacks as having happened in the Rockies (these two mountain ranges are as far from one another as Southend-On-Sea is from Odessa)--but even I'm not that pedantic. Well, I guess I am, but I admit it's trivial. Points for that, right?
The Absolute editions themselves are beautiful. DC targets the collectors market with high quality, oversized hardcovers with dust jackets and slipcases. Both volumes are a little light when it comes to extras, and the crossover stories are not included, but the principle story is here in its entirety and Cassaday's art, coloured by Martin, is really enhanced by this treatment. Absolute editions are not cheap. After taxes, these go for about a hundred each in Canada, but I paid half that by going online and looking for a good deal. If you have any interest, look for them now before someone is asking three times as much.
This blog has been syndicated from
David Bird's Eponymous Blog.