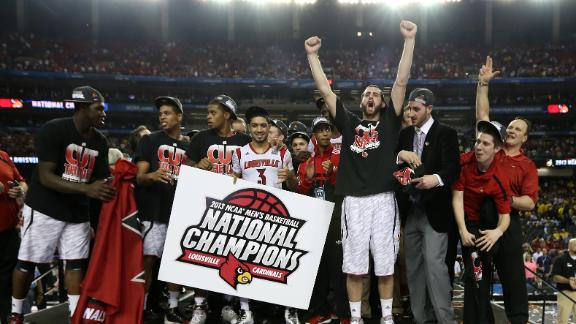 Last year
, America suffered through evil incarnate as Kentucky and its ethically challenged head basketball coach John Calipari won the NCAA men's basketball tournament final. This year, fellow Bluegrass state school Louisville have
taken home the title
, accomplishing the rare occurrence of two schools from the same state winning back-to-back titles.
Luckily, for Louisville, its HC Rick Pitino keeps his douchebaggery limited to restaurants where the NCAA has no jurisdiction. At least until it decides it does. Until then, Cardinal fans can be safe in knowing that there little chance their title will be taken away when Pitino leaves like there probably be when Calipari leaves Kentucky.
(via
ESPN
)
Originally Published at Shirts With Random Triangles http://feedproxy.google.com/~r/ShirtsWithRandomTriangles/~3/WY_uuufUyN8/the-day-evil-won-part-deux-louisville.html
The Outhouse is sponsored this week by Late Nite Draw. Recently featured on ComicsAlliances' Best Art Ever, he is a Chicago-based commissioned artist with a self-published Digital+Print one-shot coming out in October about the abominable snowman called ABOBAMANIMABBLE, and is also available for commissions. Check out some amazing art by clicking here or by clicking the banner at the top, and support the people who support The Outhouse.
Enjoy this article? Consider supporting The Outhouse, a fan-run site, on Patreon. Click here for more info.