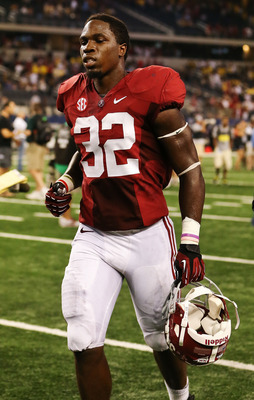 Alabama linebacker C.J. Mosley.
Good recruiting is definitely a strong part of Alabama's success under head football coach Nick Saban. One of the underlooked cornerstones of that success is how Saban's success in recruiting in the
coastal area
of the state, which includes Mobile. Saban recently spoke on subject.
Saban says: "There are a lot of guys on our team that have made a very positive contribution that are from this area. There is good high school football here. There's great coaches. We really have a strong presence here of alumni people. Football is important to them, and their community is important to them. And they support football in this area. I think some of those things have been helpful in us getting some of the players to come to Alabama."
Past and present Alabama players from the costal area include C.J. Mosley, D.J. Fluker, and current Atlanta Falcon Julio Jones.
(via
al.com
)
Originally Published at Shirts With Random Triangles http://feedproxy.google.com/~r/ShirtsWithRandomTriangles/~3/orcsL335GOo/nick-saban-on-recruiting-in-alabamas.html
The Outhouse is sponsored this week by Late Nite Draw. Recently featured on ComicsAlliances' Best Art Ever, he is a Chicago-based commissioned artist with a self-published Digital+Print one-shot coming out in October about the abominable snowman called ABOBAMANIMABBLE, and is also available for commissions. Check out some amazing art by clicking here or by clicking the banner at the top, and support the people who support The Outhouse.
Enjoy this article? Consider supporting The Outhouse, a fan-run site, on Patreon. Click here for more info.