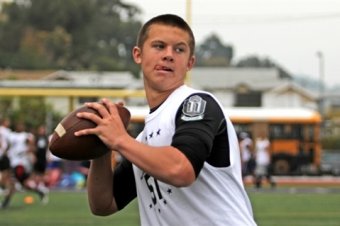 Texas A&M has landed a huge feather for its 2014 recruiting cap, and they call it Kyle Allen. The rising junior quarterback from Desert Mountain High School in Scottsdale, AZ
announced his commitment
to the Aggies on Monday. He is considered one of the top 5 QB prospects in the country. Allen picked the Aggies over Notre Dame, Ohio State, Oklahoma St., and UCLA.
Allen's commitment is a huge coup for Texas A&M, and a much needed one. The Aggies now have an heir apparent for starting QB Johnny Manziel, which should come in useful sooner than expected if Manziel jumps to the NFL after this coming season.
(via
TexAgs.com
)
Originally Published at Shirts With Random Triangles http://feedproxy.google.com/~r/ShirtsWithRandomTriangles/~3/9BnD0wVnkzk/texas-recruiting-is-kyle-allen-heir.html
The Outhouse is sponsored this week by Kidthulhu. Show them you appreciate their support of independent comics journalism by clicking this link.