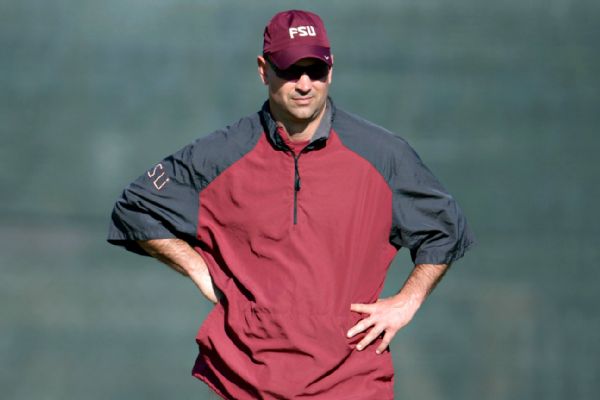 Jeremy Pruitt. Via ESPN.
Georgia has found its new defense coordinator at the same place it found head coach Mark Richt. The school has
hired
former Florida State defensive coordinator Jeremy Pruitt as the Bulldogs' new DC. He replaces Todd Grantham, who defected to Bobby Petrino's coaching staff on Sunday.
Pruitt joined Jimbo Fisher's coaching staff at FSU in 2013, and helped Fisher lead the Seminoles to win over Auburn in the BCS title game earlier in the month. He had previously been defensive backs coach at Alabama from 2010-2012, and helped lead the Crimson Tide to two straight BCS titles in 2011 and 2012 as a part of Nick Saban's coaching staff.
Pruitt was also on the coaching staff of Hoover High School 2004-2006, and
appeared
on the MTV reality series
Two-a-Days
, which documented the lives of the members of the Hoover High Buccaneers football team.
(via
The Athens Banner-Herald
)
Originally Published at Shirts With Random Triangles http://feedproxy.google.com/~r/ShirtsWithRandomTriangles/~3/qngzoF-oufE/georgia-hires-fsus-jeremy-fisher-as-its.html
The Outhouse is sponsored this week by Late Nite Draw. Recently featured on ComicsAlliances' Best Art Ever, he is a Chicago-based commissioned artist with a self-published Digital+Print one-shot coming out in October about the abominable snowman called ABOBAMANIMABBLE, and is also available for commissions. Check out some amazing art by clicking here or by clicking the banner at the top, and support the people who support The Outhouse.
Enjoy this article? Consider supporting The Outhouse, a fan-run site, on Patreon. Click here for more info.