Grrr... Solomon Grundy born on a Monday. Bought by Zechs on a Tuesday. Reviewed by Zechs on a Wednesday. Posted on the Outhouse on a Thursday. Zechs take's a look at the third wave of the DC Universe figures.
So Mattel has unleashed the third wave of their DC Universe line in mid August. Now at first this line from Mattel didn't thrill me. Honestly, the less than grim Batman and goofy looking Penguin didn't catch my interest. Wave Two did somewhat pique my interest, but before I could snatch myself a Harley Quinn or Black Manta the line was pulled from stores and are now going for a high price on eBay.
When I first saw this third wave, I knew I had to snatch them up the moment they came out. The pictures of the Deathstroke, Nightwing, Robin (Tim Drake), and Solomon Grundy looked just awesome. So when they finally hit my Target I snatched them and a Sinestro (with Sinestro Corps colors) and later a Hal Jordan (supposedly, he's the easiest figure to find).
If this is what the future of DC figures are, then Marvel Legends has some competition now because this wave rules. Before I go into each figure I just have to give Mattel kudos for this set. Not since the Marvel Legends Onslaught wave have I hunted down an entire wave with such passion. Yes, we had a release of a Nightwing (DC Superhero Batman line), Robin (Batman and Son), and a Sinestro (both Justice and DC Direct version I reviewed in my first article) in the past two years. But still the way these molds looked those who hadn't bought the previous ones no doubt where glad to see these. Now onto the figures themselves:
Here I am presented with yet another Sinestro (and honestly when I saw the Sinestro Corps variant there I
couldn't pass it up even if I have two now). First off be forewarned that there are two versions of him, one with a midget head (small neck) and another with his normal sized neck. The version I got was the midget one. I don't know which of the two is the harder to find, but for those wondering why Sinestro's neck is so darn small there's your reason. And thus, is the biggest problem with Sinestro, his size. He's a dwarf compared to the rest (Hal Jordan towers over him). And comparing him to the Sinestro figure well the other one is so superior to this one. But again it's a freaking variant so I'm not going to go out and nitpick on why his hair isn't shaved in one area. Still, the size is about the only negative. Other than that, he's an awesome figure. He's insanely detailed (from his yellow pupils to the Sinestro Corps symbols on his chest and arm). To add to the nerdish fun he even come's with his own yellow lantern. That said, he still is very much a must buy.
Green Lantern, Hal Jordan doesn't have the height problem and is everything that Sinestro wasn't. His size is perfect and he has all the posablity Sinestro has. The details are as much one can have on a Hal figure. Though I have to wonder why his hair was two different colors instead of just one distinct brown. Still, for those craving a good Hal Jordan figure look no further than this one. I have heard there are some coloring errors found with this figure, but the one I bought didn't have any. And since he is Sinestro's opposite of course he come's with his own GL Lantern. Again a must buy.
Nightwing was what originally got me curious and excited. Now I'm not a big fan of the character, but the fact that he come's with his favorite weapons the two batons, plus the style and detail Mattel had for the character really won me over. The figure looks ripped from the comics and is quite detailed as is everyone in this line. The nice shades of blue in his mostly black hair are a nice touch. About the best add-in feature with the figure are the little clamps on his back, were you can put the batons on and have him go hand to hand. I really liked that little touch. As with the two before it, a must buy.
Robin (Tim Drake) is probably the "worst" figure in this set. Though that's not really a bad thing, given his size (he's the smallest of the bunch even if he's supposed to be below Nightwing's arm then near his shoulder). The R symbol on his chest doesn't have that comic flare to it. Those negatives aside Robin is still a great figure. From the just right mold of his cape to all the accessories he's given (a bo staff and two batarangs). The details of his face and belt are very nicely painted and detailed. Compared to the DC Direct Batman and Son version, this one is far superior. Still not the most perfect mold of Robin though, but good enough if you want to complete this set.
Which leads me to the final figure from this set, Deathstroke the Terminator. Even though Solomon Grundy is supposedly the crown jewel being the build-a figure, 'Stroke is really the one who steals that honor. Not only does he come with a BUNCH of accessories (handgun, machine gun, sword, bo staff, and removable straps. But the detail on the figure showcases the future of how DC Universe is going to be major competition against Marvel Legends. Slade literally looks ripped from George Perez's pencils from "Infinite Crisis" The figure is heavily detailed from the top to bottom. Mattel could have easily given Slade the same bo staff as Robin's but instead they give the character his comic one. Same goes for his sword, it literally is the comic form and even is in the same position. Mattel went to all the expense to the top of Slade as well. The chain mail bits on his upper body are greatly detailed as is his belt. I'm still shocked Mattel got this passed though. All these weapons, the details, and the name make me wonder how in is that Mattel got this approved because I would think some idiotic parental group would be all over this figure. Thankfully, none of that happen, but still the fact that all these perfect details on Slade just surprise me. About the only real problem with Slade isn't the figure itself, but his accessory the machine gun. The darn tip and handle are deformed and a bit twisted with no way of making them keep a normal position. Other than that minor nitpick, if you're going to get this set and see this figure buy it first. It's the best figure of the entire wave and so far the best Deathstroke figure out there.
As for Solomon Grundy, the figure that you build from this set is just plain awesome. If this is the future of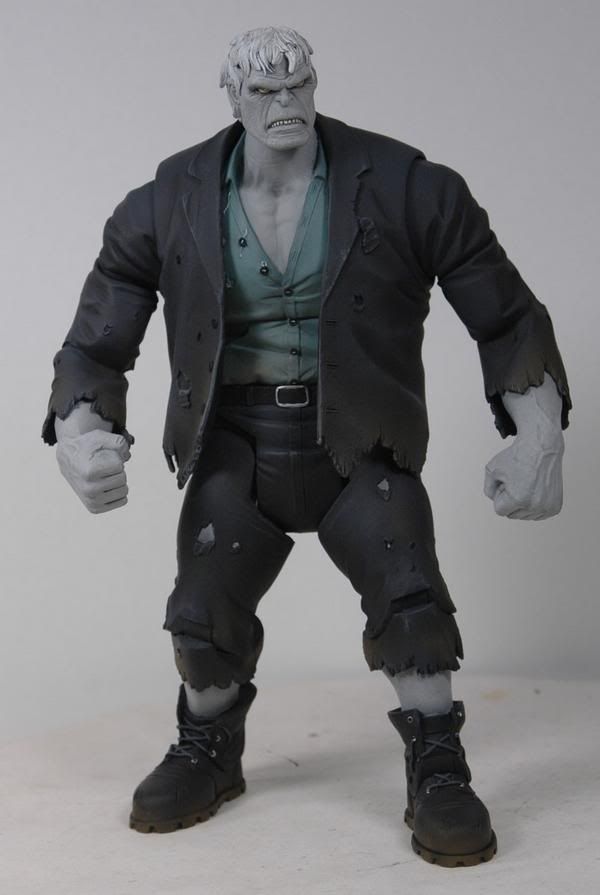 build a character's I'm glad they're in Mattel's hands cause damn is Solomon Grundy the best figure build I've yet seen. The problem I had with Onslaught (the previous build a figure I had bought) was his arms really weren't mobile. The slightest of movements and his arms fell off. Solomon Grundy doesn't have this problem; in fact he's like a figure onto itself. Each limb easily snaps on and stays on, thus giving off a ton of posablity. So when you're moving him around or playing with him in a battle with Superman there's no chance an arm or leg will fall off. The mold of Grundy is awesome starting from his face down to the torn clothing and shredded coat. With the quality of build a figures like this I can't wait for future versions of Kalibak and Metallo. Solomon Grundy truly is a figure worth building and to keep around.
All in all, this wave is pure comic book bliss. Each figure captures their comic book counterpart perfectly. It's safe to say that DC Universe is very much safe in Mattel's hands.
Sinestro- MUST BUY!
Hal Jordan- MUST BUY!
Nightwing- MUST BUY!
Robin (Tim Drake)- MUST BUY!
Deathstroke- MUST BUY!