Today on Face To Greg, I ask various creators who they most relate to. From the Spectacular Spidey to Firestorm to Charlie Brown, read who relates to whom.



After years of reading comics, one tends to find something to relate to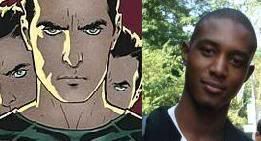 in a certain character. It could be because of his/her personality, an experience, life style, or the way the character looks or dresses. Having a character to relate to usually makes a greater experience and usually leaves you wanting more as you cheer your character on to keep going forward because in a way that character's a reflection of you. For me, that's Jamie Madrox, the Multiple Man. I can go into detail as to why I relate to the character, but I'm more than sure you all would be more interested in who some of our favorite comic creators relate to…
Alex Grecian (Writer and co-creator of Image's Proof): Hmm, I say this a lot, but I think the character I relate to most is The Flash. Barry Allen was the most boring character ever created and I always aspired to that because I had a much too interesting childhood. Boring sounded great. I'm pretty sure I've accomplished my youthful goal to be boring.
I identify with Wally West too. He seems like a decent ordinary guy. I like that. I like "real" characters, characters who seem to be grounded in reality despite whatever special abilities they may have.


Oh, wait...

No, scratch all that. I definitely relate to Wolverine because we're both super bad-asses and we're the best there is at what we do. Never mind all the stuff about Flash. Flash is boring.




Jimmie Robinson (Creator of Shadowline's Bomb Queen): Venus. A person with the power to manipulate the emotion of love is a dangerous person. So many heroes and villains are motivated by a lost love, a desire to be loved, or missing family love.
Love is dangerous and I stay away from it at all costs. Relationships ruin my life, my art production and my soul. If I had the power of love, like Venus, I could control not only my life, but others around me.



Mahmud A. Asrar (Artist and co-creator of Image's Dynamo 5): That is a tough question for me now. I guess if I was younger I'd say it would be Visionary from Dynamo 5. I wasn't a nerdy guy at school but character-wise I feel I relate to him very much. Bruce Banner would be another choice too, I guess.



Phil Hester (Co-creator and writer of Image's Firebreather, writer of Top Cow's Darkness, artist of DC's El Diablo): It's not going to be that original, I'm afraid. It's definitely Spider-Man. I moved a lot while growing up, so I was always the outsider everywhere I went, and I was nerdy and kind of smart. Definitely a Peter Parker. To draw an analogy to myself as an artist, I always felt like I had this hidden, untapped side of me that was represented by my talent- the way Spider-Man projected that untapped, heroic part of Parker. I wanted to come out of my shell the way Peter did, but I also had a deep respect for other people's point of view, as Spider-Man seemed to have. Plus, I was shy and meek, but once in a while I'd drop a smart-ass line, so there's definitely some Spidey in there.


Andy Kuhn (Co-creator and artist of Image's Firebreather): The comic character that I most relate to is probably Charlie Brown. I doubt that my life has been as hard as his was, but I admire his perseverance. No matter how many times Lucy pulled the football away he always kept trying to kick it. I really feel that's how I got to this point in my art career. It's not due to any talent I might have, as much as continuing to persevere in the face of insurmountable odds.



Yildiray Cinar (Artist of Image's Noble Causes): Well...I don't know but I think it's the Hulk. Because I've been a Hulk reader for a loooong time! (20 years I guess)



Jamal Igle (Artist of DC's Superman: Tangent and Firestorm): Jason Rusch/ Firestorm. Just because there is a lot of who I am in the character already.



Harold Sipe (Co-creator and writer of Image's Screamland): The character I most relate to is one of my all-time favorites: the blue-eyed, ever-lovin' Thing. The Marvel characters all have, at their core, traits that all kids or teenagers can relate to. They all have this kind of brilliant alienation on some level or another.

There are two things that I can really point to that really makes me feel close to Ben Grimm. The first is a little odd and kinda hard to explain. Ben being from
Yancy Street
, a much rougher neighborhood than most other heroes grew up in; always set him a bit apart. I grew up in a REALLY rural area. Now this is far from the rough city streets that Grimm knew, but it really does set my childhood experiences pretty far apart from a lot of people I know. Ben still fits in, he goes on to have common experiences with the people he works and lives with. It's just he comes from a different place. I can understand that.

The other reason is much more of a physical thing. My weight has gone up and down over the years. I was a chucky kid, for sure. So this idea of a rocky hide or extra weight creating an actual barrier between a person and the world is one I really get.
The thing I really love about the character is he is everyone's best friend. He is the loveable everyman surrounded by a pantheon of heroes. He keeps a level head with the most insane day job in the world. The Thing is like the loveable Charlie Brown of the Marvel Universe. Good ol' Ben Grimm, how we love him.



Eric (writer/interviewer of Bludblood's Conversations With Yourself): Deadpool, which I know is a really odd character to say but there's always been this piece of Wade that just wants to fit in with the rest of the world and became this huge hero who everyone loves. It's really about fitting in at the end of the day and that's what I really share with him. That and hiding his pain through this sarcastic sense of humor.



David Hine (Creator of Image's Strange Embrace, writer of Todd McFarlane's Spawn and Marvel's Silent War): Hmmm. I guess Matt Murdock (Daredevil), because he's such a miserable bugger. Whenever he's in a scene you can almost hear him muttering "It's all going to go horribly wrong." That's me. The ultimate pessimist. Although I would say, in defense of pessimism, that I do have a lot more pleasant surprises than my optimist friends.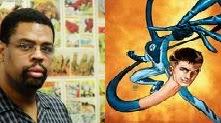 Dwayne McDuffie (Creator of Static Shock, writer of DC's JLA, Marvel's Fantastic Four, and TV shows JLU and Ben-10): Reed Richards. He's the single character in comics I most identify with. He's a scientist who always gets the right answer. He's relentlessly curious about The Way Things Work, and he already knows just a little too much about whatever you're discussing at the moment. Also, I think his personality, pre-Civil War, tracks most closely to my own.


On the other hand, my friends say the fictional character whose personality is closest to mine is TV's Dr. Gregory House. That's ridiculous, of course, my friends are all idiots.



Andy Diggle (Writer of Vertigo's Hellblazer: John Constantine, DC's The Losers and Green Arrow: Year One) Honestly, it would probably be John Constantine. As George Carlin said, inside every cynic is a disappointed idealist, and I think that sums up both of us pretty well.



Bob LeFevre (Creator of Shadowline's Aletheia): The most relatable comic character for me would have to be Spider-man. There are a few others that I think touch close to home but Spiderman fires on more cylinders then any others that I can think of. Reasons being are that I'm kinda korky and I'm far from perfect but I do always try and do the right thing.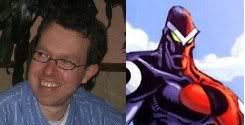 Jay Faerber (Co-creator and writer of Image's Dynamo 5, Noble Causes, and Gemini): Let's see, this is a tough one. I guess I'd have to say I relate to Gemini, because sometimes I get the impression that I'm living a second life that I'm completely unaware of (plus, Gemini's one of my books ... did you really think I'd relate to someone else's character?).
Posted originally: 2008-06-28 15:53:55