Ugh why do I have to attempt bad puns, anyways this week is all about New York comic con 08!
April 18th through the 20th at the Javitz center. I have a possible exlusive or two to reveal and just personal stories from the convention floor oh and pictures!
I arrived at Penn station in new york at 7:05 on the amtrak train to meet up with a buddy of mine who i'd be staying with during the weekend. i had been hit on by a very weird man hours earlier while picking up my tickets but I wasn't going to let that ruin my experience for the weekend.
We arrived at my friends house to settle in for the night and fall to sleep before the convention on friday. It took me a while to settle in to a new environment but when I finally did I was very confortable.
FRIDAY:
The next morning we headed back to penn station and then took the subway deep into the city where we found
forbidden planet
A very cool comic book shop in New york. It was huge and honestly everything I could ever ask for in a shop. I wish their was a cool shop like this in Massachusetts cause I'd so be there all the time. But I digress.
While in FP I met a man named Russel who works for comicrelated.com He writes a monthly column with Geoff, Jeff and i'd assume Jerry about Booster Gold. He was really nice and we were talking for like 20 minutes and he gave me his business card (hence how I found comicrelated.com in the first place) and then told me I should attempt to find he and his boss during the convention that day and that his boss is always looking for more writers. Sadly I did not get to meet up with them at the convention the rest of the weekend but I certainly enjoyed my conversation with him and hopefully something will come out of this new friendship.
We reached the convention I believe an hour early to be waiting in line, got some weird sewing kit/viral marketing piece for the new
WANTED
movie. I actually really really dig viral marketing and the sewing kit was actually pretty cool. We waited in line paitently, spotting several cosplayers as they entered the building. The doors opened at three and we entered the building. Me and my friend soon sepperated as I found myself "lost" in this awesome place.
I found myself looking around at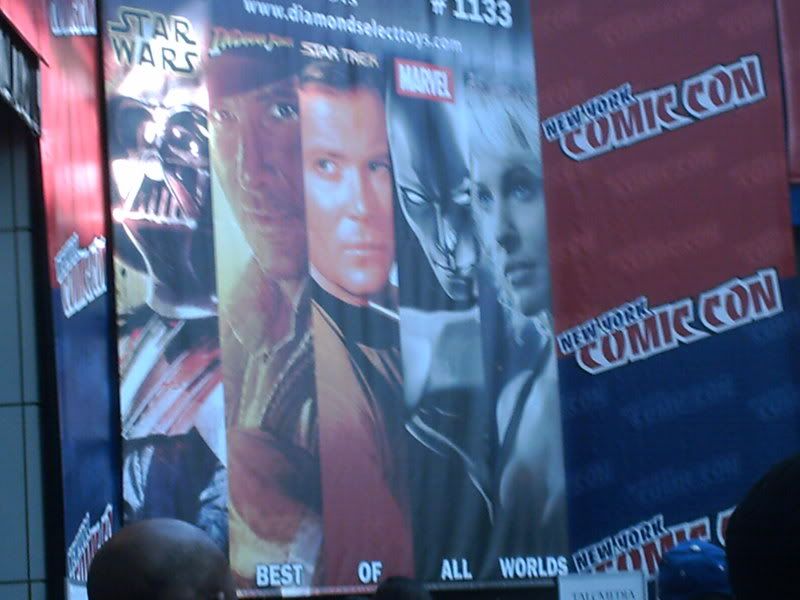 all the different booths and enjoying all the different things there. Sadly this being friday any chance of meeting alex ross and or stan lee was lost to the front of the crowd. As the tickets for both men sold out the first 5 minutes.
I don't know the publisher for the figures but I found the gears of war merchandise that had my jaw on the floor, this stuff was beautiful. There was also a beautiful mangafied princess leia statuet in the same area and a few other things.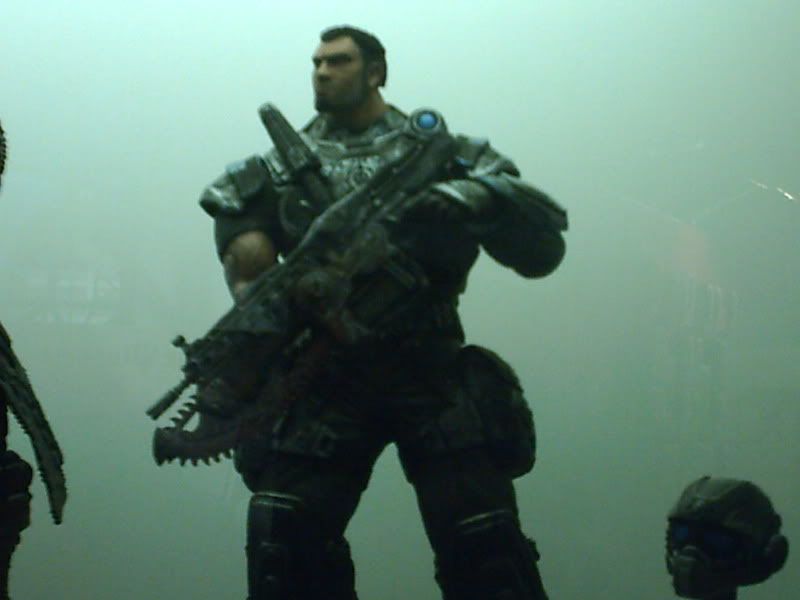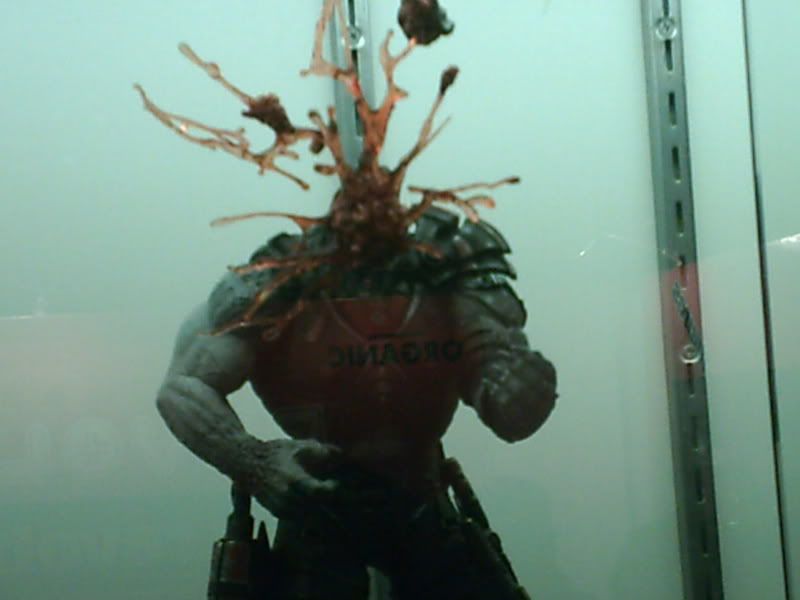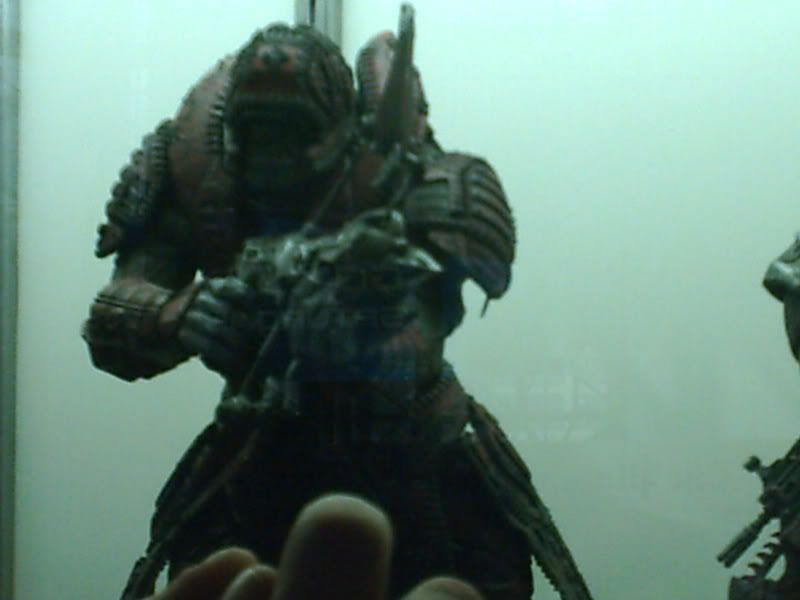 The first major booth I visited was the DC booth where I found a list of creators and when they'd be doing signings. I also picked up some really cool buttons, a few posters and stared at the
Dark Knight
and
Watchmen
merchandise on display. (I want that Joker statue)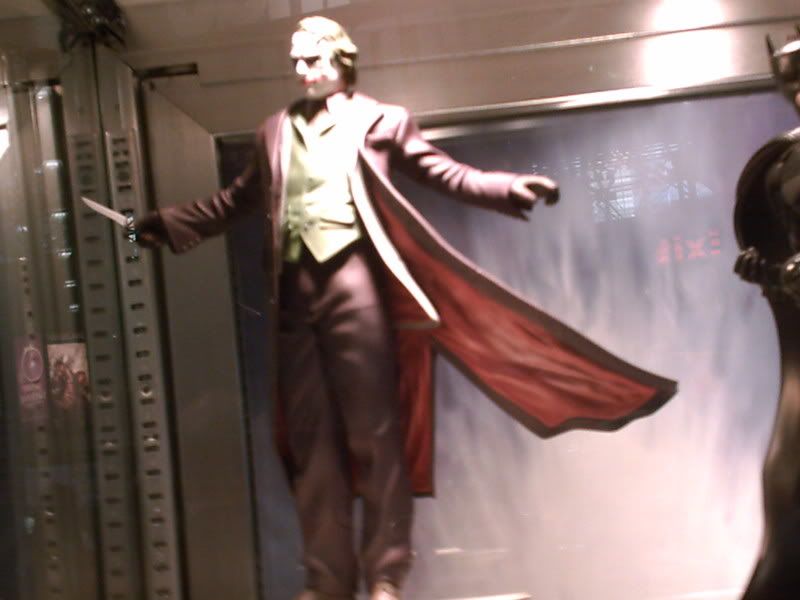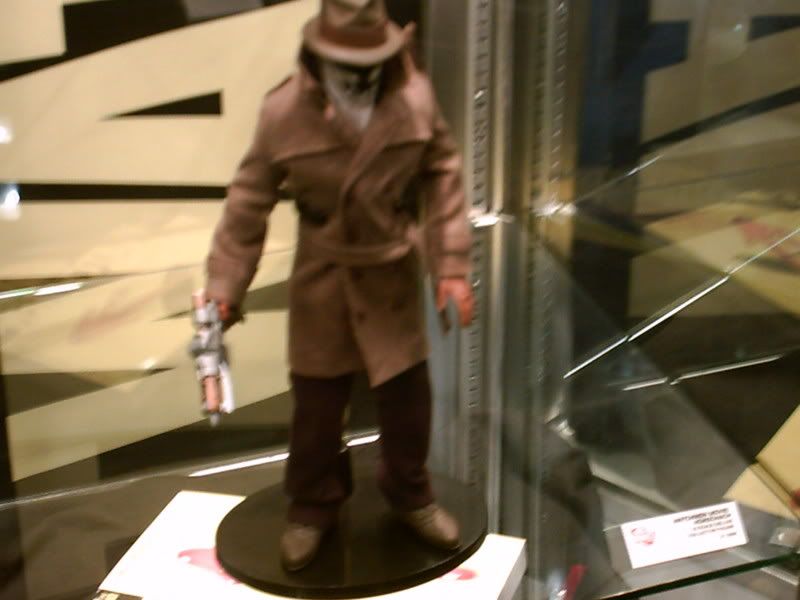 Of course while staring at this merchandise I didn't realize that a certain awesome redhead had just walked by me. That red head being one of dc comics best writers. Yes folks I was standing next to comic book royalty and the woman that holds a lot of fanboys hearts,
Gail Simone
. I didn't want to interrupt her as she seemed to be enjoying the surroundings herself and she was about to start doing signings. So I went back to staring at the joker figure.
Of course a few minutes after that a second big name had walked up to gail and started a conversation. He's none other than the man that makes the big decisions at DC,
Dan Didio
. He had a big smile on his face and seemed to give gail a very heartfelt hug, though small. He talked to her for a few minutes (couldn't really hear what was being said) and then was on his way elsewhere. Probably to the DCU panel which I sadly didn't attend.
I got in line after that to get Gail's autograph which luckily for me they had copies of Wonder Woman #14. Though if I had it my way and actually knew I'd get a little time with Gail I'd have grabbed Villians United #1 the mini series leading up to Identity Crisis and a personal favorite mini of mine. It was my turn to get Gail's autograph and I told her I loved her work and the second I found out she was on WW it was added to my pull. She smiled at me and thanked me for reading her work. I noticed that a lot of the creators were very humbled by their fanbase this weekend and she was the first. I shook her hand but sadly didn't get a picture taken with her.
I walked by
Sean Mckeever
who was doing signings, to which I walked right back over and opened up my autograph section to have him sign that. I apoligized to him for not having anything real for him to sign to which he smiled and mentioned he'd be there all weekend. Which was funny because he wasn't on the guest list on the con website.
Before leaving the DC area I went into line for
Ethan Van Sciver
who's artwork is on my arm as the green lantern symbol. I talked to a few fellow fans in the area as I excitedly awaited meeting one of my favorite artists. I finally got up to Ethan who was pretty excited talking to all the fans and was more then happy to be doing signings. He smiled as I told him that I loved his artwork and then I showed him my tattoo which he absolutely loved. He seemed almost honored that I'd even consider putting his artwork on my body. I shook his hand again and said goodbye going on my merry way. Sadly I wasn't using my camera at all that day so I didn't get pictures with anyone.
Later that day there were a few more signings at the DC booth
Keith Giffen
and I
van Reis
who were barely having conversations with the fans because of how busy they were. But I got both of their autographs and thanked them for their work.
I left the DC area and started to do a bit of exploring, to which I eventually found myself at the Evil Ink booth, also known as
Claudio Sanchez's
comic book company who has stuff published through image. So I arrive at the booth and don't realize at first that Claudio is standing right next to me. I was hoping he was doing signings but apparently he was just relaxing at that point. Of course when I realized it was really him I just froze and couldn't really say anything. I think when he turned to leave I smiled and said hi. After Claudio left I was curious as to finding out about the brand new comedy series he's working on called
Kill Audio: Time to face the music
. They had these figures out and a small but cool preview. It looks really interesting and it apparently has Claudio and Chris involved in it. Definitely can't wait to read it. I picked up a t-shirt and
Amory Wars
#5 which I didn't get at my shop.
I also was able to meet a good friend of mine finally after much discussion via myspace back and forth. That friend being
Jason M. Burns
a writer for Viper comics and currently writing
A dummy's Guide to Danger: Trouble at Sea
. Jason was really cool to hang out with for a few minutes, I bought a few of his trades to get finally caught back up on his work, he obviously recognized me and we definitely had a good conversation. Issue 2 is done for Dummy's guide to danger and I sure as hell am looking forward to it. Jason is so cool that there shall be an interview with him very soon in the column.
I eventually made my way over to DDP publishing which as we all know is home to Hack/Slash one of the best horror books on stands today. And I speak of that book for a reason because I had a hunch he'd be there none other than the creator of that book,
Tim Seeley
who is becoming a favorite writer of mine and Hack/Slash has become one of my favorite books. Tim was very open and having a blast at the convention. As I got there he was drawing Vlad for a fan. I shook his hand and told him I wished I had brought my Omnibus to which he joked back that I should just buy another one. I mentioned how I actually became a huge fan of his because of the review group. His eyes brightened up a little and his demeaner changed and he asked what my user handle was. (Doombug for those who don't know). When I told him that he got excited and said "Cool! You've been a huge supporter of my work, thanks man." I then payed him 10 dollars for a very cool deadpool sketch. We talked for a little while more when the Producer of the movie based after the comic came up. Then the conversation turned to a certain Internet casting rumor about the movie which according to the producer of the movie, is quite false. Sorry guys, no Ron. I'm not even sure if the movie is at casting yet, they didn't mention. It was definitely good to meet Tim though, he's such a nice and awesome guy.
I went to the marvel booth which had a huge Hulk movie statue up. This thing had to be like 9 feet. It was gigantic and cool. Definitely dig how the hulk is looking for the movie. I also gained some more cool swag and even a skrull mask which is now hanging in at the side of my door. The skrull masks are extremely well done.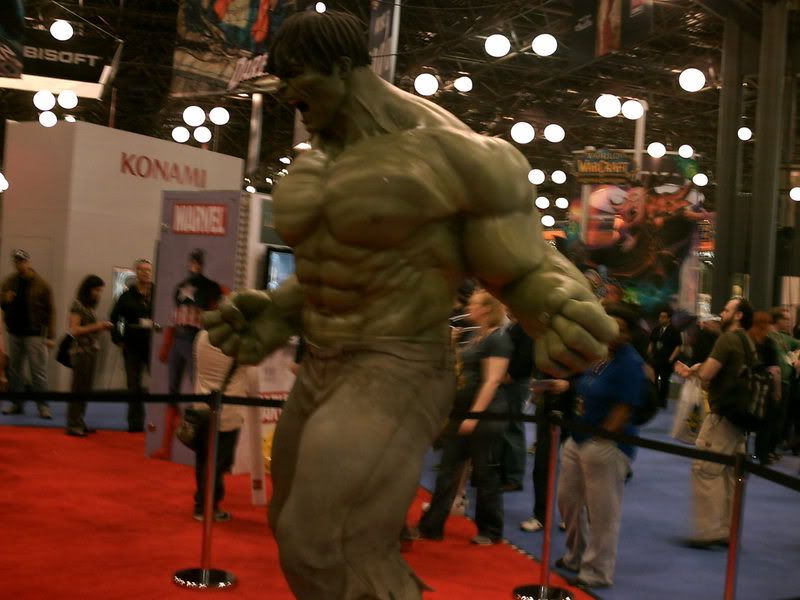 I went to artist alley for a little while and hunted down
Sean "cheeks" galloway
who's art if you don't know has been used on the animated hellboy movies and is currently being used in the new spiderman cartoon. I picked up the last copy of his first sketchbook to which he was really happy and did a sketch of deadpool for me. (just a head sketch mind you, but a sketch) I shook his hand and he thanked me for supporting his career just like a whole bunch of other people did.
Next I ran into
reilly brown
who was the penciller of Cable/deadpool till the very end. He loved working on the characters including fat agent x. He loves deadpool and was even the one to pitch the venom symbiote dinosaurs. I asked him what he was working on next and he told me it was at least 1 issue of the New Warriors. His issue has no skrulls in it that he knows of. But with Medina apparently leaving the series, there's a chance Reilly could be taking over the title. I bought a print from him of deadpool getting his leg attacked by weavils I think they are.
 I went by a very interesting booth that was giving away free posters and selling the first issue of their comic book entitled:
United Free worlds
. After reading the comic after having it signed, I definitely have this thing being added to the pull. Seriously this thing is like a good version of the bad sci fi channel movies. All you need to know is that it has dinosaurs and tanks and apparently a ninja that we haven't been introduced to yet.
I also played the demo for the awesome new Hellboy game which is coming out I believe right before the movie. It was so easy to play and seemed like a fun action/adventure title. I even got a cool free comic book for playing it. A comic book co-wrote my Mignola that was a pretty fun read.
When I went to the action figure express booth to grab my civil war minimates the guys helping people at the booth gave me a bit of a hard time but I smiled because they were pretty funny and nice. I spent 45 dollars all together at the booth and will b getting the animated hellboy figure eventually because its only 35 dollars online. I really wish they had it there though, so would have shelled out more money to them.
Oh and I demand you people look up the artwork of
Gus Fink
, its original and fun. He was a really nice guy too, made me a really awesome deadpool sketch which using reference from tim's sketch made even more awesome. Sadly Tim's sketch met with an accident while I was at the ATM to which Gus quickly used his time machine to regain the sketch. Sadly he would not let me have this time machine.
After all the swag and stuff that day there was one more stop I wanted to mkae, Dabel Brothers publishing which was being run by a very nice gentelman who bagged and boarded a copy of
Welcome to the new Jungle #1
the mini series that apparently takes place after Fool Moon.

SATURDAY:
Saturday was more about meeting people and attending the Venture Brothers panel.
I was able to meet
Chris Claremont
who I didn't really have anything for him to sign. He was actually multitasking amazingly and its great to see the man back in such great health, I was actually worried about him when I heard he got sick.
Right next to Chris Claremont were 3 of the 4 people responsible for Annihilation Conquest and it was really fun to meet them, especially
Andy Lanning
who I almost got a picture with but someone else stepped up before I could ask. He obviously saw that I was trying to go for a quick picture but I told him not to worry about it and I just went on my way.
I walked right by Rob Liefield's booth eventually deciding that it wasn't worth interracting with him at all, I wanted to eventually bury the hatchet with him but the more I thought about it his comments over a year ago really hurt me. I can't figure stuff like that, especially how much it upset me.
While I was in the line to meet chris and the Annihilation crew, a batman cosplayer was walking towards the marvel booth when a gunshot was heard, suddenly he was covered in confetti with a very confused look on his face. This caught a lot of our attentions and it turned out the joker was behind it. An awesome joker cosplayer jumped out of nowhere with the signature laugh and started a mock fight with the batman. I caught a very cool picture of them together with batman throwing a punch at him.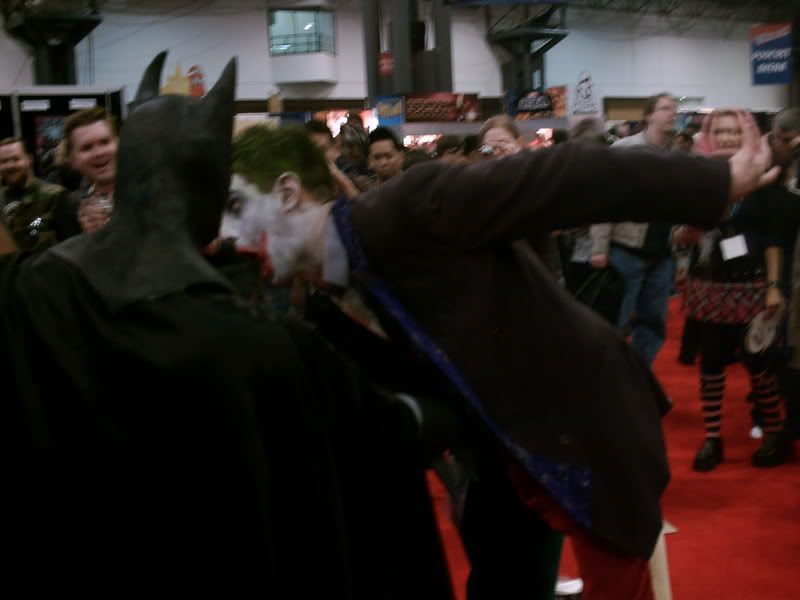 I went back to artist alley that day to see a whole bunch of different people including
Amanda Conner
who for those of you who don't know has been announced to be the artist on a brand new power girl series. I personally can't wait seeing as how the pilot for this happened years ago as the very first JSA classified arc. Amanda herself seemed pretty excited about it and thanked me for being a fan.
I was also able to visit
Michael Gaydo's
artist of the comic book series Alias who upon signing my copy of the omnibus drew a very beautiful Jessica smoking a lit cigarette. I talked to him for a little while and told him just how much I appreciated his work on the series. He thanked me and seemed to be very humbled that I enjoyed his work.
I visited
Darwyn Cooke
who was sitting very comfortably in the back, sadly it didn't seem like he was doing sketches. But I told him how much I loved the spirit and New Frontier in both its forms and he mentioned just how much he'd loved working on all of it.
I also got my civil war issue 1 signed by
steve mcniven
who seemed to be actively sketching something when I walked up to him. He seemed pretty busy so I thanked him and went back on my way after I thanked him for how awesome all his work is.
I also got to visit with
Joe Kelly
who was one of the bigger people I wanted to see. we talked for a little bit after he signed issue 11 and 25 for me. He seems pretty excited to be working on Spiderman but he seemed pretty humbled by the fact that I was a huge fan of his deadpool work. Our conversation ended with him saying that he hoped that maybe he could return to the character and he honestly hasn't read Daniel way's take on the character but seemed to enjoy Fabians take on DP.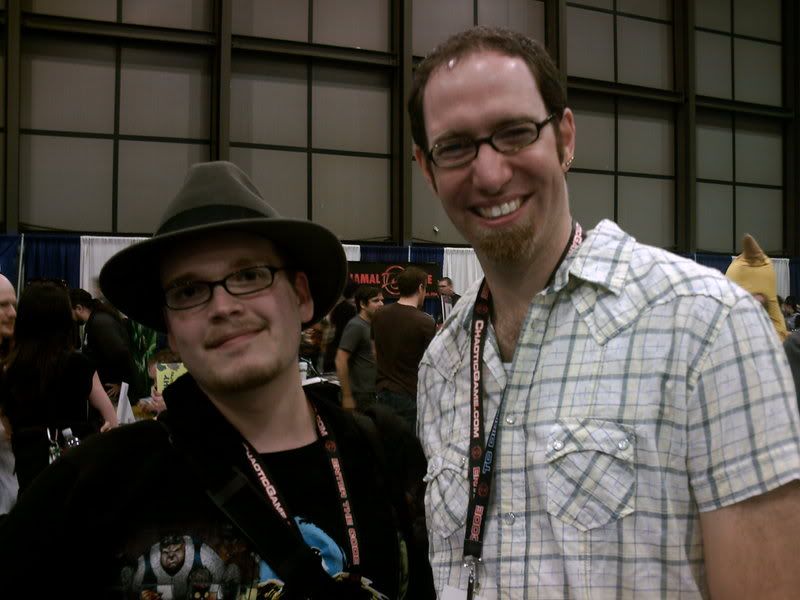 When I got to meet
Jim Butcher
my heart was racing a little because this was a man who'd inspired my writing for years seeing as how i'd been reading the dresden files since book one. I shook jim's hand and he smiled finding out how long i'd been a fan. When he found out I was an aspiring writer he told me I should check out his livejournal page because he gives a lot of advice and tutorials to writers like me. I thanked him and said that his work was amazing.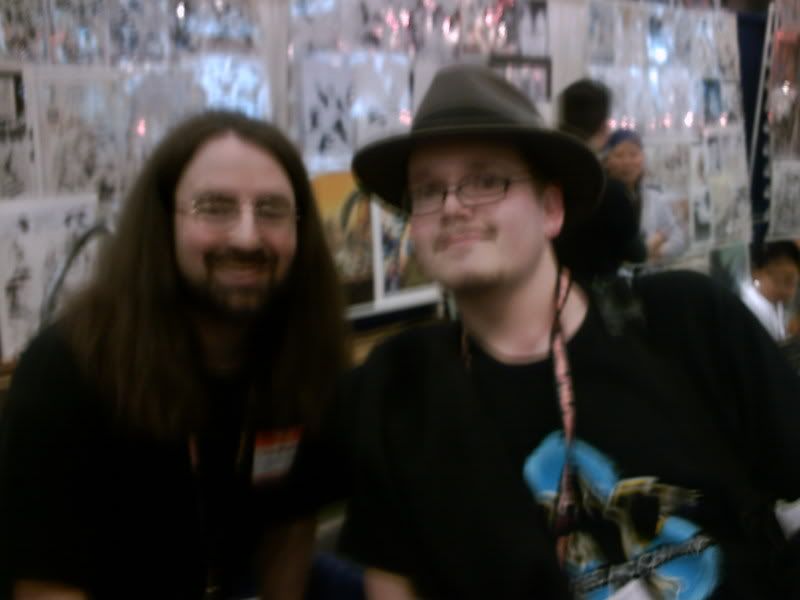 The venture brothers panel was pretty awesome even if it didn't start for a half hour and I could have been able to see Geoff Johns, one of the people I really, really wanted to see that weekend. But anyways the new season starts June 1st and everything looks awesome so far.
Doc Hammer
says that they won't be doing many Star wars references this season but there will be origin stories for both Billy and White which is pretty cool. the footage shown was amazing and I honestly can't wait for this season. When getting pictures with the guys Doc says that he won the 8th grade haircut bet but they obviously didn't go through with it well
Jackson Publick
didn't. It was 5 minutes before they were supposed to shut down the show
but
Michael Sinterniklaas
still had a little fun with me while the security guy said that. He sadly wasn't the voice of Leo in the CGI TMNT movie but he is still doing it for the show. Its obvious that he has a lot of fun with the guys and enjoys working on the venture brothers. And then I talked to
James Urbaniak
who was really interested when I told him I was a regular reader of his blog.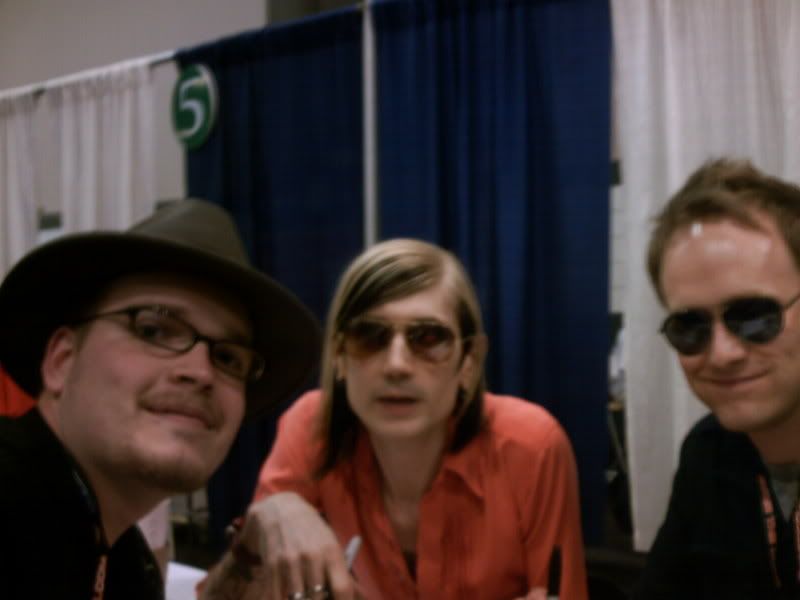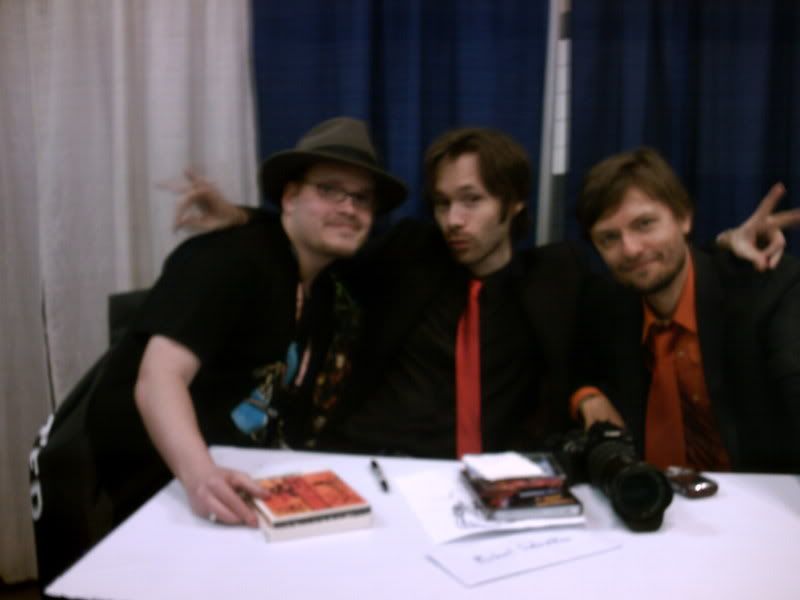 All 4 guys are really awesome and I can't honestly wait for the new season to start.
The last thing I want to talk about when it came to saturday was the
Alex Ross 
signing. I waited in line very patiently as I was very excited. He was honestly one of the only major people I wanted to meet all weekend. It was finally my turn and I showed Alex my tattoo which he found really interesting and I told him that I actually wrote my fine arts project on him my junior year of high school that I got an A on. He smiled at me and thanked me for being a big follower of his work.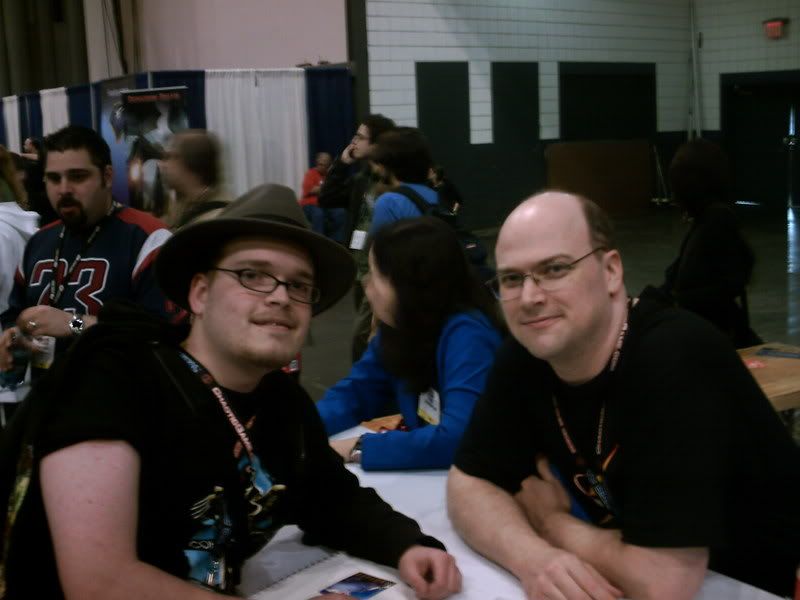 SUNDAY


 Sunday was kids day so it was definitely a nice and quiet day where I got to meet everyone I hadn't yet and finish everything up for the weekend.

I actually sought out rags morales to get my copy of identity crisis signed and while I was there visiting him Ethan Van Sciver came by and gave him a big hug to say goodbye cause he was heading home from the convention and that was the end of the day for him. I quickly got out my camera and asked Ethan if it was cool if I got a quick picture with him. He said yes and I got an awesome picture with him which makes me smile because after the fact that he loved my tattoo I was honored with a picture. I also was able to stop by to get an autograpg from Dale eaglesham current Justice Society artist and stand up guy.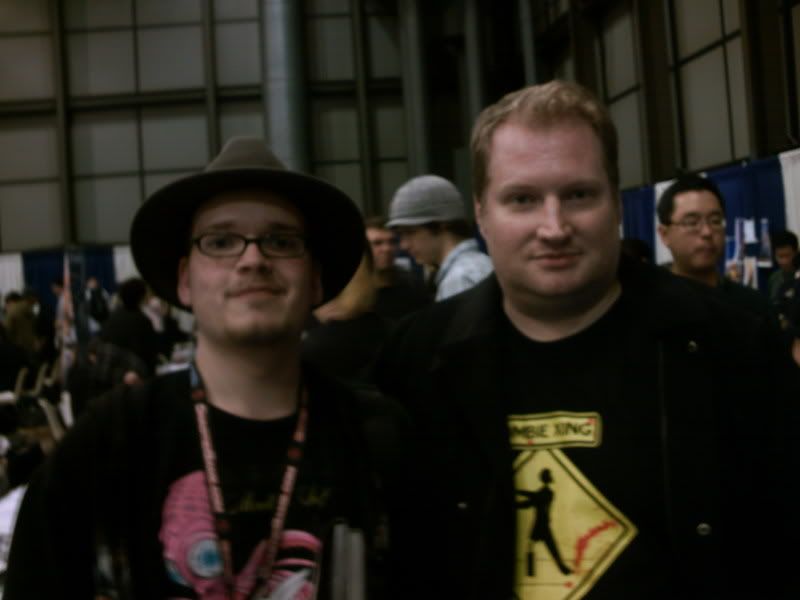 From there I headed to the marvel booth where Dan Slott and CB Cebulski were doing signings. The artists to the first two issues of Avengers fairy tales were there and when I talked to Joao MP Lemos thanked me for being a fan and said before he could sign something for me he wanted me to sign something for him. Which he'd been doing for all the fans that had come up to him so far. I thought that was pretty awesome of him and obliged him to which he signed my autograph page right back. He smiled when I told him that i'd loved the art on the book and he thanked me and was very humbled. He said that he and CB were now working on a book for image which I really want to check out especially because of how nice he was. Speaking of CB Cebulski can I tell you just how awesome he is. I told him how i'd read everything from Avengers Fairy tales to his work on loners and I told him how i'd stopped by to say hi at artist alley earlier and couldn't say anything to him. He smiled and thanked me for all my support and even joked around with Dan who was sitting right next to him. I got to talk to him for a good couple minutes and I'm definitely looking forward to his story in Divided we stand stand next month. It was really nice getting to know him.

Of course right next to him was Dan Slott who was definitely really talkitive being a fanboy himself. I put down Avengers Initiative #11 for him to sign and told him I loved the issue. He mentioned how a lot of crazy stuff was going to happen in issue 12 and was very thankful to even have fans of his work. And this one bit of news is exclusive to my little column ladies and gents I pleaded with dan to just promise me that Trauma was okay. Dan just looked at me and responded the best he could and I quote "You won't be dissapointed" to which I smiled. I added right before I left how I'd been a fan all the way back to the Great Lakes mni and She-hulk and the thing to which dan just looked shocked and honestly was trying his best not to blush. He was extremely flattered and couldn't thank me enough, he really is just an awesome stand up guy.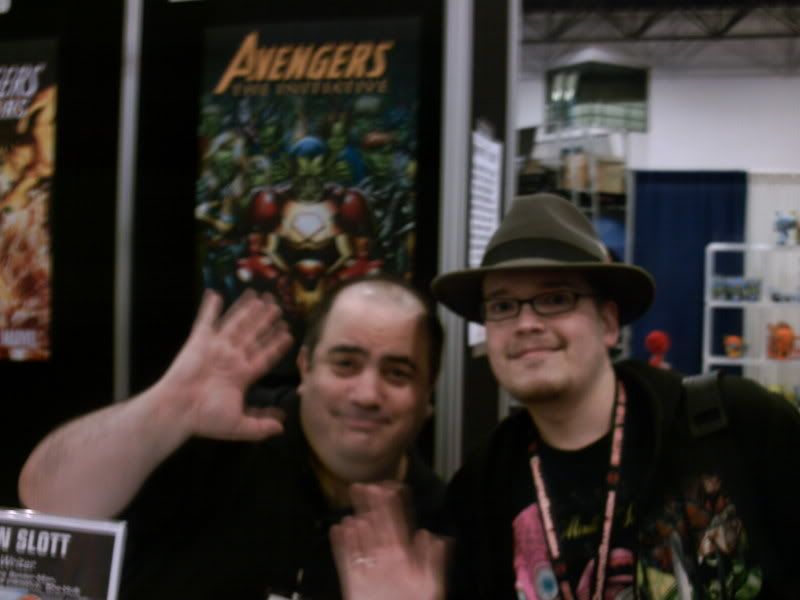 I stopped by to say hi to Kevin Maguire who was sketching when I introduced myself. He thanked me for being a fan and revealed that he was currently working on a batman classified arc right after rags arc. Not sure if thats been announced yet.

I then went and said hi to Bryan Hitch who embarrisngly enough, I had no idea was british. It honestly makes him all the more awesome. I had him sign the first issue of he and mark's FF run and I jokingly said that he probably hadn't have seen that all weekend to which he very dryly responded no. I countered with a shocked really to which he once again responded back no. We both laughed and he said that he just wanted to boost my ego for a minute. He was really nice and I hope I can get a copy of his sketchbook one of these days.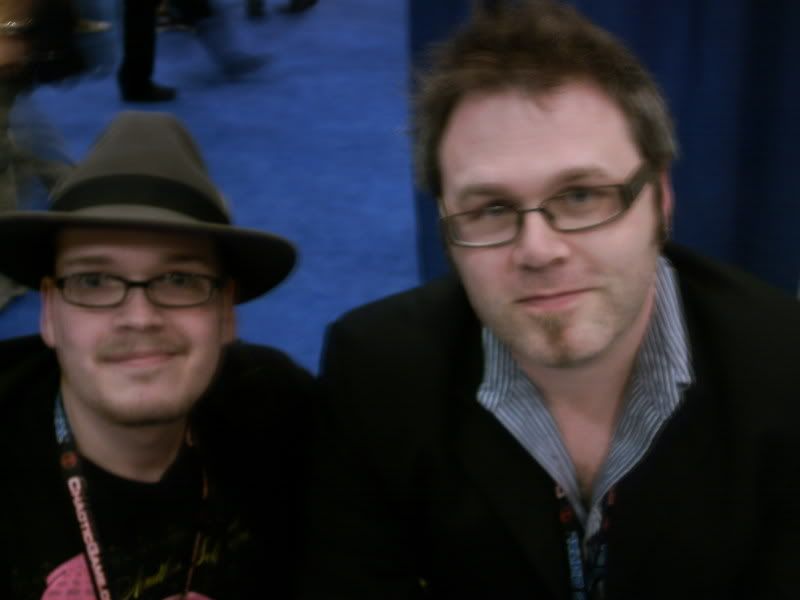 Next on my list was Peter Laird also known as one of the creators of the teenage mutant ninja turtles. I thanked him so much for his work and just how much the turtles meant to me. I bought a print from him as well to which he and his inker both signed and we ended up talking about the movie for a little while which he said was a great experience with how much they worked with him. It was a great moment to meet someone who had such a big part in your early childhood.



I got into the claudio sanchez line to get amory wars signed by him and thank him for all the awesome music and writing. He smiled and was even willing to talk to a friend of mine who without, I would have never become a fan of his work. Sadly I didn't get to get a print which they were selling but maybe I can buy one online. I can't wait for the new series.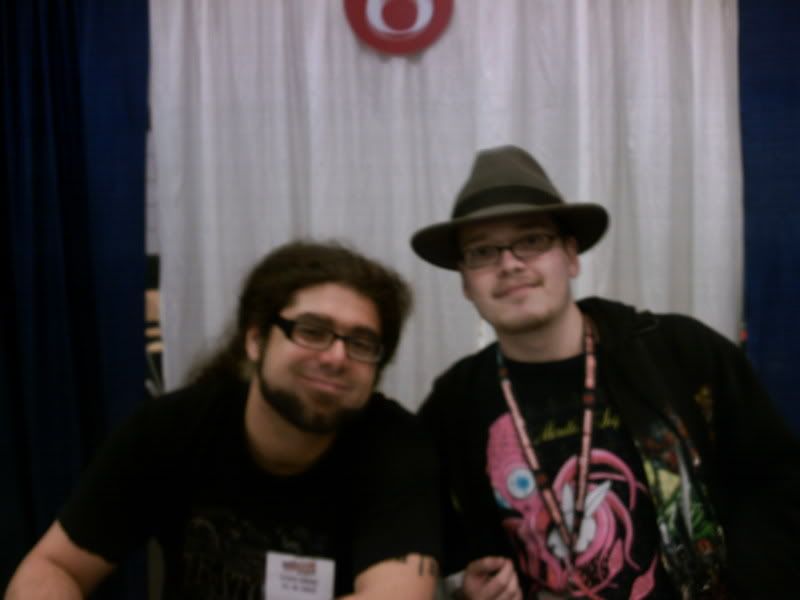 Finally for my big sunday and this one was something i'd been waiting for the whole weekend, the MC Chris panel/mini show. He talked about everything from mockingbird being in secret invasion to 50 cents new video game. He's as funny as he's ever been and honestly as nice as you would expect. I had to make some space on my memory card to fit in a picture with him. But of course he was patient and willing to get in another try with me. I actually really like how it came out. I told him I was able to get the full panel on video and he thanked me and I told him I'd get it online when I could.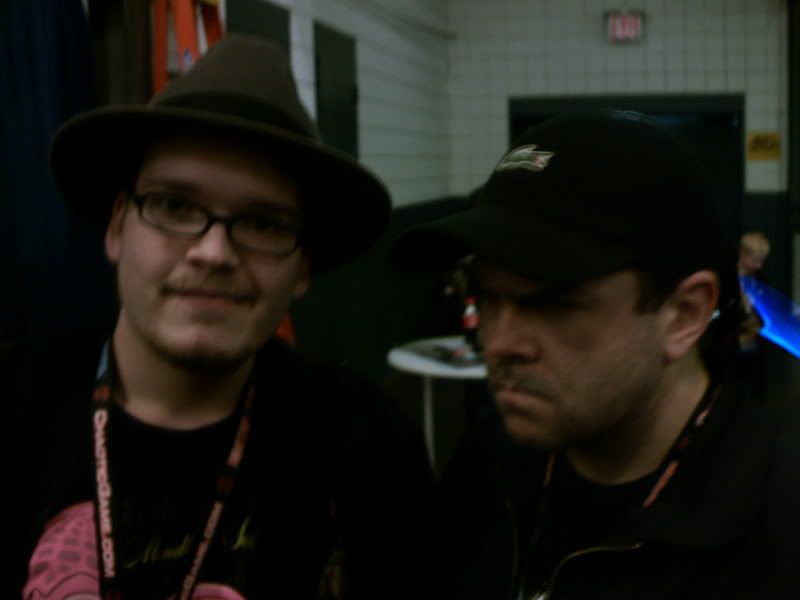 The final thing I did was stop by to visit Sean Mckeever again because apparently his signing was pretty quiet, no idea why though. He was very nice and we started talking about the rama and he said he slightly remembered my handle. We talked for a little while and he even told me something i'm not sure has been announced yet. He's going to be writing a mini starring the terror titans who are currently attacking the teen titans in the comics.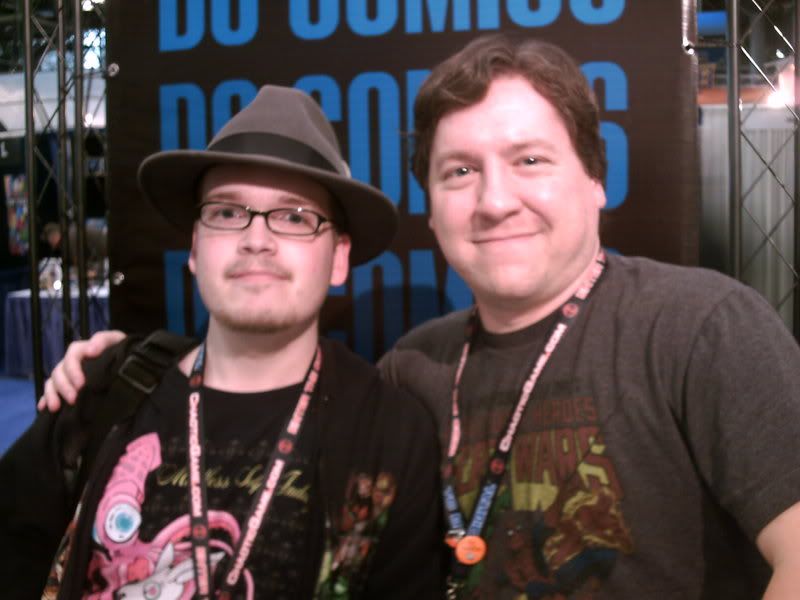 All in all this was an amazing weekend and I had a blast. Can't wait for my next convention.

Next week: Possibly an interview with Jason M. Burns depending on how busy he is.

Posted originally: 2008-04-24 01:14:20