Screamland was a book I stumbled upon at the NYCC last April. By that time I was ready to leave and I only had six bucks in my pocket. I was waiting for Larsen but the Screamland team were there signing away, sketching, and giving out posters. I gave a look see at the first issue and chatted with the creators. I decided "Eh, what the heck? Take a chance and buy it." And boy was it a great chance as I felt I should have spent my last 3 bucks ont he second issue! Héctor was even nice enough to give me a free Joker sketch after spending all my cash! Thanks, guys! Without further ado...
Greg: Welcome back, everyone, to Face To Greg. If you're just joining, my name is Greg and I run this comic column where I discuss comic stuff that intrigues me and gets me to babble and I get to interview some great guests! And today's guest are the wonderfully fantastic creative team of Image's Screamland, Harold Sipe and Héctor Casanova! Hey guys, how are you today?
Harold Sipe: Hi Greg! I'm doing well, thanks.
Héctor Casanova: Pretty great, thanks!
Greg: Now for starters, for the people who are slow and uncool, who are you guys?
Harold: Ha – I bet would give any of the "uncool" a run for their money. Well, I'm Harold Sipe, I wrote Screamland (the trade is on sale October 29th!). Screamland is my first comic. Before that I had written articles for a couple of magazines and a few short films. I have worked as a designer and art director for a great man firms for the last 10 years.
Héctor: I have been doing art in general for as long as I can remember, and illustration professionally for about 12 years. Was born in Mexico City, moved around a lot as a teenager, and wound up in Kansas City, where I found a home with a thriving arts & comics community here. My first big comics project was The Lurkers with Steve Niles (IDW) and Screamland is my second. No one can be blamed for not knowing my art, as I am all over the place, jumping back and forth between the illustration, comics, and gallery worlds. So my presence in any of these fields is intermittent. Still, I never get bored.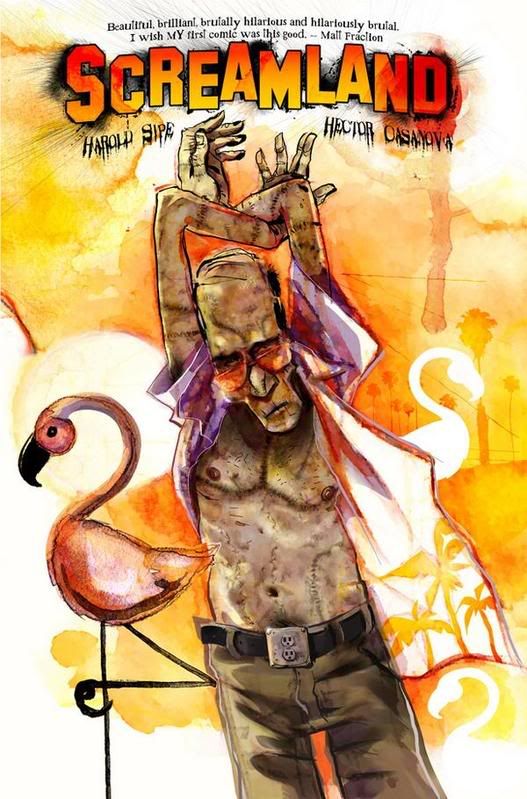 Greg: Niice. So you guys have a vast history of art due to being in various art mediums. Now Screamland. Can you tell us what this is about?
Héctor: Screamland is a genre bending story with a bit of comedy, drama, horror, and social commentary. The old Hollywood monsters from the '30s and '40s are real. They enjoyed successful careers in the first half of the 20th century, and Screamland catches up with them and their less than graceful fall from fame in contemporary America, as they strive to get work, make ends meet and hold on to a shred of dignity. A dry comedy about celebrity culture featuring washed up monsters.
Harold: I think Héctor hit a lot of it. I always say it is a book of monsters acting badly. Set in Hollywood it isn't always easy to see who the monsters are. I guess I think a little more in terms of Sunset Boulevard than any monster flick. I just think it's a lot funnier getting to this idea of the twilight of fame using really extreme characters.
Greg: Nice, I love Sunset Boulevard. It does have some similarities, I hadn't noticed that before. Now what exactly inspired this story? It's rather bizarre and out there.
Héctor: I have to admit, the story is 99% Harold. He can tell you about his monstrous experiences when he was living in L.A. Harold is an old old friend, who moved to L.A. for a couple years. When he came back to Kansas City, he had Screamland in his head. He asked me if I'd like to do it as a comic. I found the premise utterly compelling. We brainstormed some, had a false start or two, but eventually managed to secure Image as a publisher, and the rest is history.
Harold: Well, I had lived in LA for a few years. Not that that's bizarre or out there at all, but it was real culture shock at the time. There was a lot of going down in my life at that time, so I really hit a rough patch while living out there. I guess the book came out of my reflection of that time in my life. I just wanted to take this sense of alienation and really take that to the extreme. The celebrity culture stuff was always something I thought about, but it was really idea of going that far out there with the monster stuff to try and tell really character –based stories.
Héctor: My particular bit of inspiration comes from my love of monster movies, dark humor, and magical realism. Also, I love drawing ugly people and pretty girls. Screamland combines all of that, so it was a perfect book for me to draw. I love the fact that it features monsters as main characters, but it's not a particularly horrific story. Not in a conventional sense, anyway. We do have some bona fide monster action later in the story, but it's hardly a typical horror book. I love that about it.
Greg: Well, Héctor, your art is just freaking... beautiful. Truly amazing, every cover, every page, every panel just adds even more to Harold's great and fun script and presented a wonderfully unique style to the book. The designs of the characters really popped out in a humorous and gritty factor. Can you tell us about the art aspects and processes of the book?
Héctor: Thank you, I really appreciate it. While I love comics, my professional background is mostly from editorial illustration. In illustration, I have had the freedom (um, necessity) to develop a half dozen different styles, from dark and moody to cute and cuddly.
So the first and biggest challenge was coming up with the right look for Screamland. The monsters are the empathic characters, so they needed to feel even more real and relatable than the humans around them (as the humans are often complete asses to the monsters). To that effect I used a mixed media approach for the monsters. I sculpted three dimensional clay heads of each monster and blended photos of those into the art to make them more dimensional. Also a lot of photos and scans of textures for the skin and fur. For the Wolfman, I placed my cat down on the scanner bed and used bits of her fur for when he's fully wolfed out. I had a blast making the art, and keeping the artistic process fluid and experimental. The down side is that the process was slow, and it took me a long time to get all the art done. Still, I wanted to make a unique looking book, and I hope I achieved that.
Greg: Sheesh, so you sculpted all the characters? How long did that usually take?
Héctor: I only sculpted the heads. They are small, each is about the size of a very large lemon or a very small orange. I did all four heads in one day. The idea was to find ways to make the process of making the art faster. I used them as reference while drawing, and I thought the photos would make the coloring faster. It didn't really save me any time, as it ended adding up a few extra steps. But I kind of liked the final effect. My production rate was about one page every other day, from sketch to finished colors. I think that's pretty slow by industry standards. And I had to juggle that with other freelance jobs to make rent, so production felt glacially slow at times.
Greg: Who was your favorite character to work on and why?
Héctor: Carl, the Wolfman, is the one I like most. He is fat and gnarly, and really fun to draw. And he has the most fun personality; he is pure Id. He had a rough fall from glory, and he's really let his body go. Yet he seems to be the most well-adjusted. All he wants is to have some fun and maybe get with the ladies. He really is like a horny puppy in a fat trucker's body. After him, I really like the Count, who is his diametric opposite: all class and sophistication, extremely concerned with appearances, poised, elegant, and sexy as hell.
Greg: Heh, yeah, Count was a favorite of mine. And I had a chuckle seeing Wolfman all little and cute and attacking kids. What about you, Harold?
Harold: That's really a tough one for me. I think overall it's Frank. Although he carried a real sense of melancholy, I think he also carried a really quiet dignity about him as well. Plus, he was a great straight man.
Dracula was meant to be really pompous, but I grew to like our take on him quite a lot writing issue four.
Greg: Did you guys re-watch any of horror flicks to sorta get your minds to juggle for inspiration?
Harold: You know, actually, no. I am sure this sounds like blasphemy, but to me the monster stuff was all a metaphorical vehicle to get at the character work. I mean, part of the appeal of these guys is that they are so iconic; we all know these characters or have some idea of them. We wanted to weave together a lot of the ideas and myths of these characters to get to a classic overall take that didn't owe too much to any one interpretation. So I kinda purposely avoided all that stuff while writing Screamland.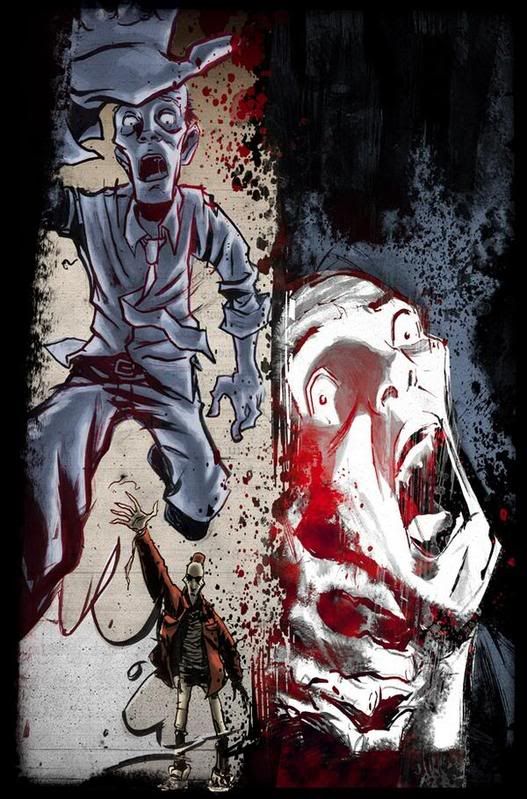 Héctor: Yes, I watched (or re-watched) a good bit of classic monster movies, as well as more modern interpretations. Some of them are great, some are terrible (um, Abbot & Costello meet Frankenstein). In the original Mummy, the Mummy is not remotely scary. He's not even wrapped in bandages. It's Boris Karloff skulking around in flowing robes and a little fez. We chose to look at some of those elements, which we found very humorous.
Greg: Do you guys have a favorite old school horror flick?
Héctor: As far as the real old school flicks, Frankenstein and Bride of Frankenstein are probably the best ones. They are more tragedies than horror stories. But I grew up on the horror flicks from the 80s, and I love that stuff: Nightmare on Elm St, The Blob, The Fly. I love creature features.
Harold: Does Rosemary's Baby count? I'm not sure that is really old school, but that sort of psychological horror always appealed to me a lot. As a kid I remember really enjoying The Howling, Pet Cemetery, and Pumpkinhead, but I was a really dumb kid.
Greg: Dude, Rosemary's Baby should count! Are there any other monsters you'd like to draw, lets say hopefully in Screamland 2?
Harold: Well, I don't know if Screamland would really support an ongoing, but there are two more Screamland stories I would love to tell. One thing I liked a lot about the book was this idea of how people's taste in horror films shifted with each generation. We saw in the background 50's atomic monsters, Japanese monster film monsters and things like that. I would like to explore that idea, different eras of monsters and horror films, a lot more with any follow up.
Héctor: Some of my favorite monsters were the secondary background characters that populated Screamland. They were our homage to the Black Lagoon creature, the Blob, the Fly, Godzilla, etc. Really, I am happy drawing just about any monster. Bug- eyed, scaly, spiky, gooey... that's my crowd.
Harold: All that said, any follow up is dependent on sales of the trade at this point. If you want to see more recommend it to a friend!
Greg: You've got me sold! Now, Héctor, I sorta wanna keep digging into your art process, heh, I just love the art, as I've mentioned before. What techniques and equipment are needed to draw the Hector Casanova way? And how long have you been drawing anyway?
Héctor: I have been drawing for as long as I can remember. I've always loved comics, wanted to work in comics since I was a toddler. I started learning English reading my mom's Peanuts collections from the 50s and 60s. Even though we grew up pretty poor in Mexico, my family was very supportive of me as an aspiring artist. (One year, when I was a kid, my birthday present consisted of a ream of paper half my height.) I started doing professional illustration work in my late teens, and have been lucky enough to make a living drawing. My problem is that I have a short attention span, so I jump around a lot: stylistically, as well as in media and approach. This works well in illustration and gallery work, but not so much in comics. I had to set a technique and stick to it for the whole run. That was tough for me. To me, the fun in making art is the exploration, driving half blind and trying to land on your feet, making cool discoveries along the way.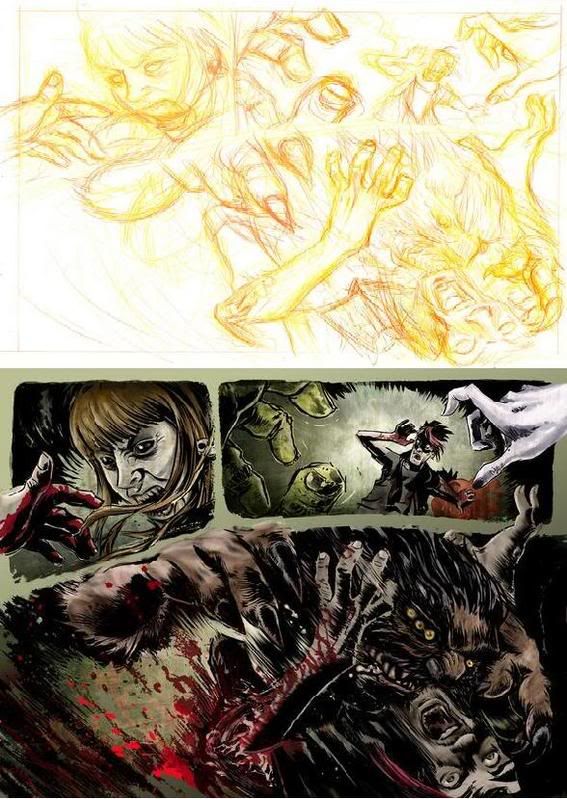 The general approach for Screamland was:
1) Draw the storyboards
2) Shoot the reference (clay heads, any poses I couldn't wing).
3) Pencils (I used color pencils, makes it easier to drop out after scanning)
4) Inks, ink washes (crow quill pens, brushes), maybe some watercolor...
5) Scan
6) Painter & Photoshop. Drop in the photos of the heads and other scanned textures, and blend them in. Then just color everything in stages: backgrounds, then foregrounds, then details. That part is intuitive and varied from scene to scene, so I really can't get much more explicit than that. I was just going with the flow. Now I look at some of those pages and I wonder how the hell I did it.
Greg: Haha, that's pretty funny. Any future books, currently or down the line?
Héctor: No comics related stuff planned just now. I just had a gallery show that opened this month here in Kansas City. I'll be doing some live mural art at the same gallery in October. Keeping busy with editorial illustration work. My main problem is that comics work is so involved, that when I do comics, I don't have time for any of the other stuff (gallery work, music posters, editorial illustration) for months at a time. So I am very picky about the projects I choose. But I am never not-busy. Just doing stuff less glamorous than comics. Oh, though I started doing music reviews, comic strip style, for a magazine called "ink."
http://www.inkkc.com/press+play/blog/1607&search=adam%20lee
And I did a pin-up for the upcoming Pigeon's from Hell TPB (Dark Horse). And a short Screamland back up story for Proof in October. And I am painting my house.
Greg: Heh, well it has to do with art, huh? But since there's no plans for you drawing another comic, how about I instill the thought of your own creator own stuff? I'd like to see what else is crackin' in that mind of yours.
Héctor: Yes indeed, that is in all likelihood the next comic I would do. I have done quite a bit, but they are all shorts. I'm thinking about collecting / expanding them into an Eightball style publication. Thanks for the vote of confidence!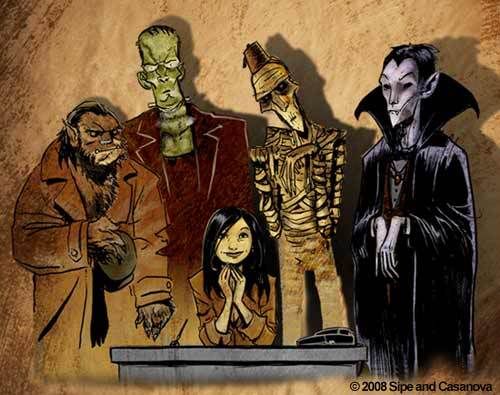 Greg: You've definitely earned it! Now, Harold, stop trying to hide! What inspired the idea to have each issue focus on a different character?
Harold: I always thought of the book as being much more a character study than being super plot-driven, so it seemed to be a really good format to cover all the history and give the characters room to develop.
Greg: So what did you do to get into each character's mind? You gave them all such unique voices
Harold: Thanks for that, Greg. As clichéd as it may sound, the characters really found their own voice throughout the run. The best example of that would be Andrea, the agent. The focus was so much on the monsters; I didn't really have much of idea of her character going in. As I wrote issue two, she just kinda found her voice.
So much of the fun of writing this book was taking outlandish premises and following them to their "logical" conclusion. A lot of the character stuff and dialogue really came out of that approach. It's also odd to re-read some of it now and see how much of my life and people I know ended up in it.
Greg: Can you spoil us in a bit of goodies about the characters you maybe wanted to put into the story but didn't get put in at the end?
Harold: Well, not a lot got cut. The book was pretty tightly plotted going in, but that said you never get to do everything you want. In the fourth issue, Dracula's ex-wife, I had a ton of things I wanted to do with that. I had actually written seven pages based on her book and their relationship. In the end there just wasn't room. The thing in the second issue with the Mummy winning back the content of his tomb through his lawsuit, I wanted to do a lot more with that. Again, there were space concerns and I had to keep the pacing going.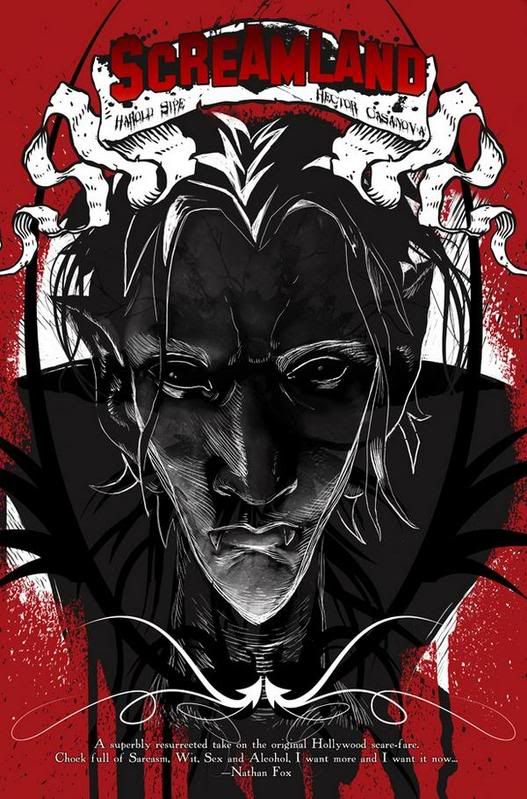 Greg: Well, this may be a bit of a spoiler for new readers, but what made you decide to turn Dracula gay? I felt that was a really well written issue and you really felt for him.
Harold: I was doing a lot of research while I was cooking up Screamland, reading about Hollywood in the 30s, 40s, and 50s. It really struck me how many stars had to live in the closet. Some of the most famous and beloved figures in America (maybe the world), and they had to hide away such an important aspect of their lives. I think the reason it worked it's way into the book is that, although we have come a long way, this is still very true today. I didn't really plan to make a "statement" or anything but it was always really struck me how painful it must be to come to terms with one's sexuality while having to hide it away at the same time.
Thanks for the kind words on the book, it was certainly the one I sweated the most and I was pretty proud of it overall. A lot of that credit should go to Héctor as well, he rendered the characters with such grace and humanity in that story, it's one of my favorite issues in our brief run.
Greg: So what can we expect from this trade collection that'll be coming out next month?
Harold: There will be all sorts of goodies and extras in the trade. The one I am most excited about is an 8-page Screamland short that had not seen print. It's the first Screamland story Héctor and I worked on, and I am really excited to have it see the light of day.
Greg: Ohh. Can't wait to see that…
Harold: Héctor also has a process section, outlining his art process on the book, which I think is just fantastic. I think it'll be a really attractive package.
I should also mention, Héctor and I will be signing copies of the trade on October 29th at Elite Comics in Overland Park, KS. That Wednesday is also Elite's 15th anniversary and they are also having as guest: Matt Fraction, Duane Swierczynski, and Alec Grecian. Anyone that has a chance should come on out, it's going to be a lot of fun.
Greg: Any new books down the line I should be aware of to spend more cash on?
Harold: There is a Screamland short story that is running in Proof #13 (Thanks, Alex!). That drops on Oct. 29th, the same day as the trade. Everyone should be reading Proof, it is a hell of a lot of fun. I just finished stories for two upcoming anthologies; neither has been announced yet so I can't talk any details just yet. I am working on something with Steven (Five Fists of Science) Sanders and a web-comic idea with Buster Moody. I am hoping to be able to talk a lot more about these around the first of the year.
Greg: It was fantastic having you guys at Face To Greg and I'm still excited that I got to chat with you guy. You've no idea how much I loved Screamland when it was coming out. Can't wait for part 2! (wink, wink, nudge, nudge.) Any final words, Sir Harold and Sir Héctor?
Harold: Well, Héctor and I went to a LOT of shows this year promoting the book and met a lot of really great people. I just wanted to thank all the folks that met us at shows, supported the book, and everyone that really talked it up on the Image Comics' message board.
Héctor: I want to thank everyone who has supported the book, who has come out to the cons and the signings and said hello, chatted or got a sketch. This is a book that falls between genres, so we owe a huge thanks to all the fans who were willing to take a risk on unfamiliar ground with unfamiliar creators and spend their comics dollars on us. It means the world to us that people have been so receptive.
And as an aside, thanks for the interview!
Harold: Thanks for having us, Greg. It was a pleasure.
Greg: It most certainly have! Great luck with Screamland and everything else you guys will be involved with. You can guarentee I'll be on board and cheering you both on with each step of success!
For those who have yet to even read a sample of this amazing book, Screamland #1 will be feature on the MySpace Comic Book page starting Oct. 1. The link can be found below:
http://www.myspace.com/screamlandcomic
The Screamland Trade ships to comic shops on Oct. 29th (ISBN # 1607060051)
. Be sure to pick it up and see what all the rave is about. You will NOT regret it.
Posted originally: 2008-09-26 07:15:48