The return of Face To Greg! It's surely been so long! With the return of the column (and hopefully back into regularly posting), I ask various comic creators what was that comic book issue, series, artist, or whatever that made them say to themselves, "You know what? I want to seriously write/draw comics?"
As many folks who knows me know, writing comics is the top goal and dream of mine. That I'd have to say is thanks to
Peter David
. Before
David
, I loved comics but never really took into consideration in wanting to writie it seriously and craft stories for comics books until I fell in love with his
X-Factor
run and read his book on scripting which I could not put down. There was just something that struck me as amazing and not a day has passed by without me thinking about my dreams to become a comic creator. So why not ask some creators what was that one series/writer/artist/etc?
Phil Hester
(Writer of
Top Cow
's
Darkness
and Writer and Co-Creator of
Image
's
Firebreather
and
Golly!
): There was a two-part
Iron Man
story that came out when I was eleven or so that had a cliffhanger ending and I couldn't wait for the next issue, so I wrote and drew my own and it felt pretty good. It dawned on me that there were people doing this for a living, you know?
Due to their distinctive styles
Jack Kirby
and
Steve Ditko
were certainly the first personalities I was aware of in comics, especially Jack. His high-octane concepts were a real inspiration to me beyond even his drawing. I was moved by
Wein & Wrightson's Swamp Thing
as well as
Cuti & Staton's E-Man
, so my style has always been an attempt to reconcile all those disparate influences.
I discovered
Kitchen Sink's Spirit
reprints about the same time
Frank Miller
was tearing it up on
Daredevil
and those gave me the idea that comics could be a vehicle for artistic expression beyond just having fun. I think I was fourteen or so, and dedicated myself to making comics. Not even published comics, just comics for me, and if somehow they became good enough for people to pay for them, well, bonus!
Erik Larsen
(Former
Image Publisher
, Writer/Penciller/Inker/Creator of
Image's Savage Dragon
):
Herb Trimpe
on the
Incredible Hulk
. I just could not pull myself away from that book. Herb worked with a number of writers, each of whom did an excellent job of keeping the balls in the air and setting things in motion for the next writer. In retrospect, that was an amazing thing. These days writers are far more likely to write out what the previous guys did but in the old days there was much more of a team spirit in play. Regardless-- Herb was the constant and he kept me coming back for more. I remember slavishly trying to emulate his work. When he left the book--I was crushed.
It was later that I discovered the work of
Jack Kirby
and fell in love with his work. But Herb was the first one. He was the guy who started the ball rolling for me.
Richard Starkings
(Writer and Creator of
Image's Hip-Flask & Elephantmen
, Letterer of probably damn near 100 books!): I don't think I can name just one...
The comic that really got me hooked was an anthology comic called
Countdown
, which featured beautiful comic strip art illustrating strong stories based on the
Doctor Who
,
UFO
and other British Sci Fi strips. I remember that the very first episode of the
UFO
strip, by
Gerry Haylock
captivated me because the drawings were so good and the colours so vibrant. At the time, I think I actually preferred the comic strips to the TV shows.
Reading reprints of
Spider-Man
,
Hulk
and
Fantastic Four
in
Marvel UK
's
The Mighty World of Marvel
was also a revelation... I didn't think that the artwork was as good as the art I was used to in
Countdown
, but I remember being impressed by the strange newness of the stories and characters.
Years later I read imported American
Marvel Comics
and although I was fond of
Conan the Barbarian
, the book that really grabbed me was
Jim Starlin
's
Warlock
.
Starlin
took
Warlock
out of the superhero world that created him and created a Science Fiction comic that still reads well and looks great today.
Shortly thereafter
2000AD
hit the British newstands and the art and stories by
Wagner
,
Mills
,
Alan Grant
,
Bolland
,
McMahon
, O'
Neill
,
Gibbons
and
Gibson
blew me away. I daresay that without
2000AD
I might have drifted away from comics. I'll even site one specific scene...
Strontium Dog's
Durham Red in the shower -- with Ronald Reagan! I thought it was silly at the time but
John Wagner
described it to me in the pub one night with a mischievous twinkle in his eye and I realized at that moment how much fun he was having writing comics.
Oh, and an honourable mention to
The Perishers
, my favourite British newspaper strip, which not only made me laugh but also inspired me to learn to letter comics, without which...
Jimmie Robinson
(Creator of
Shadowline
's
Bomb Queen
): I didn't have one series. I got into comics very late, so a lot of the names that people usually drop aren't on my list. Also I didn't draw to any "house" style back then - which at that time you kinda had to do. Nowadays it's fine to be unique from the pack, but in the 1980s early 1990s if you didn't fit in, well... you self-published. That's what I did and I grew up in public carving out my own style.
But along the way I came to really respect some books.
Paul Smith
's
Leave It To Chance
was one in particular. I also got into manga and anime so that was another influence. It's all mixed up and I wish I could pin it all one, or a few, or a certain comic, but I can't.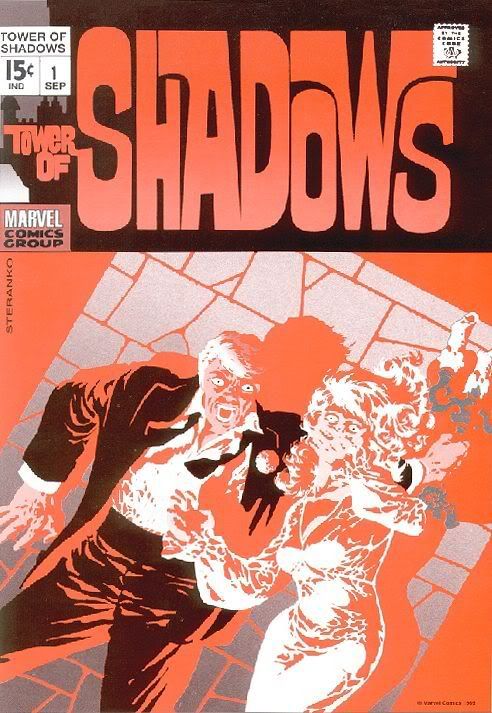 David Hine
(Writer of
Marvel
's
Spider-Man Noir
,
DC
's
Bold and the Brave
,
Deathstroke
:
Faces of Evil
): I don't know that there was a single comic that caused a blinding light to shine down from the heavens and convert me to the idea that I wanted to devote my life to comics. It was something that grew on me over a very long period. There are things that stood out head-and-shoulders above everything else though, and if I had to choose a single piece of comic art that excited me and showed me the potential of the medium, it has to be
[Jim] Steranko
's strip in
Tower of Shadows #1.
At the Stroke of Midnight
broke all the rules and introduced storytelling and graphic techniques that had never been seen before.
Steranko
was open to all kinds of mediums - graphic design, cinema, painting -particularly surrealist cinema and painting- and he threw all those influences into the melting pot. That one story is so intense it blew me away and still does to this day. It's interesting that it's also the piece that ended
Steranko
's relationship with
Marvel
.
Stan Lee
simply didn't get it. He hated the original title (
The Lurking Fear at Shadow House
), he rejected the brilliantly modern cover
Steranko
designed for the book and the confrontation between the two over the strip meant that
Steranko
virtually terminated his relationship with
Marvel
right there.
Stan Lee
was a man of the sixties and this strip signaled the beginning of a new creative era in comics.
Kat Cahill
(Writer/Creator of
Shadowline
's
I Hate Gallant Girl
):
Maus
by
Art
Spiegelman
. Before I read
Maus
in seventh grade, I hadn't really bothered with any type of sequential art. All of my life, I had wanted to be a writer, but until I read Mr.
Spiegelman
's book, I had always imagined that I would grow up to be an author of novels or other "serious" works. What can I say? I was an insufferably pretentious little kid.
So after that, my eyes were opened to the possibilities of the comic book as a story telling medium. As I grew older, I even allowed myself to enjoy some of the fun stuff. However, I probably wouldn't have ever given comic books or graphic novels a chance if it weren't for
Maus
.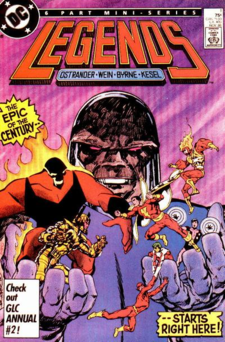 Jamal Igle
(Penciller of
DC
's
Supergirl
and
Tangent
:
Superman's Reign
): It was
Legends
, the
DC Crossover
miniseries by
John Byrne
. It wasn't the first comic that I noticed. Far from it, however that was the series that when I was in High School we were all reading. It was big in terms of scope; it was actually my introduction to the New Gods. The thing was it was the first time that I really noticed the process to putting a story together visually and I was hooked.
Riley Rossmo
(Penciller/Co-Creator of
Image's Proof
):
Bill Sienkiewicz
.
Demon Bear
saga in
New Mutants
. Totally innovative, it blew my mind representational but super expressive.
The bigger question is what else would I like to do? I've worked at a lot of jobs: carpentry, cement finishing, cooking, baristaing, working in a design office (for half a day, it was horrible I'm way more efficient in my office at home), designing motion graphics, and illustration to name a few. The thing is almost every other work I've done, be it creative or not, is all for the cash. I work and watch the clock, even with more Commercial Illustration there's a certain amount of workness to it, where as comics feel good to make. I worry about finding more time to make 'em instead of how to get 'em done. I still have deadlines but making comics is building a world for myself and other people to live in. It's cool to feel like its my responsibility to make another world exist, Maybe its some kinda weird psychological thing about creating as a male of the species some kinda of birth complex.
So I guess I'm saying making comics is different than everything else for me because it opens a window into another world that other people can share, and doing that is more exciting than anything else I could do.
I've given birth to a Sasquatch on paper.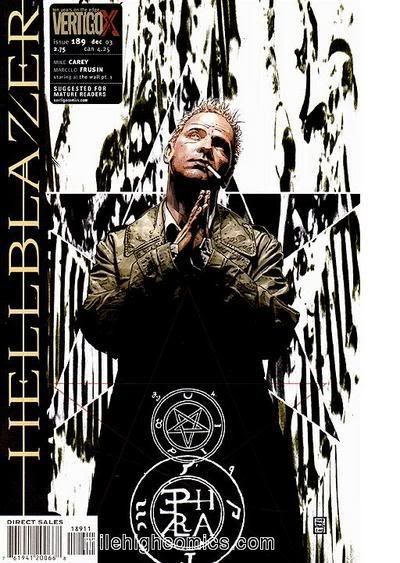 Harold Sipe
(Writer/Co-Creator of
Image
's
Screamland
): I have to say it was
Hellblazer
. It kinda showed me what more comics could do. I was really on my way out of reading comics at that point and the pre-
Vertigo
books hit:
Sandman
,
Doom
Patrol
, and
Hellblazer
.
I had never really thought about the potential of comics before books like that, the fact that they were a broad enough language to tell all kinds of stories and not just superhero soap opera. It was like a switch went off in my head.
Tristan Jones
(Writer of
Mirage
's
Tales of the TMNT
): There were probably a few contributing factors. There was a story that started in
Spectacular Spider-Man
a few years ago where the Chameleon was going through an identity crisis which was ultimately wound up in
Webspinners
by
Paul Jenkins
by having the Chameleon kill himself. I was shattered when I read that because the Chameleon is one of my favorite villains and I immediately started thinking of all these possible ways of bringing him back, but without making these really well written stories lose any of their impact or poignancy. That was probably the first time I really considered it. I'd always wanted to draw comics, but I never really had the skills to draw sequentially. It wasn't until
Marvel
started putting out those
Director's Cut
comics, with the scripts in the back that I really sat down and gave scripting a proper go. It probably would have been around that time, having played with a few ideas and had a shot at banging out a couple of scripts that I decided to make a real go of things.
Héctor Casanova
(Artist/Co-Creator of
Image
's
Screamland
and Artist of
IDW
's
The
Lurkers
): When I was a young tyke I was hardcore into comics, especially
Spider-Man
and
Fantastic Four
. Since I grew up in Mexico, only a few American comics got translated and published down there. But there was a pretty steep backlog, so in the '80s they were just publishing translated versions of the 70s Spidey comics. I grew up idolizing
Ross Andru
,
John Romita Sr
, and
Jack Kirby
, and I knew even then that I wanted to be an artist. But like many kids, as soon as I entered my teens, my interest in comics waned... By the time I was in high school, I had decided I wanted to be a "real" artist, so I was absorbing as much of that world as I could, going to museums and art galleries any chance I got. It was at an art gallery show in Pittsburgh, PA, that I discovered
Bill Sienkiewicz
's work. They were showing the mixed media / painted pages from "
Brought To Light
", and it blew my mind. Seeing that show changed my life. His work proved to me that you could be a "real" artist AND make comics. I started collecting everything else he had done,
Stray Toasters
,
Elektra: Assassin
, and
Moon Knight
... and soon discovered many other artists who had similar sensibilities:
Kent Williams
,
Dave McKean
,
Al Columbia
,
Barron Storey
... These guys were taking comics and using it as a springboard format for their art, rather than as a genre. That's what I wanted to do.
Jay Faerber
(Co-Creator/Writer of
Image
's
Noble Causes
,
Dynamo 5
,
Gemini
and
Top
Cow
's
Witchblade Annual
): I can't pin it down to one series/artist/writer/character that made me want to write (or at the time, draw) comics. It's just a combination of stuff I read as a teenager -- stuff like
New Teen Titans
,
Uncanny X-Men
,
Alpha Flight
,
Infinity Inc.
, and on and on. I write at length about this stuff in my "
Under the Influence
" columns that run in my
Image
comics. Couldn't resist the chance to plug!
Posted originally: 2009-01-10 18:57:52