How about getting to know some good ol' artists for a change? Today a double dose of fantastic artists by the name of Yildiray Cinar and Mahmud Asrar, artists of Image's Noble Causes and Dynamo 5, respectively.



Greg:
Today on
Face To Greg
we meet two fantastic artists by the names of
Yildiray Cinar
(
Noble Causes
) and
Mahmud Asrar
(
Dynamo 5, She-Hulk Annual
)! Pleased to meet you guys, how are both of you doing?
Mahmud Asrar:
This year started out busy in every way. I've been ill two times already and have had some other personal things to deal with but I'm alright now. In the meantime I've also been busy with preparations for the
NYCC
.
Yildiray Cinar
: I'm a little bit exhausted. It's been a long month for me. But everything's well since
New York Comicon
is on the way.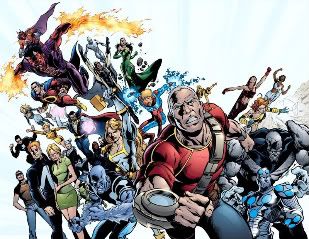 Greg:
Man, good to hear things are getting better for both of you. For those without much intelligence of knowing who you are, please tell us about yourselves.
Yildiray:
Well. I was born in 1976 in Istanbul-Turkiye and located here. I'm drawing comics professionally since some time locally and internationally. I've been working on
Noble Causes
with
Jay Faerber
since #27. Before that I've done a GN named
Nothingface
in 2003,
Fist of Justice
and a
Savage Dragon
back-up. My local works include Karabasan, Iman Limited, Son Kahraman plus a lot of covers and shorts for here and there.
Mahmud
: Born in Ankara, Turkey to an Austrian mother and a Pakistani father. I've been drawing most of my life which lead to an education in arts in university. In the meantime I've started creating comics with my buddies. Earlier on, I've started out with fanzines along with local work for most local recent comics publications. Meanwhile I've started doing occasional gigs internationally. I've done some sequentials, pinups and covers here and there but my major break was co-creating
Dynamo 5
with
Jay Faerber
. Since I've started doing the ongoing book I've also done some outside work such as the
Nova
and
She-Hulk
annuals for
Marvel
. I guess you can say our careers in comics with Yildiray has been quite parallel.
Greg
: Heh. Very interesting. Now you guys are both best friends, are you not? How'd you two meet?
Mahmud
: Yes, we've been friends for over 15 years now. As for how we met, we were both interested in skateboarding back then and I used to write some stuff like graffiti on my board. One of those writings was "Wolverine" so Yildiray came over to ask me if I read comics. Turned out we both enjoyed comics and drawing. We came to be good friend soon enough and showed each other our work. I have to admit I was blown away with his stuff and almost didn't want to show my stuff.
Yildiray
: It was a good moment because back in that day, it was gold finding a friend who reads and draws comic books. We were both aware of
John Byrne
,
Jim Lee
,
Todd McFarlane
etc. etc. I guess we were at the age of 15 or 16.
Greg
: So what books did you guys attach yourselves to growing up? Who inspired you both specifically?
Mahmud
: When it comes to inspirations I could go on and on forever. I started out enjoying comics with
John Buscema
on
Conan
. Later my interests moved more towards superheroes, thus, I started enjoying
Uncanny X-Men
. Especially
Chris Claremont
and
John Byrne
's run.
Peter David
on
Hulk
is of significant importance to me. As time passed by I came to enjoy and follow creators instead of specific series.
Jim Lee
,
Mike Mignola
,
Adam Hughes
,
Stuart Immonen
,
Bryan Hitch
and so many more.
Yildiray
: I started reading comics with
Buscema
's
Conan
too but I was always hooked with super heroes. I really enjoyed
Ross Andru
,
Jim Mooney
and
The Romitas
'
Spider-Man
stuff as a child. Later with Turkish printings of the books in the end of 80's, I became a fan of a lot of artists:
Neal Adams
,
Jack Kirby
,
John Byrne
,
Walt Simonson
,
Bill Sienkiewicz
,
Frank Miller
, also awesome European artists like
Jorge Zaffino
,
Ivo Milazzo
,
Moebius
,
Corrado Roi
... In these days my idols hasn't changed much but I really like the works of
Bryan Hitch
,
Mike Mignola
,
Adam Kubert
,
Ivan Reis
and the list goes on..
Greg
: Did you both have any of those moments where you'd debate that your favorite heroes or books were better?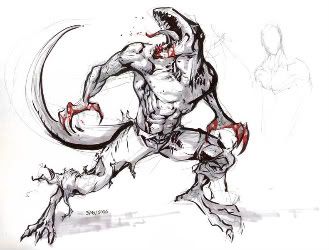 Mahmud
: Well, I think I had similar tastes with Yildiray so I can't recall us arguing on who's better. However, we did differ in our favorites. When I loved
Jim Lee
's work, Yildiray enjoyed
Todd McFarlane
's work better.
Yildiray
would praise
Bill Sienkiewicz
's work when I would drool over
Adam Hughes
's stuff. Still we were always fond of the same creators in the end.
Yildiray
: Yeah, what Mahmud said...We always find a common way on our tastes.
Greg
: Ever trade drawing tips?
Yildiray
: Yes, everytime...
Mahmud
: Even if we're not together I sometimes get on the phone to ask for ideas and stuff.
Greg
: That must be a lot of fun. How'd you both later on hook up with
Jay Faerber
individually?
Mahmud
: A couple years ago I got an e-mail from Jay. Apparently he was looking for a reliable collaborator for his new project so he was asking around.
Ryan Ottley
who is a common friend of ours was nice enough to mention my name which encouraged Jay to write me. We almost started working on
Dynamo 5
right away.
Yildiray
: And Jay was also looking for an artist for
Noble Causes
. Mahmud suggested me to him.
Greg
: How exciting was it for both of you?
Mahmud
: Well, I thought it was very flattering and cool to be working with him. Then as we started off collaborating I found out what a nice guy Jay is which makes working with him so much fun.
Yildiray
: Jay is an incredibly talented and one of the most kindest people I've met in the business. It is so fun to work with his full scripts.
Greg
: Were you guys nervous to meet him last year at the
NYCC
(08)?
Yildiray
: No, never. It was great to see him in person.
Mahmud
: Same here. Jay, being a very nice person, was very approachable.
Greg
: Now, Mahmud, how was it being able to create brand new characters with Jay from scratch? Did you ever think you'd be coming up with some awesome colorful characters before really making it big in the
Big 2
?
Mahmud
: Most creators in the business start off working for the bigger companies and in time start doing their own creator owned work. In my case it's the opposite which I think is very cool. It's cool because doing your own thing is like doing this for fun. You can do almost anything you like, anyway you like. Whereas working for somebody, even though it's still one of the best jobs in the world, is in the end working for somebody.
Greg
: Heh. I can imagine what you mean. I'd like to get into some technical stuff. What are your schedules like when pencilling a comic series? What's the drawing process like?
Mahmud
: I usually draw the cover two months in advance for previews. Besides that a regular issue takes about 4 weeks to complete. It can take shorter depending on the content of the stories. I draw loose pencil layouts which can be pretty rough. I then move onto inks and complete the page.
Since we both do our own penciling and inking the whole process can take a little time. I sometimes feel if I did only pencils that it'd be better for honing my drawing skills.
Yildiray
: I must confess that I'm not so fast on inks. So if I miss a deadline, it's mostly because of inks. But it's different on pencils. I can fly so fast with just pencils.
Greg
: And your pencils are indeed cool! Now you came onto
Noble Causes
with #27 and sticking until the final issues. Did you find it difficult jumping into this book that was already established, etc?
Yildiray
: Not much. Starting with a book with its 27th issue is an advantage because everything's on it's way. But you can't go much radical with the art here. There's a style that book fits. I mean it'd look so absurd if you put a dark and loosened style to the
Noble Causes
...
Greg
: Most definitely. And Mahmud, I know you said you were a big fan of
Peter David
's
Hulk
. How excited were you to find out you were pencilling his
She-Hulk
annual?
Mahmud
: When I was first asked to draw the book the writer wasn't assigned yet. I crossed my fingers that it would be Peter David that would write it. I was really thrilled to hear he was preparing the script. Couldn't help writing Mr. David a fanboy e-mail about how much I enjoyed his work.
Greg
: Haha! I could understand the excitement. Very sweet! So let me ask, what are your favorite things to draw? And when you get a script, what are you most hoping for to draw?
Mahmud
: I'll have to say I love drawing women! And yet I find that so hard to do. Thankfully Jay gives me a good dose of that so I enjoy myself quite a bit on
Dynamo
5
. I sometimes share ideas and thoughts with Jay for stories and once in a while I ask to include something specific, if it makes sense for him too. Like for an upcoming issue I wanted to draw animals. Particularly horses. Jay, being the gentleman and genius that he is, included some for me to draw right away.
Yildiray
: Right now, I'm really comfortable with drawing super heroes. Nothing specific... As soon as the story is good, everything is fun to draw for me.
Greg
: You both will be stopping by
NYCC
this year. Any cool news for fans stopping
by?
Mahmud
: Well, this year we'll have a table in Artist Alley which is quite cool in it's own right. We'll be sketching and signing all weekend. I'll also have a sketchbook for sale for the first time. This year will have quite a bit of firsts for me so I'm very excited. Very much looking forward to meeting everyone. It'll be a fun time for sure.
Yildiray
: Like Mahmud, I have my first ever sketchbook printed very limited this year and I will be sketching all weekend. We'll also have signing hours at
Image Comics
booth. Before I forget, I left the inside cover of the sketchbook blank to draw a free head sketch!
Greg
: Holy sweet Christmas! You know I'll be on top of that! You guys also have a rock band, correct? Can you tell us a bit about that?
Mahmud
: That's right. We are called
Flatground
and we've been playing for quite a long time now. Unfortunately we aren't very productive lately as we find it difficult to get the band together. Yildiray's in Istanbul, I'm in Ankara and the other guys are always moving around too.
Greg
: Is there a link to your music we fans can check out?
Yildiray
: You can listen us at:
http://www.myspace.com/flatground
Greg
: Thank you wonderfully, Mr. Cinar and Mr. Asrar! Now before you leave, just a few final fun questions! Do you guys have a favorite
Dynamo 5
character?
Mahmud
: This will be a boring answer but all the
D5
kids and Maddie are favorites of mine. I love them all for some reason or another. Yet, I quite enjoy drawing Scrap. Visionary is a character who I can relate to myself in high school.
Greg
: What about your best bud's
Noble Causes
?
Mahmud
: I find them all very intriguing. You never know who will do what. I think I enjoy Rusty quite a bit.
Greg
: Oh, I love Rusty. What about you, Yildiray?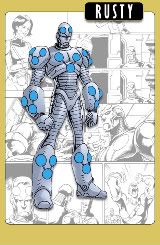 Yildiray
: I like Celeste, Frost, Rusty and Doc Noble. Before 5 year jump, I really liked Krennick. As for
Dynamo 5
I think all five kids are pretty cool. All of the Blackthorne family are pretty cool and charismatic but especially Hunter, Mercury and Dusk were fun to draw. As for
Dynamo 5
villains, I had an opportunity to draw Bonechill in
Noble Causes
#34 and he was cool.
Greg
: Much thanks for visiting. Any final words before you guys leave?
Mahmud
: Thank you for a fun interview.
Yildiray
: Same here! Thanks a lot!
Ladies and gentlemen, those were the highly underrated and fantastic Nobly Dynamic Duo!
You can catch both at their blogs
www.yildiraycinar.net
and
www.mahmudasrar.com

Posted originally: 2009-01-31 12:11:27