Reviewing Image's Proof by the team of Alex Grecian and Riley Rossmo.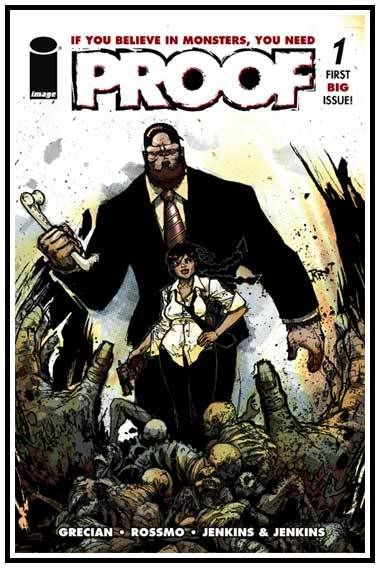 Yes, there are good comics out there and they can be fun. Want proof? Fine then here you go: Proof by up-and-coming and partners-in-crimes Alex Grecian and Riley Rossmo. Never heard of the book? That's likely but it's time to get that head of yours out from under that rock and try something new, fresh, and darn fun and exciting to read. Proof, published by Image Comics, is really hard to categorize as it seems to dangle on a bit of horror here and there, some drama, some great humor, fantasy, etc. I'll just say it's not a book that's common on the stands now. People have compared it to Hellboy or The Perhapanauts, but Proof is on a league of its own. It's Proof. And it's great to have Proof.
A few weeks back was the release of issue #16 which concluded the team's first Act. The team have about five years planned out for this series and I am definitely on board for every single bump. Proof is about a team of agents working in a government based agency called the Lodge hidden in Washington, who go out to find and protect cryptids from normal folk and bring the cryptids back into the Lodge to live in their own natural habitat. Don't know what cryptids are? Think Golems and Yetis and Lockless Monster and Chupacabras and Dodos and Big Foot. And speaking of Big Foot, he's the main character. Dressed in a suit and a tie with a pair of size 29 shoes, John "Proof" Prufrock is the main agent and our focus as he acts as an ambassador of both cryptid and humans and at the same time has a hidden desire to find more of his kind but try to fit in to be like us. The guy seems to get along with every one around him and loves bagels imported from New York and on his spare time loves to
go shopping for new suits with his best bud, Wayne. Proof is one of the most classiest characters I've read in a comic. He's not a blood-thirsty violent monster. He's a man who would like to talk things over with you politely. But don't get me wrong. When pushed to the edge like any other human being, he'd slowly walk up to you with not an ounce of a threatening vibe, pick you up and snap your leg like a twig. And he'd do it with class and finesse too. He's a man with a doctrine in Anthropology, would you expect differently? And I just realized I've been calling him a man. When you read this story, it fits well with his character. Reading through the book, there's no reason why you wouldn't wish to just climb in and shoot the breeze with Proof. He's that cool of a character.
Before the character of Proof takes over the whole review, let me stop myself and also mention his strong supporting cast. I'm not even too sure I can call them a supporting cast either. These characters definitely fit together as an ensemble. Ginger Brown is an FBI agent who got appointed to work at the Lodge after witnessing an event with a violent Golem and now has to work with Proof whether she likes or trusts him or not while Elvis Chestnut, once a small-town sheriff, started working at also after his mother was killed by the vicious Chucapabra who now walks around with his mother's skin baking pie for some new born baby fairies. Rounding out the main three we have Wayne Russet, Proof's best friend, games-keeper of The Lodge, and hilariously the "surrogate" mother of the cryptids, the Dover Demon, a cryptid who's predictions always comes true, Leander Wight, the no-nonsense but kind manager of the Lodge, Autumn Song, a naughty girl with a nasty secret, my personal favorite the Rabbi who has a connection to the Golem at the beginning of the story who later plays a part in the final parts of Act 1 and who may play an even bigger role in the rest of the series.
And these are only a select few of the ensemble. We have so much characters throughout the Act who play big parts in their own ways, either it's in relation to the main plot or a specific character. Each character brings out either the best or worst of someone and at the same time whether you like them or not, each character has heart. Not to say all hearts are good, but they all have heart regardless. You can see these folks standing before you talking. They are written so well with so much love and wit by Grecian that it'd be hard not to fall for most of the characters. Heck all of them. Even the villains put a smile on your face some how. Later on we even get introduced to a priest who is not as he seems who plays well against Proof. We also get a strange guest star appearance from Erik Larsen's Savage Dragon that leads to a hilarious moment in a cave about the size of a certain member and also a moment that adds some character development for Proof that gets advanced later.
The creative team write and draw this book as men possessed to just have fun with it which in thus helps the reader have fun. The book is very character driven and Grecian presents us all to the human nature of…well… humans. Each issue adds more of each character and the plot and you never know what to expect or what's coming. There is so much potential for this story due to the characters and yet it feels so darn good to not have a clue what is going to happen next. There lies a huge fascination with the book itself. There are mentions of other characters and things going on in each issue that eventually will get tied up later on. For example: the character of Mi-Chen-Po. A yeti who seems to know a lot about our main man Proof and the other characters in the story. He also seems to be the main ant
agonist for the cast as this series will go on but one also has to wonder… is he really the bad guy? Hmm… And each arc is just a blast to be presented to. Thus far we've had the Chupacabra terrorizing folks as she rips their skins off and wears them, a socialite who hunts down cryptids and cooks them at dinner parties, Thunderbirds who snatch kids due to folks believing they're angels from God, and alligators in New York sewers! And who doesn't love those little cryptoids that Grecian packs into each and every issue? Grecian finds ways to produce little tid-bit information on specific things that are both fun and insightful to the reading. I've learned so many things reading those cryptoids. Think back when VH1 had "Pop-Up" videos that would give you some darn cool info on the video. A lot of the cryptoids makes me wonder though: does Grecian really know all this or does he google these little information. Well, whatever he does, I hope he continues doing it.
Now the art. OH GOODY GOODNESS, MAN! Did you imagine me saying that in orgasm? Well good, that's how it should sound. I absolutely love the art. Rossmo has his own style that you can definitely call completely his own. Call it scratchy, chaotic, messy, sketchy, smooth, imaginative, whatever. In the end it's an absolute blast and a joy to look at and it makes the writing beautifully. Throughout each issue you can sort of sense
Rossmo's love for experimentation as he draws and plays around with layouts and angles and gives each and every character a visual uniqueness from each other. Unlike a lot of mainstream art, you can erase the hair off of each character from this book and I can guarantee that you'd still be able to recognize the character and tell him/her apart from the other. When things get messy, it's a blast to look at and you just don't want it to end. But when Grecian finds the right spot to just slow down and relax, you can't help but enjoy looking at the characters relaxing and just talking. Not only doesn't the writing get boring, neither does the art. There are many times that I just have to look at each page and panel, even the talky moments because of how well drawn and beautifully made the characters are with the amazing coloring from the people who's graced their colors throughout the series. A favorite panel of mine was in an issue when the blind priest takes off his glasses and Proof imagines a pair of snakes coming out of his eyes. And speaking earlier of relaxing, do you remember when the X-Men would take days off to just hang out, enjoy each other's company, play a bit of baseball, etc? Grecian loves to at least reward his characters after each mission with a day or so to relax. I'm definitely waiting for whenever Grecian decides to have them play a bit of soccer. And since we're back to Grecian, he also provided the lettering of the series which also adds to the fun. Lettering is pretty much one of the most under-looked aspects of a comic, especially when they are well done. But for a while now I've been really looking at letterings and Grecian does a wonderful job as he also plays with sound effects that would go through a whole panel or page to really emphasize things that are going on.
I don't know what else to say about this series. It's just a job well done, a winner in our hands. Proof is hands down the best book that you aren't reading and I can see it slowly continuing to become a running success. Hopefully the same way The Walking Dead has been picking up steam with more and more folks checking out the book. If you're a fan of X-Files, Hellboy, cryptology, or just darn good writing with well produced characters and fantastic art, then this book is for you. Don't miss out on this well crafted series and see what all the praise is about. Two trades have been released so far: Book 1: Goatsucker and Book 2: The Comany of Men. The next issue (#17) should also be a good jump on point as it's the beginning of Act 2 and the next arc. Each issue has also been released on time with practically no delay! So do check it out!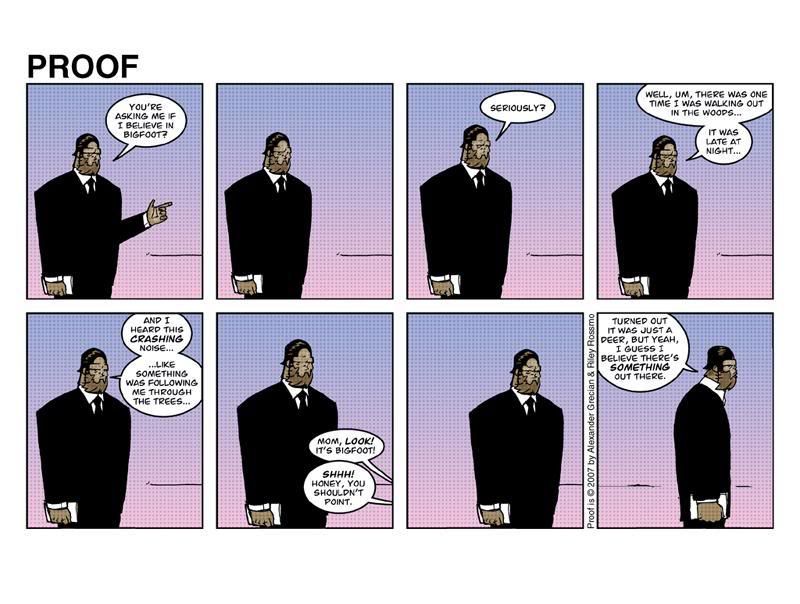 You can find more info on Proof in these links below:
http://proofcomic.blogspot.com/
http://www.myspace.com/proofcomic
http://www.imagecomics.com/messageboard/viewforum.php?f=41
http://www.comicrelated.com/categories.php?column=Proof%20Positive
Posted originally: 2009-02-12 13:36:24