Interviewing film-maker John Hunter as we discuss his films, his influences, some good ol' funny books, and Heather!
Greg: Welcome, everyone, to Face To Greg! Today I exit outside of comics for a lil' while and interview Mr. John Hunter, a man who's been experimenting and crafting with his own film-making. Welcome, John, please tell us about yourself!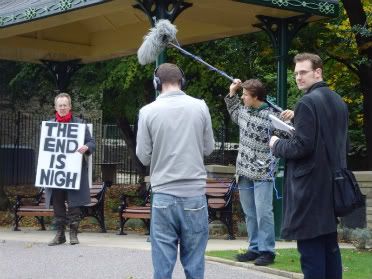 John: Hello hello. Like a lot of hopeful British film-types I finished university and headed straight to London only to find the streets were paved with concrete rather than gold. After several years working for a number of TV companies in pre-production, I headed north to concentrate on developing my own writing projects (as well as to live with my other half). I'm now a freelance writer but still work in drama development for TV and Film, reading the piles of unsolicited scripts that get sent in to production companies and then providing feedback. Hopefully the fact that I'm still an aspiring writer myself makes me a lot more constructive, if not a little more sympathetic.

Greg: Heh. I feel you on that one. Now, what got you into film? And how long have you been involved in it?

John: I've been working as a script reader for the last three years having trained with a company called the Scriptfactory who are responsible for work-shopping and helping develop a number of high quality and successful British films. I guess I've been writing film since university where I was studying scriptwriting for film and television at Bournemouth until 2002. I was bouncing around London TV companies for work after that for three years but also writing my own film, TV and comic-book ideas in my own time (mostly writing stuff on my epic commutes across London and going into work early and typing everything up). Throughout this time, my composer girlfriend Heather was doing sound and music for a number of short films in Yorkshire through the regional arm of the UK Film Council. With our long-distance of our relationship making things harder and the coincidental cancellation of the TV soap opera I was working in the production office for, I decided to make the move north and join Heather and have a shot at making a short film rather than patiently waiting for Hollywood to offer me a film franchise to write. Within two months, my first short film 'Moth to a Flame' had been commissioned and I was writing and re-writing draft after draft to get it right for the director, producer and for Screen Yorkshire who were paying for the film to be made. A very different experience than just writing for yourself on the train of a morning commute!

And if, by your first question, you mean what got me interested in film in the first place, that's a much simpler answer: Ghostbusters, Back to the Future and anything Spielberg made with sharks, aliens or arks of the covenant.

Greg: Ah, so you're a big sci-fi geek?

John: Well, maybe just a bit...and horror and mystery too :-) It's interesting that despite all of the splashy or fanciful high concepts of the films I mentioned, all of them feature vivid and memorable characters at their heart.

Greg: "Moth to a Flame." I believe I've seen that one, yeah? Tell us about that.

John: A dying man haunted by nightmarish visions of moths has given up on life until he
overhears the plight of his abused neighbour. Suiting up to do one last good deed, he must try and summon the courage to intervene. No matter the cost. (Here's a 20 second trailer if you're interested http://tinyurl.com/mothteaser )

While the central theme of this film was always the very real subject of coming to terms with your own mortality and making the most of the time you've got left, I was also keen to add a heightened reality to the piece. If you see the finished short, you'll see it owes a lot to classic film noir as having been strongly influenced by several DC Vertigo titles (during pre-production, I loaned several shelves worth of graphic novels to our director to help put across that Vertigo vibe). But, for all I was trying to say about seizing what little life we have left, this story truthfully originated as a doodle: several moths flit around a vintage streetlamp, below which stands a man in a ragged trench coat, equally drawn to the light. As a first film, I couldn't be more pleased with how it turned out and the response the film got. I was very lucky to work with a team who got the sort of thing I was trying to write. This also marked my first official collaboration with Heather who composed the music for the film so I guess this one will always have a special place for me.

Greg: So do you naturally get influenced by comic books to help set the feel and mood for your writing?

John: Not necessarily for every project. But, with so much of what I like to try and write based in one genre or another, chances are some of my favourite writers and artists have already perfected what I was trying to do so it's always good to have a quick refresher as to how they did it. Usually, the ideas will sidle up and announce themselves in their own time and then, during this gestation period, I might re-read books I know are of that oeuvre as well as listening to particular music to put me in the right mood as I do my research and plotting. So it's more to 'tune myself in'...or something.

Specifically, I think that comics are often more successful at smashing genres together in a way that TV and film projects sometimes struggle with in terms of remaining consistent through a variety of tones and styles. For example, the Coen Brothers' movies or shows like Buffy mostly defy easy genre classification - but then 'Coenesque' and 'Whedonesque' have become genres in and of themselves. Specifically, I suppose I'm influenced by the heightened reality and stylization of comic book stories, especially those with no trace of gods, monsters or science fiction in them yet still feel like they have created their own world with its own rules.

Greg: So which specific books did you look at for Moth to a Flame?

John: With all the smoking, trench coats and cancer, I suppose Hellblazer is an obvious influence answer. But more the reluctant hero side of John Constantine rather than his bastard conman swagger. For me, the very abstract, transient and haunting tone of Grant Morrison and Jon J Muth's The Mystery Play was a big influence. Also, there's a short, single issue story called 'Bearing Gift's in the middle of Mike Carey's Lucifer that had a big impact. Despite the series' wars between angels and Lucifer's rage against the almighty, this story focuses on a shopkeeper plucking up the courage to tell his wife he's terminally ill who then finds himself embroiled in all the craziness. I greatly admire the tenderness and the notion of the tiny stories all being just as important as the gods and monsters.

But, while I've name-checked several very literary comic book influences that are 'suggested for mature readers', I should also add that the last few drafts of the script were written with the Batman Begins soundtrack playing on a constant loop :)

Greg: Ha, that's pretty darn cool, man. Lately in my writing I've been listening to the Dark Knight and Batman Returns soundtracks. So dude, what's your schedule like? It seems every time I get on the computer, you have something new you're working on, etc.


John: In a word, erratic. I do strive to break my time down into particular projects per day or week but best laid plans, etc, etc.

While I have my own pet projects always simmering on the backburner, competitions and script schemes will always suddenly crop up that want a specific sort of script that I may drop everything to get an application ready for. My work as a script reader is also somewhat unpredictable as scripts can suddenly appear in my letterbox, often in gangs, and they always prioritize as they actually pay the bills. At anyone time over the last year, I have been preparing scripts or treatments for one or two applications, working on actual commissioned projects such as a short film, online drama or theatre piece as well as tinkering away at a feature film or TV pilot script off my own back that I will send away to agents or production companies as and when I'm happy with it.

It's always good to have several projects on the go as sometimes feedback or responses can be a long time coming so you don't just sit there waiting for the phone to ring. As an added bonus, when it is good news coming back, it can come out of the blue. For example, last Friday I was pleasantly surprised to find that a project I pitched back in January is going to be work-shopped with a production company. However, this also now affects my schedule for the rest of the month as I will be spending a lot of time on the project before it goes into the workshop which means I am going to have to work later nights to fit it around the commissioned work already scheduled for March.

Greg: Wow. Can you give us some tidbits on your other projects?

John: I've got quite a nice mix at the moment. I'm getting two short films ready to pitch at the end of the month, one a ghost story and one a story of unwanted heroism. I've just finished the pilot for an online apocalyptic comedy-conspiracy...thingy called 'The End is Nigel' (http://www.theendisnigel.com ) which was a great learning experience for interactive storytelling and I am now actually writing another online narrative to market a theatre piece about vampires called 'They Only Come at Night' which will be performed later this year by the Slung Low theatre company (http://www.slunglow.org ) . I can't tell you how happy I was to actually be *hired* to write about vampires.

I'm also writing a section of another of Slung Low's shows which is all about war around the world and what that means to us safely at home which is a new challenge for me. I'm polishing a few offbeat mystery TV ideas (by which I mean the TV ideas feature mysteries - I'm not just trying to being enigmatic!) and I've also been working for a while now on a low-budget feature film that's a sort of metaphysical murder mystery set inside and outside a London pub at Happy Hour. It's a bit of an oddity but I want to get it right before I send it off.

I'd also say that a great deal of time seems to be spent writing pitches, covering letters and applications to try and get scripts or DVDs onto the right peoples' desks. This can sometimes feel like a full-time job too but it's all part of the process and writing a tight, one-page outline can really help you get your idea clearly in your mind for when you're trying to pitch it.

Greg: Jeez, man. Do you ever have time for Heather?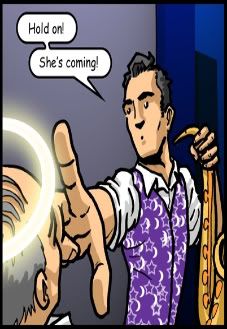 John: Oh lord, you want me to talk about my relationship? Watch as I tread carefully from now on :-D

We do just fine though, thank you. If anything, Heather's actually busier and is certainly less prone to distraction than I am. We always eat together, usually watch a DVD on in the evening if we're both in and the fact that we're both working from home most days probably means we see more of each other than most couples really. And, despite that, we still seem to be getting on okay :-) Have I plugged Heather's website yet? Have a listen to her lovely music and read her very interesting and informative blog http://www.heather-fenoughty.com

Greg: How's the working relationship? I understand she does the music for your films?

John: Pretty good, really. The writer doesn't (or maybe shouldn't) have much to do with the music in a film particularly. But, whether it's something Heather will be doing the music too or not, I always write with the audio in mind as much as the visual - either trying to use suggestive sound design or allowing scenes where the composer can create a strong musical presence if they like. So obviously in films, it's up to Heather and ultimately the director what the film's score is like. But usually, just through our similar tastes, Heather and I are on the same page anyway. When we worked together on my online drama pilot which I was also producing (and Heather was also doing all the web design for) our relationship was much the shame. For each of the musical cues, I would just describe the sort of tone and maybe give an example or two if needed.

In terms of working on 'Moth to a Flame', films like 'Unbreakable' had been a big influence to my writing and - as it is one of both Heather and my favourite films - it became a big influence for the soundtrack too. Our director, Kevin, was happy to let us lead him on that front so, when it came to scoring the film, he came to our flat, had a brief chat with Heather and then he and I went to the pub while Heather did her stuff. We came back a few hours later and, loving what Heather had done, simply said 'More!!' and then went off back to the pub again knowing the music would be exactly what everyone wanted. But, overall, Heather's working relationship is great with all of her clients simply because she's an exceedingly talented professional and can even make a schmuck like me sound good!

Greg: So you're given the money and the chance to produce/create a film of whichever licensed product and/or comic of your choosing. That movie will be...?

John: Cor. Save the tough one for the end - sooooo many choices. (*thinks for a bit*) Hmmn...My first instinct would be to get the Wachowskis to let me have a crack at making a 3rd Matrix film that I like as much as the first two plus I'm sure Heather wouldn't mind if I relaunched the Alien/Aliens franchise - as long as she could do the music. Comic-book wise, I'd love to see Warren Ellis and Ben Templesmith's 'Fell' on screen - as animation though - but generally I'd be scared to mess with some of my favourite comic titles. The ones I like best are usually one big story that might not condense into a single feature film. But thinking about it, while I didn't think Keanu Reeves as Constantine was a bad film per se, as you and I met on a Hellblazer message board, Greg, perhaps I should have another stab at getting a more faithful Constantine adaptation to the big screen as a tribute.

Greg: Heh, I totally get you on that one. And man, folks over there really dislike that film, huh? Before we leave, how did that short horror movie do? The one with the strange man in the photograph?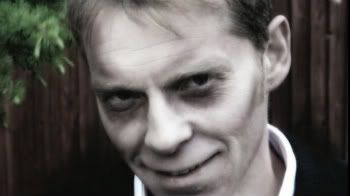 John: For something we funded out of our pockets and filmed in a day 'The Emaciated Man' has done surprisingly well! It listed in one or two horror short film categories. What's also pleasing is that if you type 'The Emaciated Man' into google, our film is the first link you get to (here http://tinyurl.com/emaciatedman ) which is strangely pleasing. The short was intended as a taster and introduction for a full-length horror feature film I am writing featuring the same movie monster. I've done a first draft and extensive treatment through which I discovered one of the supporting characters needs a much larger role as he's so much fun to write. This is one of those projects which I am just developing off my own back though so it has to be entertaining for me to do. But it features one of my favourite towns on the planet, scary monsters, gruesome murders and funny characters so I live in hope that, one day, it will be entertaining for a lot of other people too. One day :-)

Greg: Man, John. I just have to say it's very inspiring for me as an aspiring film-maker to see you accomplishing all of this. Ever since I saw that short horror film you wrote, I've been a big fan of your work. What advice can you give young aspiring film-makers?

John: Hmmn, I think you just implied that I was old but I'll let that one go ;-)

Greg: Ha!

John: The advice I cling to most is the advice I got from Mike Carey when I once interviewed him. He said that there is no big break - just a series of little ones. That's a really good view to take, otherwise I would be weeping with despair that I am already several years older than Orson Welles was when he made 'Citizen Kane'. I find it important to make sure you feel like you're moving forward, every meeting, every person you meet, everything you read, every pitch you write and every idea you have whilst walking to the shops could be useful further down the line.

To begin with, I think you just need to show people what you can do. Whether this is as the perfect script or a short film, it's really good to have a strong calling card that shows what you are capable of - not what you think other people want to see. They can usually tell the difference. James Moran, another writer I greatly admire who writes for Doctor Who, found his agent with a script that he freely admits will never ever be made. But the script that both represented his humour, his use of genre as well as the sort of characters he comes up with and that got him lots of work and he's now one of British telly's top writers. And who knows, maybe when he's had a few more hits, someone will ask him if he has any pet projects lying around and he'll go back to that idea.

What I'm trying to say is don't say "no" to working on something just because it isn't your dream project. Recently I wrote a film for a director I greatly admire who really wanted to explore the subject of child prostitution. My usual tack would be to explore such a subject through some sort of genre metaphor (anything to fit aliens in) but we were going for a proper drama. But I found an unusual take to hook me in to *needing* to write the script and ended up structuring the story in a way I'd never done before so it really stretched me as a writer. So put all your effort into anything you work on. You might surprise yourself, you might meet new people but you'll definitely develop yourself as a film-maker.

I hope that's something like helpful. Overall, just make sure you keep enjoying it. No one's forcing you to do this. You'll find yourself in funks from time to time and your pile of rejection letters will always grow but keep going because you want to. I'm not saying you'll ever be Spielberg but you'll at least have fun trying.

Greg: Thank you for that, John. I find that very inspiring as an aspiring writer and film-maker. It was great having you, John. Thanks for the time, it's been a great big pleasure, man. I hope you enjoyed your visit in Face to Greg.

John: A real pleasure. Thanks for having me.

Greg: That was Mr. John Hunter, ladies and gents. Be sure to check him out at http://www.theendisnigel.com/john/ .
Trailer for Moth to a Flame http://www.youtube.com/watch?v=6Her8J9m2YY

End is Nigel http://vimeo.com/3078290
The Emaciated Man http://vimeo.com/3954448
Heather's fantastic music http://www.heather-fenoughty.com