Today on Face To Greg, we discuss Image's upcoming Olympus writer, Nathan Edmonson, about the new book while I try to get some top secret info out of the book.
Greg: Today on Face To Greg we have with us Mr. Nathan Edmondson! Hello, Nathan, how are you today?

Nathan: Doing well. Cold feet on the hardwood floor and looking at a house full of boxes left to unpack (just moved in to a new place).

Greg: Ah. Congrats on the new place. Can you tell us noobs about yourself?

Nathan: I'm not a comic person--which doesn't mean I don't now love comics. I was re-introduced to the comics industry just a few years ago and at the time I knew very little about comics, and I'm still learning. But I am a writer, and the comics medium has welcomed me with open arms in as much as it's given me a place to explore and expose my ideas. I am, however, becoming a comics person. It just takes time to learn the history of a medium. But not knowing the rules in comics makes it easier to break them, of course, so hopefully I'll be bringing to the table something fresh, something exciting. What else? I'm engaged, I used to work in International Political training, I speak several languages, I not long ago bought an Arab race/show horse and my degree is in Art History. My interests are wide and diverse and in the succession of my several upcoming books I will be able to bring fans from one to another, crossing genres, journeying together--adventuring together.


Greg: Very interesting. Tell us about Olympus.

Nathan: Olympus came from a "What if..." I've always read Greek Mythology looking intently for the truth it holds. I think it's possible that there is more truth to the stories than we realize--and why not? And of course, if not, it's still fun to wonder. We've discovered Troy, we've discovered Agamemnon's palace, Odysseus palace, and everything down to the style of goblet offered to Telemachus by Nestor, described in the Odyssey.

So I wonder, "What if...these two characters--Castor and Pollux, granted immortality--were still alive today? Still serving Olympus?" And from there there are a hundred ways to go. Along comes Christian Ward, artist extraordinaire, and we press ideas together and create the (first) arc for the new comic.

The comic will be exciting, and it will hold a rich tapestry beneath Christian's vibrant art; histories of characters, old love affairs, ancient grudges, long-suffering friendships and brotherhood. The story will jump out quickly, but the rest you might have to read a bit more closely for--and look a bit more closely to see.

Greg: Well, it sounds exciting. Tell us about Castor and Pollux, and how exactly will they be serving Olympus today? That's something that really peaks my interest.

Nathan: Castor and Pollux are described primarily in The Voyage of Argo, but there are other and varying accounts of them elsewhere. There is a temple to them still standing in Greece. They are one of the signs of the zodiac: the Gemini. The personalities and traits of the characters in OLYMPUS are drawn from the brief descriptions: the writings say that Castor was the "tamer of horses" and Pollux his brother was "good as a boxer." We develop them in our own way based on such passages. Castor is the womanizer, the player, the pseudo-romantic, the impulsive wise-cracker. Pollux, his older brother, is more rational, solid, but also has a temper. To each other, they are devoted, and the devotion travels with them each year as they return to the Underworld before being redeemed again on earth.

The Gemini serve Olympus in our stories because, in our world, Olympus is quiet and avoids direct involvement with Earth. Even its messengers (Hermes, Iris) remain on the mount. As humans, but immortal, the Gemini continue to be Zeus' hands on Earth. They hunt down those that break they new laws of Olympus. They fight those that fight the bonds of Hades. And they enjoy their immortality as best they can ;)

Greg: Very fun. What are these new laws of Olympus?

Nathan: Essentially what I just said: the world changed, but the Gods did not, and so they
have chosen to remain on Olympus, silent and eternal. There are reasons for all of this that will be revealed...later. But you will see in the book that the Gods still have mechanisms in place for controlling their domains on Earth.

Greg: Oh okay. I understand it better now. So this first arc we'll definitely be seeing how Castor and Pollux work. Now I'm a Greek mythology fan myself and whenever a new book with a different interpretation of a story, etc, comes out I'm a big fan of seeing which characters stop by and how they're portrayed. Who else can we expect to see?

Nathan: Haha--this seems to be the question on everyone's mind. I won't give anything away, but I'll tell you that we don't just focus on the main Gods, we bring some of the more-unknown cast to stage. But keep reading, and you'll see some of the Key players. I know that's the worst answer ("read it and find out!") but the appearances of each are nice story moments I'd rather leave to the page-turning.

Greg: Damn you, haha! At least throw me this bone: Centaurs?

Nathan: Sorry, no centaurs, not in this arc. But there will be other...creatures.

Greg: So you've mentioned you haven't been a big comic person until not too long ago. Are there any specific influences besides Greek mythology that you look to when writing this upcoming series, maybe comic related, etc?


Nathan: There weren't many, no, mostly because when I conceived the idea I didn't know too many comics from which to draw. I embraced the concept, the idea, and above all, the characters. It was Castor and Pollux's relationship that really drives the story for me, because regardless of where I would go with it, in my mind their relationship was the one constant. I think Christian [Ward] has felt the same way, and I think we see eye to eye on this. Especially as he has helped me to develop this story, and our partnership has directed it beyond my own concept--we've bounced ideas back and forth but the one thing that never changed in our discussions, early on, was the fact that Castor and Pollux were devoted to each other as brothers. Maybe, too, Christian and I have shared some of that sort of friendship.

To get back to your question, there's still not too much out there that I've encountered that it can be compared to. One of the things I've been dedicated to do with it is stay as true to the mythology as possible; and most mythological adaptations I've encountered don't have that same focus.

Greg: Tell us about the art. Thus far from what I've been, it's very vibrant and simply... beautiful.

Nathan: I'll agree with that. Christian's art is alive; you can spend ten minutes looking at a panel trying to figure out which line goes where and what it is that's making you see what you see, and at the same time you step back and just say "wow". His art is getting better with each issue, each panel, too. It's definitely what some would call "trippy"; I've never taken acid but I'm sure one gets the gist of the drug after going to C's website (Hey kids: www.cwardillustration.com)

When I was looking for an artist for OLYMPUS (Which had a different title in the early stages) I solicited with a few folks, but Christian was always my top choice. Getting him on board was the answer to a prayer, nothing less, and I'm proud that I'm with him as he's getting comics exposure (he's already quite well known in the digital and media illustration arena). Of course, with Christian, I got more than just an artist; he has ideas that have made this what it is. He's been great--except he still talks with that funny accent, despite my complaints.

I have had to learn a great deal about how to write for his style, too. As you can see, it's neither simple nor straightforward. I haven't yet been able to predict exactly how each panel will look: it's always a very pleasant surprise to see where Christian's taken my vision and what he's done with it. But that's collaboration. Not always an easy process--but whatever doesn't kill us only makes our comic stronger (Or I Hope to God it Does, or we're doomed!)

The bottom line is that the reader will have to look carefully to get all of it. Christian hides a lot of wonderful gems between the flashes of color and the popping images. I still read back over pages he's done and say "oh wow, I never noticed that before."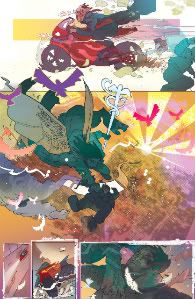 Greg: I definitely feel you about the trippy feel. Simply amazing. This book just looks like a lot of great fun and I can only hope many people check it out. Might I ask how many issues or arcs you have planned?

Nathan: In this arc there are four issues. Christian and I have lots more up our sleeves--but it all depends on a few things. Not the least of which is how many of you (good readers) go out and tell your comic shop to order OLYMPUS!

Greg: Best of luck with everything, Mr. Edmondson! Anything else you'd like to let out before leaving Face To Greg today?

Nathan: Be sure to stop by at Heroes con and find me, or Diego to speak to Christian. Best.

Greg: That was Nathan Edmonson, ladies and gents. It was great having you, thank you so much.

Nathan: Sure thing. Glad to "step in."