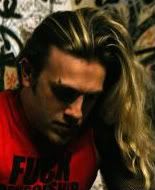 Today on Face To Greg we chat with Dead Romeo's Jesse Blaze Snider as we talk about the book, vampires, Baptized By Fire, horror flicks, etc etc! Jooooinnnn ussssssss..........
Greg: Today on Face To Greg is up and comer DC writer of Dead Romeo, Jesse Blaze Snider! Welcome, man, this is a big pleasure to me. Can you tell some of these feebles minds who you are and about yourself?


Jesse Blaze Snider: Okay, my name is Jesse Blaze Snider and no, that is not a nickname. It is my LEGAL name, so hold off on throwing your rotten tomatoes for just a second. I am a writer of both music and comic books. I've been working for about 8 or 9 years to break into comics and I finally did last year at MARVEL with the release of MARVEL COMICS PRESENTS #10. I wrote a short DEADPOOL story in that book, which led to writing a HULK ONE-SHOT for Marvel shortly after that, but my HULK has yet to come out. But my Hulk and Deadpool stories led to my current work at DC in the form of DEAD ROMEO a six-issue-mini-series, the first issue of which was released last Wednesday April 1st.

Greg: Yes it has, and let me say that it in fact was a pretty fun read. Can you tell us about this book and what inspired it?

Jesse: Well, DC wanted to test the market for a Vampire Romance and given my horror background (I wrote a Strangeland movie prequel comic for FANGORIA) they thought I'd be a good fit. They told me they wanted a story about a vampire who escapes from Hell, falls in love, and has to protect his new love from the forces of Hell. So I pitched them DEAD ROMEO which was a little bit different from what they asked for, but they seemed to like it all the same.

When I looked at the vampire romances that already existed I noticed very quickly that the authors made no attempt to appeal to men and the basic point of Twilight and all of the Anne Rice stuff was to show that vampires were mostly just misunderstood and that they were really good. To de-fang them really. And that's why the boys never really enjoyed that stuff, because we like vampires as monsters. So I set out to write something that was a romance and showed how our lead vampire was misunderstood, but at the same time showed that all of the other vampires are extremely scary monsters!

The original solicitation for the book went a little something like this...

"Our HERO has a difficult choice to make: KILL his TRUE LOVE and earn his permanent release from HELL

OR

PROTECT HER and BURN in HELL for ETERNITY.

Either way, SOMEONE is GOING to DIE.

VAMPIRES! DEATH! DISMEMBERMENT! ...ROMANCE?!?!

Not EVERY love story has a happy ending.

"DEAD ROMEO" - A Gothic Fairy Tale."

Greg: Heh, well reading the first issue, is this girl, Whisper, really his true love? She's seems rather... bitchy towards our hero. What's up with that? And can you tell us about Romeo and Whisper?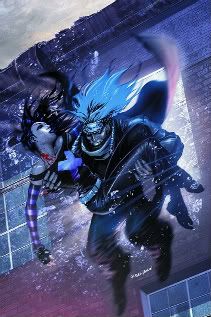 Jesse: Well, Whisper is an orphan and she has had a ruff life and has learned to distrust men, so she is definitely a bit stand offish and Romeo is the kind of guy who likes that in a woman and she reminds him of his wife who he lost. To him she is just perfect, a woman who he needs to wear down, who he needs to win over...a challenge. Plus, you've got a little bit of that love at first site Romeo and Juliet kind of thing. Its just meant to be and he can feel it. As far as a genuine like and connection goes, that will come later over time.

There is one more factor here and that is the art work. In the script Whisper goes from bitchy to coy, to slightly sweet and then back to bitchy. Unfortunately our artist Ryan Benjamin made every "bitchy moment" a close up, so she seems a bit worse than I had intended. It'll all work out in the end though, the second issue goes a long way in fixing this.

Greg: Oh ok, understandable. I'm definitely willing to see what's up with the two. But what about our hero, Romeo. C'mon, sell you character! What's he all about?

Jesse: Romeo is an artist, a hopeless romantic whose life took a terrible turn towards tragedy which caused him to made a split second decision which turned out to be the wrong decision. I don't want to spoil stuff that's coming up in the book. All you need to know for now, is that he is a bad guy who is really just a good guy and he is out to set things right. He is super strong and fast, but so are all of the other people who were released with him, the only advantage he has is that he is willing to die to save this girl and the Hollywood Vampires (Are Bad Guys) are not willing to make the same commitment to kill her. It'll be fun, trust me. Romeo's got a good heart and a great sense of humor!

Greg: Now the other vampires are a buncha mix-match individuals and boy are they deadly! Can you tell us about them? How'd you come up with them?

Jesse: Well, since they all died and have been living in Hell none of them are "modern day" vampires. I decided to cherry pick from some of my favorite time periods in CA grand history and create 7 unique vampires. One is a Cowboy from the "Old West," another is an action movie star from 70s Kung Fu cinema, the other is a California Beach body builder...they all have there own unique thing and role they play in the group. Once I chose the characters and the time periods, I named them using a lot of obscure and not-so-obscure references to a group of alcoholic rock stars from L.A. who were known as the "Hollywood Vampires." Which is what we refer to our bad guys as. As an example our cowboy vampire is called "Desperado" which is also a song by Alice Cooper and Alice was the President of the real life Hollywood Vampires.

Greg: Wow. Now what's their agenda? You can't have a buncha evil scary vampires coming up from the grave at the same time be for no reason entirely.

Jesse: Oh, absolutely not. They have a very specific agenda. KILL Whisper! That's it. They kill Whisper and earn their permanent release from Hell or fail and go right back to Hell to burn for the rest of eternity. The specific reason why Hell wants Whisper dead will remain a mystery until the last page of issue #6, but I will hint that it has something to do with the fact that she's a virgin!

Greg: Damn, I feel damn sorry for Whisper having to deal with all that. But dude, why the fascination for vampires? What is it about them that stand out for you?


Jesse: I think I'm fascinated by the fact that vampires have captivated both men and women but in totally different ways. Men like them as straight monsters and women like them when they're just misunderstood. So with Dead Romeo I tried to do both. Give the women their misunderstood heartthrob and at the same time never take away from the fact that vampires are indeed monsters! I like the idea that vampires...if handled correctly, could be its own category of Date movie! I'm tired of romantic comedies, how about a romantic HORROR!

Greg: Haha. Well from reading your first issue and seeing some of your work in the past, it's a definite you're a horror junkie. What got you into that? And what's your top favorite horror flicks?

Jesse: I'm actually not huge on horror. I'm not scared very easily and most horror movies make me laugh. And the ones that do scare me, I don't like, because I don't like being scared. I'm a big monster guy. I love Godzilla movies and King Kong and Lake Placid! But as far as classic horror goes, I'm an Evil Dead Trilogy kind of guy! But I love good vampire stuff like From Dusk 'Til Dawn, Blade and Blade II and 30 Days of Night and I really love the original SAW and SEVEN! I'm definitely from the Godzilla school of Horror though. I always enjoy giant creatures destroying things!

Greg: Ah okay. So by any chance will we see some crazy ass giant monster in this mini?

Jesse: No...well KIND OF. In my original pitch, the forces of Hell lent our bad guys Cerberus the three headed dog to track Romeo and Whisper down, but they asked me to simplify the original pitch and in doing that Cerberus was replaced and I wouldn't call his replacement a GIANT monster, but he's certainly and big, cool, creepy, scary monster!

Greg: Aww man! That would have been grand to see Cerberus! And, dude... you mentioned my boy Blade. Would you be interested in tackling that character for Marvel?

Jesse: I have the first issue to my proposed Blade run already written. I want to take over Blade so badly and make him like he is in the movies. The Blade comics have been so consistently bad for so long. I have great ideas building on a combination of the movie and comic mythos. The movie did two things perfectly which no ones has really picked up on in the comics. Firstly, it turned vampires from MAGIC to MARVEL STYLE SCI-FI! Vampirism as a virus makes vampires feel like a realistic part of the Marvel Universe. Pretty much every big character at Marvel outside of Thor and Dr. Strange is Science Fiction based and by changing Blade to a science fiction book it makes him and vampires fit into the Marvel U. Thing number two, they gave Blade an Alfred. Whistler isn't just a great character, he is a character that a book like Blade needs to move along story, plot exposition and is just one more beautiful ingredient for the Blade stew.

So, to answer your question...when can I start?

Greg: Now, man! Please! This is exciting news for me. I'm a huge Blade fan. When are we going to get a Baptized By Fire track about Blade?

Jesse: That's a good question, he is certainly a good character to sing about without anyone realizing you're singing about him. I've written a series of songs about superheroes that aren't obviously about super heroes. I usually name the song after the characters real last name, so a song about Blade would be called "Brooks" but that's kind of a crappy name for a song, so I may change that president.

Greg: For those who don't know, Jesse is also the lead of his rock band, Baptized By Fire. Jesse, can you tell us about that?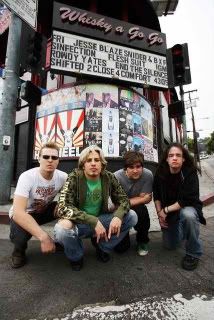 Jesse: Yeah, I have a band called Baptized By Fire and I'm also working on a solo thing right now as just "Jesse Blaze." If you're interested in checking out some of my music swing by my band's MySpace page. (www.myspace.com/bxftheband)

Greg: Nice, so how different is your solo stuff going to be from Baptized By Fire?

Jesse: You can expect it to be a little bit less "metal." Its more punk and big rock. And bit more polished than the raw sound of BXF. But basically the same kind of catchy melodies that I've been writing for years, but the musical attitude will be a bit less complicated.

Greg: Can we expect to hear a re-recording of "Castle?" That was one of my absolute favorites from when the band was called Blazed.

Jesse: I would love to revisit that song and I think there is a good chance in this, that I will.

Greg: Speaking of Castle, I recall years back you were writing a Punisher story for Marvel...?

Jesse: I had gotten a Punisher script into Marvel Editor Axel Alonso's hands and he called me up and told me that it was a very good first draft and that he was interested in working with me on it. Shortly after that, he was promoted at Marvel to a job that made him busier than ever and our interaction lessoned into oblivion. Fortunately, during that time I was able to befriend a few other editors and that led to my work in Marvel Comics Presents. One day I will get my chance on the Punisher.

Greg: Ah ok. Understandable. And that's when you wrote the Merc with a Mouth himself. How was it getting a chance to write Deadpool?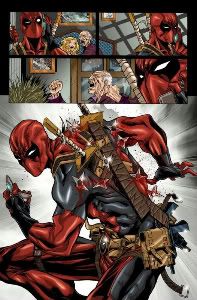 Jesse: It was really great! Deadpool was my gateway drug into Marvel comics and it was really cool for him to be my gateway into writing Marvel comics. It was fate. My dream job is to one day write the Deadpool ongoing, I have ideas for at least 30 issues worth of books already.

Greg: Yeesh, man. Now Dead Romeo #2 is coming up… this week! What can we expect in this issue specifically without much spoilers?

Jesse: ACTION and DISMEMBERMENT!!! It's basically 22 pages of straight action, with a little bit of character and romance development along the way, but mostly action packed horror goodness!

Greg: It better be. Well, before we exit Face To Greg, I'd like to thank Jesse Blaze Snider for the visit! And I want to also give a huge great congrats to Jesse and his wife on his brand new baby! Two weeks now, right?

Jesse: Yeah, my little girl Logan Lane was born on Easter Sunday, so we just hit the two week mark. Its been pretty exciting.

Greg: Just beautiful, man. Any final last words before we leave?

Jesse: Just a plea for everyone out there to give Dead Romeo a chance and if you read #1, but didn't really love it, just give me until issue #2 and if you're still not on board...then f**k you!

Greg: Oh my...

Jesse: No, I'm just kidding, if you don't like it, no hard feelings, but give me another shot on whatever comes next, 'cause I'm getting better with every book!