If a book wasn't in current continuity of the recent times, would you care to read them? My thoughts on this matter...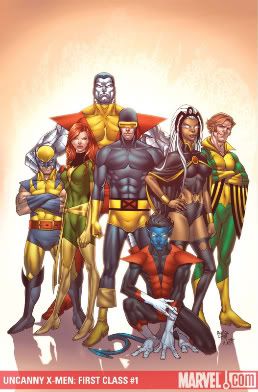 Okay, so for the past two months now I've been heavily looking forward to Marvel's upcoming First Class: Uncanny X-Men mini-series. I was especially excited due to the fact that it was pretty much out of continuity from other books as of late. If you know me well, you'd know I'm a huge nay-sayer of the recent trend of constant tie-ins and crossovers as those were what pushed me away from Marvel and DC for quite a while now - and still rather is but to a lesser extent. Since then I've dropped every single X-book except for X-Factor. But this upcoming First Class book didn't have to deal with any of that tie-into crossover mess. Hopefully it'd be just a great solid read. What more could I ask for? It also has a great cast of characters: Cyclops, Storm, Colossus, Jean Grey, Banshee, Nightcrawler, and Wolverine. All great characters and you don't see them together in books anymore. And from seeing the preview art and reading the interviews, it's almost guaranteed to be a great fun read.

This is where the meat of this article of mine starts to get to the point at hand I wish to talk about. When the book's first solicitation was released, I decided to post about it on various forums. I've gotten some pretty interesting responses here and there, but the ones that really stood out were the ones especially from our very own Outhousers. Now I won't point any e-elbows, but basically at first it was mentioned that most of the folks at that specific thread were uninterested in a First Class book. It then came to the point that there wasn't interest for it because it was out of continuity and pretty much didn't need to be read. So practically, in order for a book to be deemed interesting to be readable, it should follow the current continuity? What's wrong with just enjoying a good read without having to worry where it fits in? Also it was then mentioned that a book like this would fill in holes of already established stories. And once again I asked why not just enjoy just a plain simple story?


Now I can understand knowing that folks will come out of these books alive and how it'll all turn up can suspend some suspense, but c'mon now. I can't put it into my mindset that a book has to matter with continuity with all these other stuff going on for it to even be bothered to be in my hands. All this belief that a book like First Class X-Men won't add anything to the current X-book mythos and will just ret-con and screw up continuity is simple unnecessary comic geek fanboy thinking, sorry to say. I feel as a comic reader it's a sad way of thinking. And also that argument sounds really strange when you have such critically acclaimed and fantastic books like All Star Superman by Grant Morrison and Frank Quitely which was a stand alone book on it's own and had nothing to do with the current continuity of the Superman books. You could just simple pick it up and enjoy it and it was loved by a huge mass of comic readers. But I suppose with it not being in continuity, it's indeed a useless and unnecessary book, yes?

I can also understand not wanting to try a book like First Class Uncanny X-Men due to the fact that the creative team is practically unknown and aren't as established as say someone like Morrison or Neil Gaiman, but those guys were unknowns too at some point. The fact that one mustn't take any chances with new talent is something I feel that is limiting a reader to some great work and also not helping the comic industry. Why should I have given Alex Grecian and Riley Rossmo any time of the day when they were first bringing out Proof?

This also reminds me of a few months back when David Hine and Doug Braithwaite's Brave and the Bold arc "Without Sin" with Hal Jordon, Phantom Stranger, and Green Arrow was being released. In interviews he'd mentioned that he'd surely hope folks would check out the arc and not pass it by simply because it didn't tie into the main trend of what was going on at the time. Hine's comments wasn't something I really thought too much about until I started seeing some posters on other forums saying they decided not to check out the book due to it not tying into the current time line and it didn't really matter in the end. So once again the fact that it may be a good story meant nothing to the reader. The conversation that I had on the board on this site was also what made me stand up and actually think about this strange mind-set that comic readers have. Now I surely hope the folks who were involved in this debate with me two months ago don't have any hard feelings. I've interacted with them various times after this and have a great time posting with them and I have to say I sincerely loved this debate we had and wish I'd have more. It surely was something to open my eyes.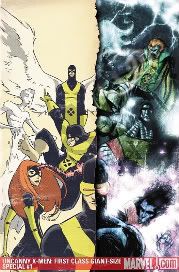 Now as to the book at first in question before - a Giant Size issue was released this past Wednesday. As excited as I was I had to pick it up. Did I enjoy it? Yes, I surely did. The writing was top-notch and the various artists working on it were all great. The issue dealt with Cyclops having to deal with this new set of team mates and his difficulty in understanding them and having them follow his lead. For folks always asking where the fun of comics have gone, well they aren't. You just need to branch out from the current "mind-blowing" norm. This here was a very simple issue with tons of laughs. Every character had their moment to shine and brought laugh out moments from me. From Colossus plowing the front lawn to start cropping in preparation for the winter to Logan telling his story about being bitten by a radioactive wolverine to the new team having a battle with a strange mutant which couldn't get me to start finding it hilarious with Cyclops yelling for them to stop. Also Colossus' back-story of coming out to his best friends about his mutant abilities was written with such touching bits that made me feel good. So thus far did this book do as I wish it would? Yes it did and it didn't need to have Dark Reign on the cover to be a good read.