Could the classic Superman supporting character be gender-swapped in the upcoming 'Man Of Steel' movie?

All signs point to yes, say hello to Jenny Olsen!
---
Source: Yahoo! Movies
In amongst all the casting news and interesting leaks coming out of Zack Snyder's upcoming Superman adaptation 'Man Of Steel', one famous supporting character has been missing, Superman's Pal and Daily Planet photographer Jimmy Olsen.
It looked for a long time like Jimmy wouldn't be in the movie, but it now turns out he is, just not how you may remember him. Hell, he's not even a him anymore!
Internet super-sleuths (if such a thing can exist) have noticed that the movie's IMDB page lists actress Rebecca Buller as 'Jenny Olsen'.
Buller can be seen in this screencap from the trailer, running away from an exploding building alongside Laurence Fishburne's Perry White.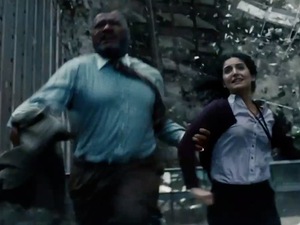 This is not the first time this movie has diverged from the established characters from the comics, as of course, the comics version of Perry White is, well, white.
What do we think of this news? We've seen characters change ethnicity from page to screen before, such as Kingpin, and to some success, but is a gender-swap too far?
Of course, it bears mentioning that Jimmy Olsen the character has a long history of dressing up like a woman, so perhaps this is less of an exercise in demographic box-ticking, and more of a cheeky nod to Jimmy's sordid past.
---
Enjoy this article? Consider supporting The Outhouse, a fan-run site, on Patreon. Click here for more info.
Comment without an Outhouse Account using Facebook
We get it. You don't feel like signing up for an Outhouse account, even though it's FREE and EASY! That's okay. You can comment with your Facebook account below and we'll take care of adding it to the stream above. But you really should consider getting a full Outhouse account, which will allow you to quote posts, choose an avatar and sig, and comment on our forums too. If that sounds good to you, sign up for an Outhouse account by
clicking here.
Note: while you are welcome to speak your mind freely on any topic, we do ask that you keep discussion civil between each other. Nasty personal attacks against other commenters is strongly discouraged. Thanks!
About the Author - Niam Suggitt
---
Niam Suggitt, Punchy to his friends, is the most humblest of all the Outhouse writers.  His easy going manner and ability to see and recognize the point of views of those who he disagrees with has made him one of the most sought after members of our community to resolve conflicts.  Although he likes all of you, and considers everyone to be his friend, Punchy would prefer you use "Niam Suggitt" when quoting him for the front cover blurb on your book.  Follow this wonder of a man at @NiamSuggitt, if you want to, he's cool with you either way.
More articles from Niam Suggitt