Could the classic Superman supporting character be gender-swapped in the upcoming 'Man Of Steel' movie?

All signs point to yes, say hello to Jenny Olsen!
---
Source: Yahoo! Movies
In amongst all the casting news and interesting leaks coming out of Zack Snyder's upcoming Superman adaptation 'Man Of Steel', one famous supporting character has been missing, Superman's Pal and Daily Planet photographer Jimmy Olsen.
It looked for a long time like Jimmy wouldn't be in the movie, but it now turns out he is, just not how you may remember him. Hell, he's not even a him anymore!
Internet super-sleuths (if such a thing can exist) have noticed that the movie's IMDB page lists actress Rebecca Buller as 'Jenny Olsen'.
Buller can be seen in this screencap from the trailer, running away from an exploding building alongside Laurence Fishburne's Perry White.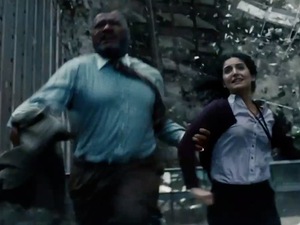 This is not the first time this movie has diverged from the established characters from the comics, as of course, the comics version of Perry White is, well, white.
What do we think of this news? We've seen characters change ethnicity from page to screen before, such as Kingpin, and to some success, but is a gender-swap too far?
Of course, it bears mentioning that Jimmy Olsen the character has a long history of dressing up like a woman, so perhaps this is less of an exercise in demographic box-ticking, and more of a cheeky nod to Jimmy's sordid past.
---