Act like you've been there before, Marvel
---
Source: We Gots An Email
Over the past couple of years we've seen some pretty petty behavior out of Marvel in regards to DC. First there was the crappy Identity Disc mini that no one read, then came the offer of variants to retailers who sent Marvel unsold DC books, and just this month came the Uncanny X-Men Vol 3 #1 Variant Deadpool 53 State Birds Cover, a direct parody of the 53 state flag variants for DC's Justice League Of America #1.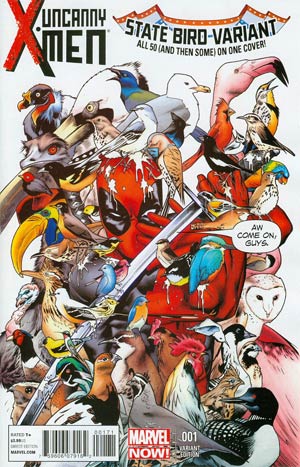 These actions, while childish, were still pretty funny. But now, now it just seems like Marvel, in the wake of the success of Marvel NOW, is just rubbing it in. Yesterday saw the House Of ideas boasting "We're Number 1!" as they announced whatever new event will shatter everything we hold dear. This morning, Marvel sent out a new teaser that seemingly mocks DC's odd fascination with the number 52.
It appears that the slash marks were made by a sharp object of some sort; perhaps a knife, blade, or the adamantium claws of the moral center of the Marvel Universe – Wolverine – a character who has sold more comics this month then DC has this decade.
Marvel might be counting down the days until the next major announcement, and if we go by the date todays date, that will be April 19th, 2013, but that would be a Friday, and nothing ever really happens on Fridays. It could be the number of times Jean Grey has died. Even, mayhap, this was an unfortunate coincidence and no one at Marvel even considered the correlation between this image and DC. And, it's possible kosher pigs will fly out of my ass.
What we do know is this: Disney needs to take over Marvel's PR/teaser division because these minimalistic images suck and only highlight the fact that the only requirement to work in those departments is an understanding of Microsoft Paint.
---