---
TO THE REVIEWS!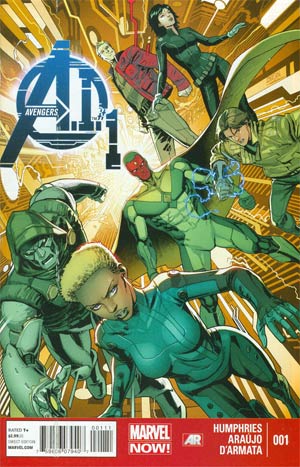 HARDER. BETTER. FASTER. STRANGER. The triumph of Hank Pym turns to tragedy for the human race…an unfathomable Pandora's Box of destruction! When a brave new world is unleashed, only one team of Earth's Mightiest Heroes can save us from the future - AVENGERS A.I.! THE VISION! HANK PYM! VICTOR MANCHA! DOOMBOT! The mysterious ALEXIS! MONICA CHANG, AGENT OF S.H.I.E.L.D.! The AGE OF ULTRON is over! The AGE OF A.I. is NOW!
digital copy availible here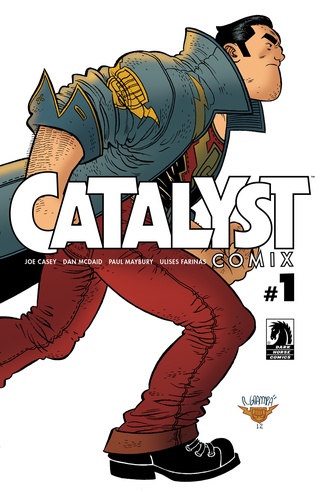 Straight from the glory of Comics' Greatest World, Frank "Titan" Wells, Amazing Grace, and the Agents of Change are back, baby! But you've never seen them like this! Superhero comics get a back-alley facelift as these very different champions confront cosmic threats and personal demons—and it all starts at the end of the world as we know it!
• Masterminded by Joe Casey (Sex, Gødland, Baker the Righteous Maker)!
• Wraparound series covers from Rafael Grampá, Paul Pope, and Brendan McCarthy!
• Artists Dan McDaid (Doctor Who), Ulises Farinas (Glory), and Paul Maybury (Aqua Leung)!
digital copy availible here
______________________
Ze rules:
Post your review in the forum thread or in the comments section here on the front page.
Review as often or as little as you like. Once you've posted 5 reviews, you will be awarded 1 pick. You can post 5 reviews, right? That's a totally achievable goal and with day and date digital releases becoming the standard, it shouldn't matter if your shop ordered enough copies of this weeks comic or not.
When multiple Review Groupers have posted 5 (or more) qualifying reviews, they will be awarded their pick in the order that they qualified. What constitutes a qualifying review? Any review posted (with a score on a scale from 0-10, that's right 0!) within 1 calendar month of the thread going live. Reviews are to be at least 5 sentences long. It shows that a) you have at least read this week's pick and b) you have some unique insight into the comic.
Reviews posted while waiting in line for your pick will be applied to your next pick.
I'll be keeping track of everyone's progress with the newly christened Spreadsheet of Fantastic (RIP, Spreadsheet of Doom) and reporting the results in the Current Members list in the weekly OP. When it's your turn to make a pick, I will PM you. If you do not respond to me by Midnight EST the following Sunday, you will lose your pick and I will start a poll to determine that week's selection.
Any week in which we do not have a Review Grouper with 5 qualifying picks, we will determine the week's comic via poll.
If it's your week to pick, remember to keep it under $3.99.
Current Members List
5 Reviews
4 Reviews
3 Reviews
2 Reviews
1 Review



@dace1314
Amoebas
bkthompson
Grayson
PhoenixEquinox


Eli Katz
ElijahSnowFan
GHERU
GiveWarAChance
Jude Terror
Ntikrst
Stephen Day



doombug


Punchy


SilverPhoenix
Sunless
Victorian Squid

Amlah
BlueStreak
GLX
guitarsmashley
HNutz
john lewis hawk
Jubilee
legoroni
Keb
Midas
nietoperz


TimDrake'sDumbWings




---