---
Aaaaaand Battleworld begins. The dam has broke. The tie ins flood! What's peculiar about these tie ins is that the increased price point seems to be slapped on books at random. For example, Marvel went on The View, network television's premiere daytime comic news program, to announced A-Force, but its first issue sits at the $3.99 price tag. Meanwhile the Ultimate Marvel Universe ends in the tie-in Ultimate End, also $3.99. I'm not complaining, but it does seem odd that these titles, which should be prime targets for the $4.99 price, did not receive the increased price tag.
Instead the $4.99 price is awarded to Planet Hulk, Deadpool Secret Wars, and Spider-Verse. The choices are interesting. If we are honest with ourselves, Planet Hulk should not have worked. Putting a raging green giant on another planet where he somehow becomes a loving husband and wise ruler? That doesn't make sense for The Hulk, but the creative team (Greg Pak, Carlo Pagulayan, Aaron Lopresti, Jeffrey Huet, and Chris Sotomayor) made it work. It has since become a loved title. However, I do not expect Humphries and co. to perform at the level of the previous team on this title, and when you have a titled as beloved as Planet Hulk failures are amplified to the fans. So a title that reads as "OK" on its own, becomes trash to fans because they are comparing it to the original. As for Spider-Verse and Deadpool, well Spiderfans and Deadheads have proven they will buy those books no matter what the cost. So I suppose that choice was logical.
Oh, and DC is making one $4.99 book this week, Mad Max Road Fury. I'm not too bothered by that since a comic book released in conjunction with a film is a gimmicky cash grab anyways.
Aside from the title you will find that the format of these articles will change just a little. In order to avoid the clutter of a lengthy essay, you can now find Jude's manifesto at the link below. For those of you unfamiliar with the concept  of this feature you can find Jude Terror's original manifesto here.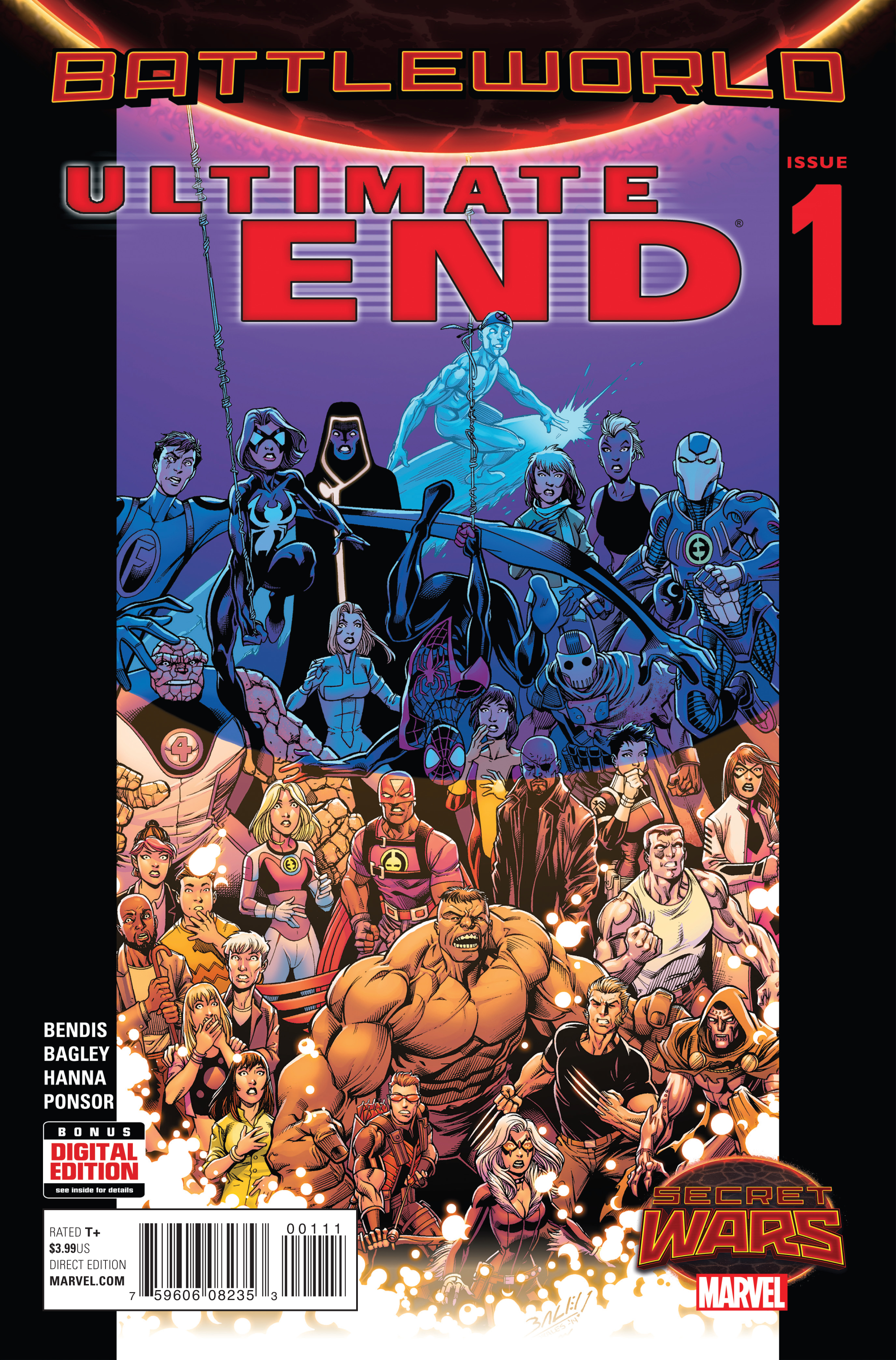 Ultimate End #1 - Bendis, Bagley, Hanna, Posnor - $3.99
What has the world come that I am suggesting a Brian Michael Bendis book? I suppose it is the end of the world. Or it could just be that this stands a chance at being interesting. While most of the tie-ins are just rehashes of old tales in an attempt to replicate success, Ultimate End is highly relevant to the Secret Wars event at hand, as it is the end of the Ultimate Universe. Bendis' best work in Marvel Comics, if not his career, has been on Ultimate Spider-Man. This story promises to focus on Miles Morales a fair amount so expect some fun dialogue, even if it is Bendisian. Marc Bagley will be providing art, and the preview pages look promising in sending the Ultimate Universe off in a traditional Ultimate's art style.
Blood Shot #2 - Lemire, Suayan, Baron - $3.99
The choice of a writer who specializes more in psychological thrillers than blunt force action may have seemed odd at first, but Jeff Lemire is quite the talent. He brings his psychological skills to the now nanite-free assassin to show the spiraling depression and addiction which eats him prior to a call to action by someone pretending to be Bloodshot. The story is grim and hopeless thanks to the detailed work of Mico Suayan and David Baron. It is promising series and in your best interest to pick it up while it's still fresh.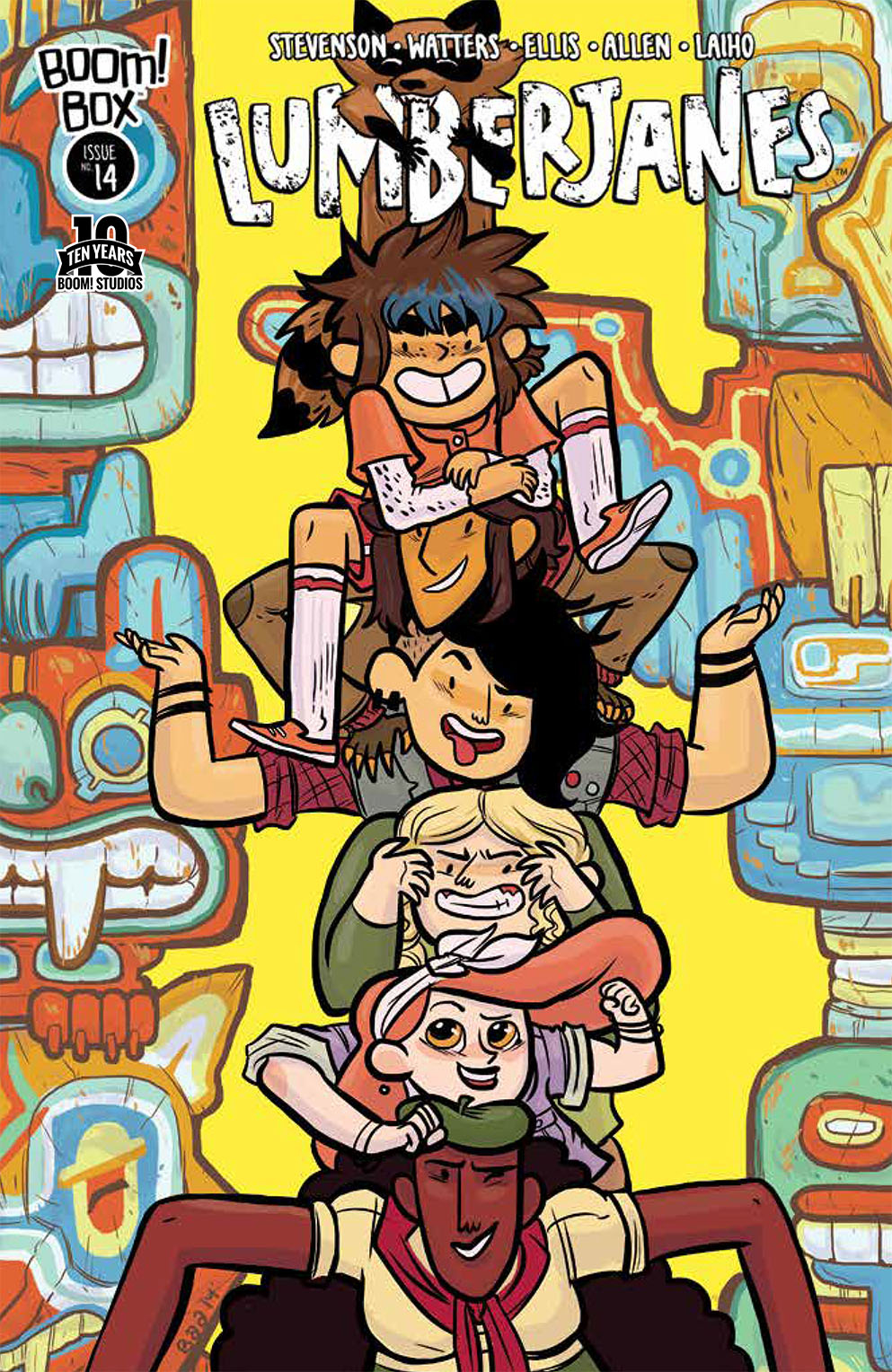 Lumberjanes #14 - Stevenson, Watters, Allen, Laiho - $3.99
Every now and again it is good to read a book that is just fun. This week, that book is Lumberjanes. What seems like a title directed at adolescent girls at adolescent girls is actually a fun title that everyone should check out. Seriously, flip through an issue of this series. Any issue, doesn't matter. Are you not filled with pure joy now? Noelle Stevenson, Shannon Watters, Brooke Allen, and Maarta Laiho are bound to brighten your week if you just give this title a chance.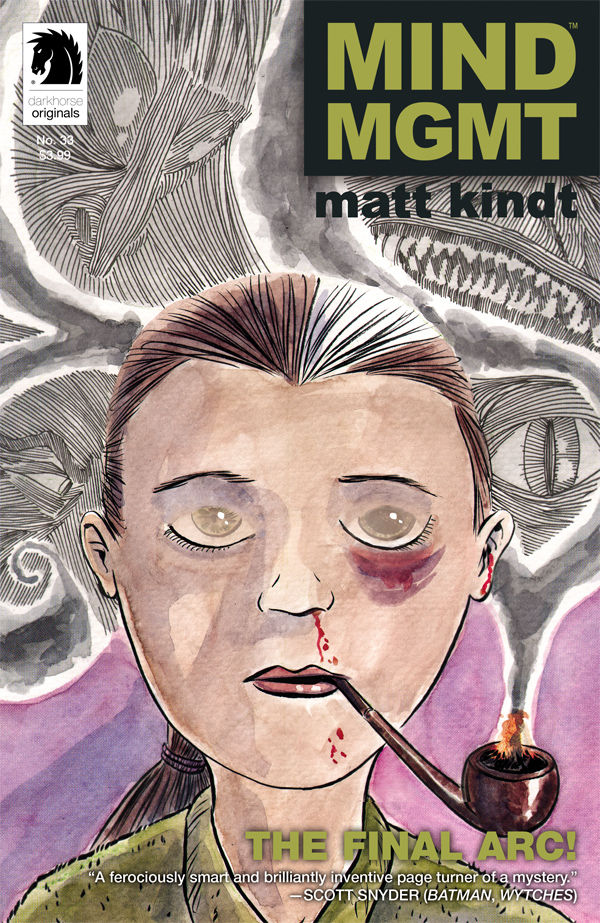 Mind MGMT #33 - Kindt - $3.99
Until this series ends I will be pushing this on you. If you've never read this title, go buy the trades right now. Matt Kindt has foregone the expected format of comic books and bent the rules to his liking. He has created a beautiful and complex world. Jumping onto issue 33 would be confusing, but I can't help but push this series onto everyone who hasn't read it.
Empire Uprising #2 - Waid, Kitson, Sotomayor - $3.99
Barry Kitson and Marc Waid's return to a decade old series was phenomenal and accessible. It established characters and plots for new readers while answering questions left for longtime fans. If this issue follows the pattern of the previous issue then you can expect some graphic and horrific moments mixed with the political drama of... well... an uprising.
Holding the line at $2.99
As has become the norm, Image is at the top of the $2.99 game, this week with five titles (Ghosted, Oddly Normal, Wytches, Trees, and Spawn). The only other company with a $2.99 title is Vertigo, who is publishing the final issue of The Kitchen. While there may only be six titles available, these are some solid titles and Spawn. Until next week, cheapskates.
---