---
Source: Lego
Wanted to highlight a bigger set this week. But Tim, all the pictures are sideways. Shut up baby, I know it. I'm getting ready for Rose City Comic Con.
Welcome to AFOL Friday. What is an AFOL? It stands for Adult Fan Of Lego. Though the box's state that there's an age range, plenty of adults enjoy this highly sophisticated inter-locking brick system as well.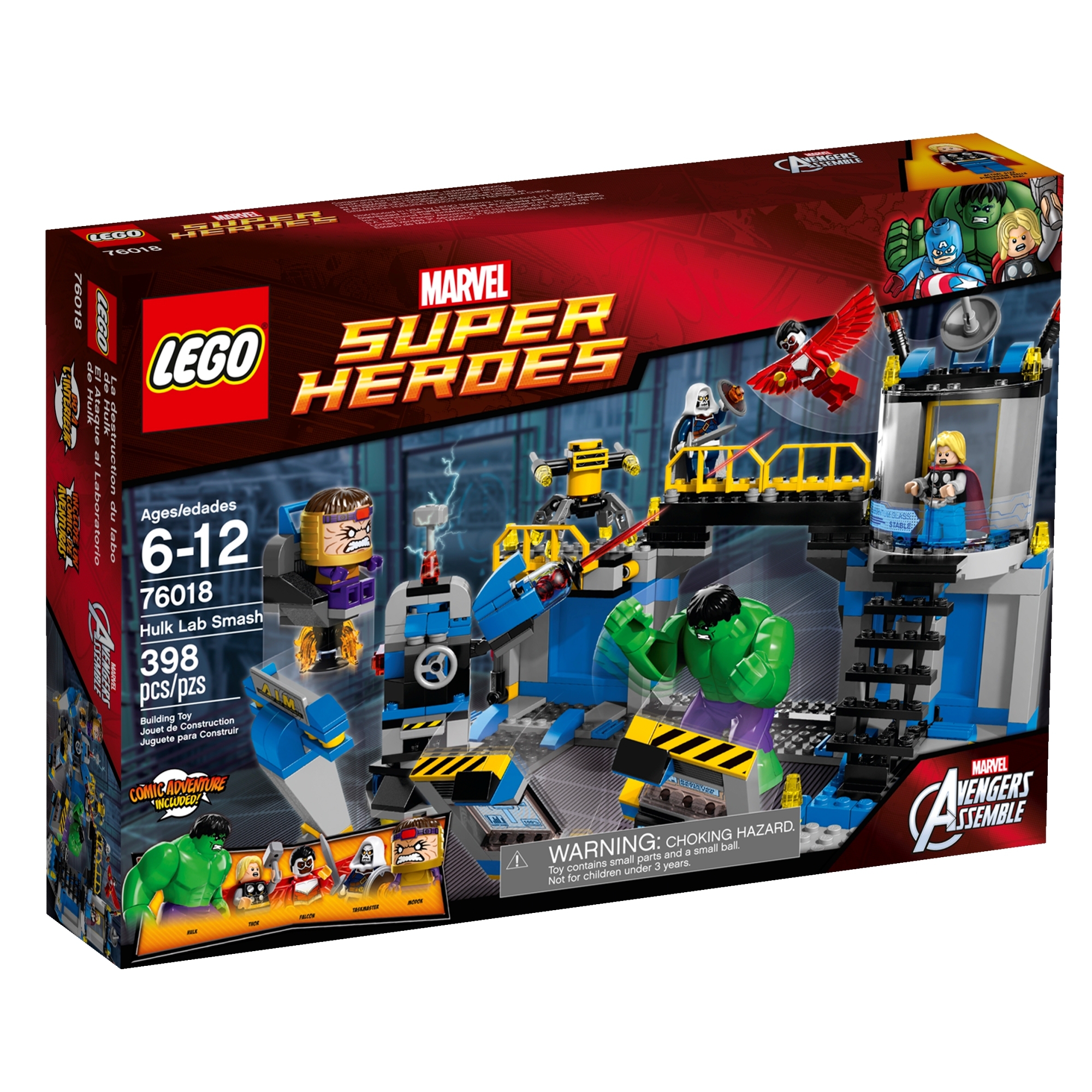 Set Name: Hulk Lab Smash
Lego Catalog #: 76018
Retail Cost: $49.99
Pieces: 398
Release Year: 2014
The set comes with four numbered bags, a Hulk in a bag, x1 Dark Bluish Gray Plate 8 x 16, x2 Dark Bluish Gray Plate 6 x 16, and a sticker sheet.
There's two good sized instruction booklets.
All five minifigures are exclusive to this set: Falcon, non-Ruffalo purple pants Hulk, Thor no-beard, MODOK, and Taskmaster.
The first thing built is a little security bot.
Then comes MODOK's throne.
MODOK fits nicely.
An early shot of the lab.
Both sides of the lab coming together.
Here comes the OSHA-approved safety rails.
Gamma radiation is detected in the lab.
Thor's hammer appears on screen alongside the AIM logo.
Stage right gets a giant laser turret.
Is that a trick plate on stage left?
The scene is set! Falcon comes to rescue Thor who is imprisoned! It seems MODOK and Taskmaster have the upper hand!
Oh shit! The Hulk busted in!
He busts down MODOK's laser turret!
He busts down the stairs, freeing Thor!
All in all, this was a fun build. The scene itself is great, including three breakaway portions. The laser turret comes apart as two pieces and the ladder falls taking the glass with it. You really can't go wrong with a set that includes five exclusive minifigures.
---